31
10
Tulip's TPLO Surgery
$1,410
of $2,500 goal
Raised by
34
people in 19 months
This amazing dog is Tulip, and she has quite the story!
Tulip landed in a Maine shelter as a stray in very bad shape last February. She was obese, could barely move, and was in every way down and out.
She didn't stand a chance recovering from such a serious health challenge in a shelter environment, so the staff reached out to us at
Old Dogs New Digs
for help, and our dedicated volunteer and foster network stepped up to the plate. 
When we picked Tulip up from the shelter to bring her into foster care, she could not stand or walk on her own — we had to help her by lifting her back end with a sling.
The shelter's veterinarian diagnosed Tulip with hypothyroidism, the cause of her obesity, and the Topsham Veterinary Wellness Center provided an exam and X-rays that revealed torn anterior cruciate ligaments (ACLs) in both knees. Dr. Amy Ruksznis recommended that we work with specialist Dr. Mark House to find the right path forward. Dr. House recommended a weight-loss program and aqua-therapy until Tulip could slim down enough to be eligible for surgery called bilateral tibial plateau leveling osteotomy (TPLO).
In late March, Tulip went into foster care with ODND volunteer and vet tech Molly, who put Tulip on a diet, kept up with her medication protocols, got her moving more and more with each day, and eventually worked Tulip up to going to aqua-therapy sessions.
Now, in mid-June, Tulip has already lost 20 pounds! She has gone to a second foster home that she loves with ODND volunteers Cori and Louise, who are very generous in committing to keeping Tulip comfortable through her surgery and recovery.
Tulip has been feeling better and better with every day, and it's becoming clear that she wants to run, jump, and do all of those things she used to be able to do.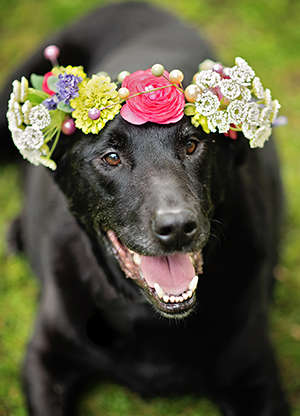 d
She is now scheduled for surgery on July 21, thanks to Dr. Ruksznis, her wonderful staff, and Dr. House, who will perform the surgery (and who also gave us an incredibly generous discount on the procedure).
So, now  we have about a month to raise the money we need to get Tulip the surgery that will change her life in an enormously positive way.
The estimated cost is between $2,400 and $2,600, so our goal is to raise $2,500 through this campaign.
Many thanks for any amount you can contribute to getting Tulip completely back on her feet!
+ Read More