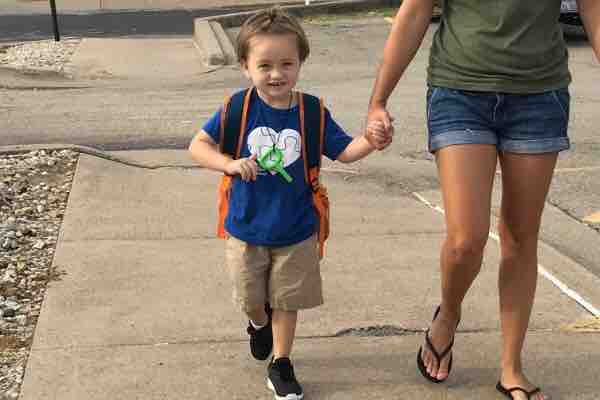 52
3
Odie Speaks
$5,282
of $10,000 goal
Raised by
52
people in 9 months
Two years ago my wife and I began to be concerned about Odie's development and progress with milestones.  We weren't too worried at first, but after a febrile seizure when he was 18 months we started to notice some regression.  It was after this that we began pushing for evaluations and support.  He was losing the few words he had, was becoming increasingly sensitive with sounds, lights, textures, and so on.  Our once happy boy was not sleeping through the night any longer and we began having to read his mind to try and keep his frustrations and melt downs to a minimum. 

After an evaluation with Early Interventions, he began receiving an hour of speech, developmental, and occupational therapy per week until the time he turned three.  It was during this time that we went to Chicago for his formal evaluation.  He received a formal diagnosis on the spectrum with developmental delays in speech (he's nonverbal which means he doesn't talk and has limited understanding of speech) and sensory processing disorder.  If you've seen any videos of Odie you've probably seen him stimming or doing things like jumping, flapping, toe-walking, spinning, and so on.  You also see how happy of a boy he is most of the time.  However, his inability to communicate often leads to frustration for him and for us to try and meet his needs.  We've become pretty good at mind reading.

The services with Early Intervention continued until he turned three and then it became the responsibility of the school district to provide services.  He continued to receive speech and occupational therapy through the school but at only 20 minutes per week for each one, it felt like it just wasn't enough.  It seemed as though he was only receiving the bare minimum and not making the gains we had hoped to see.  With us knowing the crucial importance and impact of strong supports and therapies as early and often as possible we began looking for outside support.

Easter Seals of Peoria's Autism Learning Center was exactly what we were looking for.  This summer Odie began going there two days a week for three hours per day.  Here he was receiving one-on-one ABA, or applied behavioral analysis, based therapy from people who are trained Behavioral Therapists to specifically help him develop.  His classroom had a few other children also receiving one-on-one therapy from other therapists.  

At the end of July we got an explanation of benefits from the insurance that was saying they were covering his services for the summer.  We were elated to hear the great news and signed Odie up for a full five days per week starting in August.  We were assured that it would continue to be covered the same way and we would just be paying our copay per day.

He began to make significant improvements once he was going the full five days.  He understands so many more verbal cues and commands, has a strong understanding of how to use PECS (Picture Exchange Communication System), has been echoing more sounds and saying more words, showing more interest in his peers, family, and social play, and is even showing interest in potty training.  Just this week we were even scheduled to start an additional afternoon session for him each day.  However, we got a new bill from our insurance saying they were no longer covering anything autism related and we have to back pay all of August and what he's gone so far in September. 

Fortunately, my dad has offered to substantially help with the back pay.  However, to keep Odie going from here on out we are looking at around $775 per week if he was to stay the full five days per week.  Bumping down to three days per week would take us down to around $525 per week.  Either way, we are hoping to keep him going as much as possible until we can get a different insurance, grants, or something else figured out.  We have been reminded by his therapists how much more he has improved since he started going five days compared to just two.  We also know how crucial therapy is between the age of 3 and 6, and how if we miss this therapy during this imperative time he may never catch up and develop his speech. 

With your help, the more he can go, the more he can grow.  We hope that you will become one of Odie's Angels and help our cause of Odie Speaks.  Our goal is to raise $10,000 through the end of the year to keep Odie going to therapy the full five days per week.  We understand how this may seem like a lot, but every penny is worth it to help our boy catch up and hopefully begin fully speaking so he can live as normal a life as possible.  We appreciate any help you can give because every bit counts.  Please share Odie's story and thank you for making a difference.
+ Read More