African & Caribbean War Memorial
£6,340
of £27,000 goal
Raised by
202
people in 50 months
HELP US RAISE MONEY FOR THESE FANTASTIC OBELISKS!

This photograph is of the temporary installation of the African & Caribbean War Veterans Memorial Monument at the Black Cultural Archives, on 11 November 2014 - the year of the centenary of the First World War.  At 11 minutes past 11 o'clock, a two minute silence was observed on Brixton's Windrush Square in south London.  No other commemoration for these Armed Forces Service Personnel was done in the UK during that entire year.

Visit
www.africanandcaribbeanmemorial.com
for more information
On the 7th August 1914, three days after the declaration of war by Britain against Germany and its allies, a group of soldiers from the Gold Coast Regiment (Ghana) were making their way through German-controlled Togoland (West Africa) advancing towards the capital. En route, the regiment encountered a German patrol force which opened fire on them. Sergeant Alhaji Grunshi returned fire, and in doing so became the first soldier in the British forces to fire a shot at the start of World War One.
The contributions by millions of African and Caribbean Service Men and Women during both World Wars has remained unheralded. Many made the ultimate sacrifice for Britain, without receiving recognition for their service.  Films, books, television programmes, national commemorations, and the press tend to feature British, European, and American soldiers. There is no reference to African and Caribbean people having also fought in the world wars on behalf of the United Kingdom. Their contribution and their country's resources and expertise were invaluable to the British Armed Forces. This video gives a snapshot.  
"The Gold Coast Constabulary formed in 1890 was renamed the Gold Coast Regiment following the establishment of the West Africa Frontier Force under the direction of the colonial office of the British Government. The regiments raised a total of 5 battalions for service, one of which fired the first shot of any serving soldier in Britain's armed forces during the first WW1". 
His Excellency, Peter Kobina TaylorMinister Counsellor, High Commission of GhanaLEST WE FORGET

Many tens of thousands, of men and women from the commonwealth countries in  Africa and the Caribbean sacrificed their lives for the United Kingdom. We want to honour  these  brave men and women.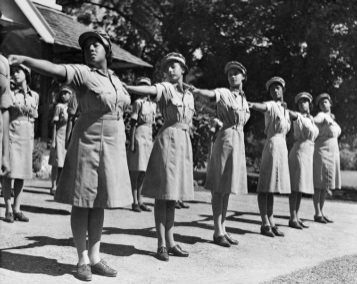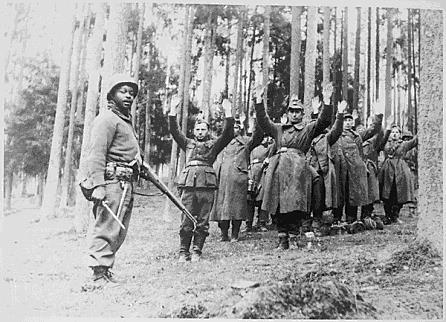 THE REGIMENTS FROM AFRICA & THE CARIBBEANMerchant Navy and Royal Navy 
African & Caribbean Merchant Navy 1914 -1945
Nigerian Marine Department 1914 - 1918 
SS Mendi 1917
Trinidad Royal Navy Volunteer Reserve 1939 – 1945
African & Caribbean Royal Navy 1940 -1945 
African Carriers, Porters, & Labour Corps 
Over 2,000, 000 Men 1914 -1918  
West African Frontier Force - 1914 - 1918
Gambia Regiment 
Gold Coast Regiment   
Nigeria Regiments 
Sierra Leone Regiment 
Military Service Campaigns 
Cameroon, East Africa, Togoland 
King's African Rifles 
Central Africa Regiment 1914 - 1945 
Kenya Battalions 1914- 1945
Uganda Battalions 1914 - 1945 
Somaliland Camel Corps 1914 -1944 
Tanganyika Battalion 1917 - 1945
East Africa, Invasion of Madagascar, Middle East   The British West Indies Regiments

British Guyana A Company 1915 - 1918
Trinidad & Tobago B Company 1915 - 1918
Trinidad & St Vincent C Company 1915 - 1918
Grenada & Barbados D Company 1915 - 1918                    
Additional drafts also came from the Bahamas, British Honduras, Grenada, Jamaica, the Leeward Islands, Bermuda, and St Lucia.
Sinai and Palestine
African and Caribbean Air Crew and Ground Crew
Royal Flying Corps
RAF & Bomber Command 1917 – 1945
Royal West African Frontier Force 
81st & 82nd Division British Army 1941 – 1945 
East Africa and Burma
West Indies Auxiliary Territorial Service 
Caribbean Women in British Army 1943 – 1945
Bermuda Volunteer Rifle Corps, the Bermuda Garrison Artillery, & the Militia Artillery of the Campaigns primarily in FranceCaribbean Branch of the British Army 1944 -1945African & Caribbean Military Service Personal of the Italian Campaign in Egypt
And to All the Forgotten.........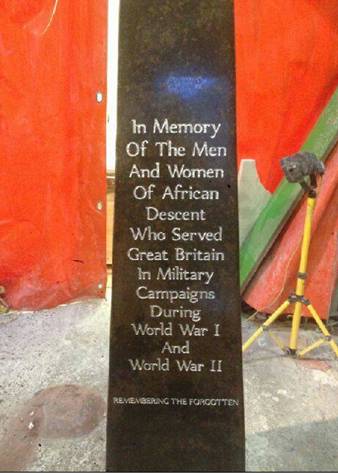 The Unknown Soldiers 
Soldiers of African heritage have been part of British military history since Roman times. From the North African legion stationed at Hadrian's Wall, to the formation of the West India Regiments in the 18th century. This fallen stone is in honour of those unknown soldiers who aided Great Britain, in both world wars, from sea to land and sky, until the arrival of the Windrush generation, and beyond.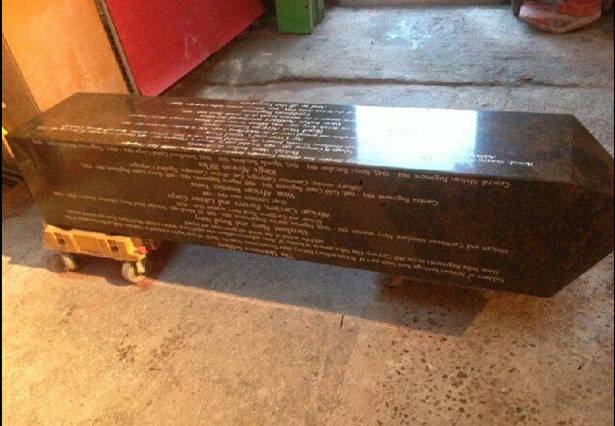 The 2.5 ton monument was designed by the Nubian Jak Community Trust. Shaped in the form of two obelisks (one horizontal, to represent the fallen, and the other vertical, to represent their descendants), it was engraved and temporarily installed by project partner Madstone Ltd, who although yet to receive payment for their services, allowed the monument to be temporarily unveiled on Armistice Day 2014 by World War II Veteran, and Windrush Pioneer Sam King MBE.


The Nubian Jak Community Trust
 has responded to the needs of not only the citizens of African and Caribbean origin but all cultures living together in the United Kingdom, to know, acknowledge, and appreciate the contributions discussed on this page. It was founded by Jak Beula and is responsible for the award winning "edutainment" board game series "Nubian Jak". The trade mark also includes a Harper Collins (NY) commissioned Book of World Facts, an educational academy, and the only national BME plaque and sculpture scheme in the UK and Europe. For more about the plaques visit 
www.nubianjak.org
Support for this Memorial has come from:
Several Caribbean and African Embassies and High Commissions
West Indian Association of Service of Personnel
The Black Cultural Archives
Madstone Ltd 
Heritage Lottery Foundation
Tilbury Docks
London Borough of Thurrock Council
TO DONATE - see below and choose an amount you wish to donate. We are offering a rewards, and we also acknowledge that you may want to donate for no reward.


Your contribution is vital to the success of this initiative, and we are grateful for your support. Love.
***********************************************************
www.africanandcaribbeanmemorial.com Twitter: @nubianjak
***********************************************************
War Memorials abound around the UK and worldwide. 
Apart from the Commonwealth War Memorial located on the corner of Hyde Park on Constitution Hill, which honours soldiers from Africa, the Caribbean and the 5 countries on the Indian Subcontinent, there are no war memorials dedicated to African and Caribbean soldiers who served Britain in both World Wars. In fact there is not such a memorial in Europe at all.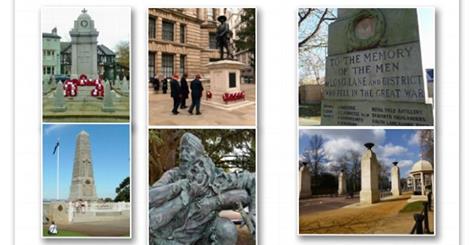 ***********************************************************





+ Read More
Be the first to leave a comment on this campaign.