END ROBERT E. LEE DAY- Documentary
$720
of $30,000 goal
Raised by
15
people in 44 months
Help me end a form of institutional racism in the state of Arkansas & throughout the South.  Support the documentary & the cause to end Robert E. Lee Day. 

A holiday you probably didn't even know existed is still being celebrated each year in the South -- Robert E. Lee Day.

In three states, Arkansas, Alabama and Mississippi, it's observed as a state-sanctioned holiday on the third Monday in January at the same time as Martin Luther King Day, the national holiday. In Texas, it's Confederate Heroes Day that's officially celebrated on the same date. Robert E. Lee Day is celebrated on other days in Florida, Georgia, Kentucky, Louisiana, North Carolina, Tennessee and Virginia.

All 11 states of the former Confederacy have some sort of official Confederate holiday, whether it's Robert E. Lee Day,  Jefferson Davis Day, Thomas Stonewall Jackson Day, Nathan Bedford Forrest Day or Confederate Memorial, Heroes or Decorations Day.

I want to change all that. Follow along as I appeal to the public, to politicians and the media in my home state and elsewhere in an effort to eliminate this practice and what I believe is one of the last vestiges of official racism in the old South.


Robert E. Lee's cause was not a noble one. He fought to maintain the institution of slavery.

Lee was a racist and a slave owner. Revisionists always try to argue around this -- attempting to portray him as less racist, etc. But the fact remains Lee believed that blacks weren't fully human; that they were property. He also renounced his citizenship when he went to war against the United States of America. Meanwhile, after the end of the Civil War, Lee was publicly against civil rights for blacks and believed that all freed African Americans should have been expelled from his native state of Virginia.... Robert E. Lee Day is a symbol of the legacy of white supremacy. And in 2015, it's time that that ended. In the same way that confederate flags are no longer flown at state capitols, etc., neither should there be a state-sanctioned holiday dedicated to a Confederate war general. 

I don't believe there should be any holiday or memorial days for any confederate figures.

The Civil War is a shameful part of the our past in the South and it should not be celebrated. Many military heroes come for all sides of the moral argument ... some of the best WWII soldiers were German SS Waffen troops. There were many brave slave-owning Confederate soldiers. Apartheid-era white South Africa and Rhodesia had many brave soldiers ... but they were on the wrong side of the moral war. Many great leaders suffer physical, emotional and spiritual pain for a greater cause. This selflessness and sacrifice makes them heroes.  

Lee was a divider while King was a uniter. Lee fought a violent war to maintained slavery. King gave up his life fighting nonviolently for equality and against modern-day slavery. These two men and what they represented could not be anymore contradictory. A drum major for justice, Martin Luther King, Jr. was murdered because he dared to love....   King's cause was noble. Lee's wasn't.

Since I've embarked on this mission for change I've received some wonderful support. But I've also received unkind opposition -- including threats. 

After I testified at the House Committee hearing to abolish Lee Day as a holiday in Arkansas,  this billboard immeditely showed up in Harrison,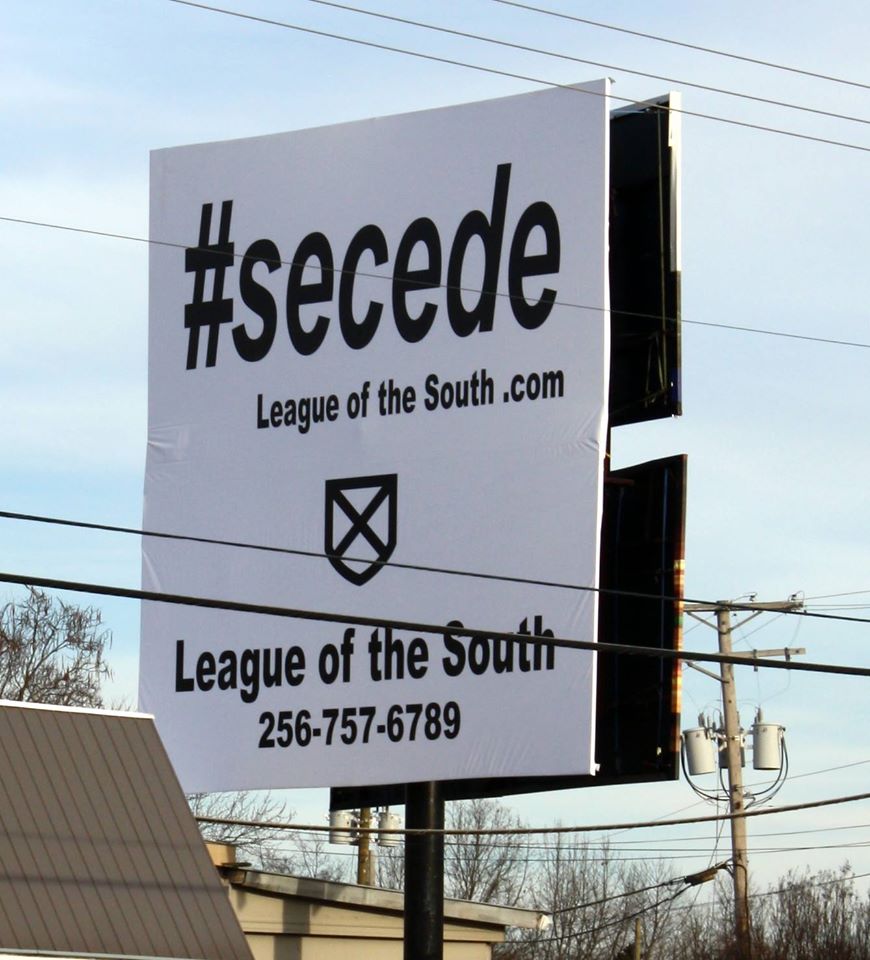 I have been called a "traitor," a "hater" ..."a scallywag of the first order"... and told that I was against "free speech." And that I've "angered far more people" than I "have attempted to please" with my "wrongheaded bill."

My efforts have been called "traitorous" and I was told that "we are not going to stand by while you call for a cleansing of our people by removing one of our heroes and replace it only with Martin." I was told that I would be "exposed for the traitor" that I was and there would be "consequences for my action." I've  been accused of "trying to change history" and "commit southern genocide."  BUT I WON'T BACK DOWN.  And with your help we  can move forward, united -- not divided -- for a better tomorrow for ALL Americans.  

The public outcry and racial tension over the recent deaths of unarmed black males Trayvon Martin in Fl., Michael Brown in Ferguson, Mo., Eric Garner in Staten Island, N.Y., Walter Scott in South Carolina & Freddie Gray in Baltimore have renewed charges of institutional racism in state laws, law enforcement & the court system, and have shown us that we still have a long way to go before America can be considered a post-racial society -- making the message of ROBERT E. LEE DAY even more pertinent and timely. 

As a country, we can do more. We must do more. America needs progressive change. Join me.  Help fund our documentary.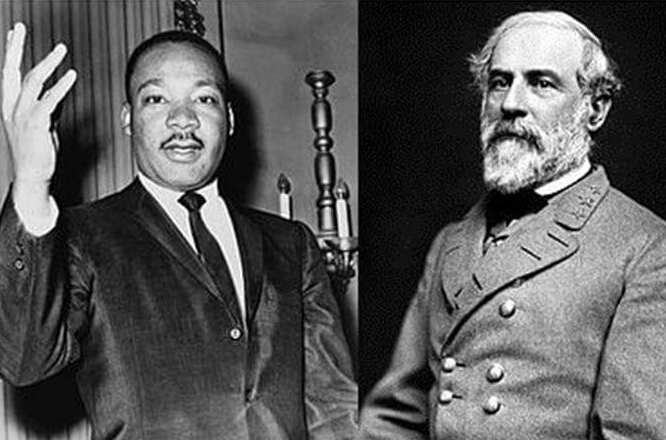 PERKS.  Honestly, this is not the kind of film you sell T-shirts and ball caps to promote.  It's about creating a movement for change.  

*$10: Our Gratitude & your Good Karma!
*$25:  Digital Copy of the film & Thanks End Credit.
*$50:  Digital Copy of the film & Special Thanks End     Credit.  (And your name will appear larger.)
*100: Digital Copy of the film & Very Special Thanks End Credit. (And your name will appear EVEN larger.)
*250+: Digital Copy of the film & "Search Lights for Change Patrons" End Credit. (For spreading so much good.)  

The more money we raise the greater the film and the more we will be able to do towards this end.  Eventually we'd like to expand the film's focus & actually tackle this throughout the entire South (meaning travel to different states and expand the conversation). Thank you.

Visit the website. 
www.notoleeday.com

News 
KTHV/ CBS  (I'm featured)
Artkansas Bill to split Lee, King holiday fails in House committee 
Fox/Fox 16  (I'm included)
Bill Splitting MLK / Lee Holiday Fails in Ark. Committee 
Arkansas-Democrat-Gazette (I'm quoted)
Bill to split Lee, King holiday fails in House committee
Arkansas Times  (More quotes)
The charge of the Lee brigade on change in Lee/King holiday law; bill defeated 
Who said the Civil War is over? See Arkansas  legislature 
Robert E. Lee holiday survives again
Washington Post 
Why Arkansas still won't stop celebrating Martin Luther King Jr. and Robert E. Lee on the same day 
Mother Jones 
8 Crazy Quotes In Support of Celebrating Robert E. Lee on MLK Day 
Associated Press/Yahoo News 
Arkansas panel rejects removing Lee from King holiday 

MORE
MSNBC/Rachel Maddow Show
There's still a 'Confederate Memorial Day'? 
Associated Press 
Southern states observe Confederate Memorial Day
PBS NewsHour 
Did Confederate Memorial Day close government offices in your state today?
Associated Press 
Lee-Jackson Day nixed in Charlottesville
90.9 WBUR
Can Someone Explain How Robert E. Lee Became An American Icon?
Washington Post
Five myths about why the South seceded
New York Times
The Dangerous Myth of Appomattox 


SIGN THE PETITION
Abolish Robert E. Lee Day and All Confederate Holidays  
ON FACEBOOK
Say No to Robert E. Lee Day 
 
+ Read More
Update 1
44 months ago
Share
Just a quick note. With the indictments of six police officers in the death of Freddie Gray in Baltimore, no one can say we're living in a "post-racial" society in America. We must eliminate antiquated thinking that divides us as people. The bottom line is: people have to want to be better. You can change laws but that alone won't change hearts. Until we want to see each other as equals we'll never see each other as equals.
+ Read More