A Home of My Own
$560
of $50,000 goal
Raised by
14
people in 28 months
We all have dreams. Some dreams are smaller, some bigger, but we all have them. For years I have dreamt of having a house to call my very own, not a rental. Recently circumstances have made it so that attaining this dream has become a possibilty and not just a fantasy.
I immigrated to Bulgaria from Russia with my mother when I was very young. I grew up poor. I was often uprooted and changed "homes" frequently. That didn't change as I grew older and worked hard to support my family.  My husband, from Congo, was an immigrant also. I have four children and two grandchildren, and still rent a small apartment in Sofia. The economy in Bulgaria is such that even the times when I've worked three jobs, leaving at 5 in the morning to clean offices and homes to return home at 11 p.m., I've still never been able to do more than afford rent and feed my family.
Last year my mother passed away and left me a bit of money that allowed me to purchase this spot of land (1 acre) pictured here in the small village Tsatsarovtsi, located up near the Serbian border.
What appears now just a bare piece of land I envision as a neat little house with white shutters surrounded by beds of lavender, and a yard in which I can grow tasty fruits and vegetables. Each morning I will inhale the fresh mountain air and the scent of wet leaves and grass. I want my home to be a place for my children and grandchildren to go to in good times and bad, a home where we can all gather for the holidays and weekends.
Life has not gotten any easier for me recently.  While in the midst of building this campaign, my husband Arsene passed away unexpectedly of an aortic aneurism within a few minutes.  Needless to say,  I have been in shock and am devastated.  It has saddened me that we won't get to share in realizing this dream together.  I was telling my friend today that I was afraid to launch this campaign, but my worst fear, of Arsene dying, just happened so what is there to fear anymore?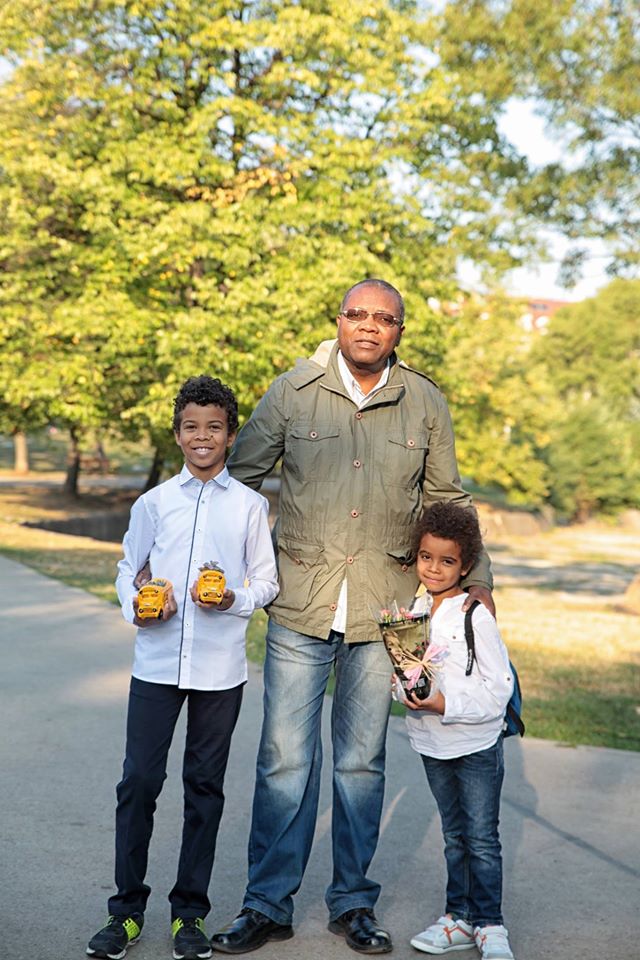 Even if each of you were to only donate a $1.00, with your help I can realize my dream and help offset the many expenses I am faced with alone now.   Any bit would help and be greatly appreciated.  As a token of my appreciation for your contribution, I want to offer you this photograph I took of a church near the city of Melnik near the Rhozhen Monastery.
It has been said that the church was once inhabited by the famous saints Cyril and Metodi who are known for introducing the Cyrillic alphabet. I titled the photograph "Morning Light" because it symbolizes for me hope and new beginnings. Because I realized mailing prints from Bulgaria would be cost-prohibitive, with your donation I will send you a 2700 x 1800 resolution digital file that you can use as you would like, as a souvenir of Bulgaria and of my immense gratitude.
Thank you so much for helping me make my dream a reality and helping me in my time of need. If you're ever in Bulgaria, please come pay us a visit at my new little home in Tsatsarovtsi. I will make you some delicious banitsa and shopska salata and we can sit and enjoy the fresh countryside air together.
Sincerely,
Natalya, a dreamer forever
+ Read More
Update 2
17 months ago
Share
MORE ALIVE THAN THE LIVING

Our loved ones don't go away,
when dust hides their bodies.
Their life does not end there, in the grave.
That last breath doesn't kill the memory.
They are not gone! They are here, where
we have kept a bright corner for them
in our souls, in the depths of the heart ...
We feel them strongly every time
we are overcome with sadness,
cruel hands clenching at our throats ...
When everything white is black
and the grief in our eyes swells...
Then, at our most-difficult hour
they giveus faith, strength and support,
they encircle us with their invisible wings
and we feel them more-alive than the living!
... A man can not die
when our love for them lives within our souls!
When their hearts stop sadly, they
shine again in our bright memories!
+ Read More
Update 1
22 months ago
Share
Life is a great miracle. One day you think that there is no way forward, the next day you are opening new horizons. One day you think everything is lost, the next day you realize you get twice as much. Yesterday we celebrated my granddaughter's birthday, and today we mark 6 months from the death of my husband Arseny. Now we pass all of these holidays and milestones--occasions for joy--without him. I finished a driving course, Joseph finished his primary education and went to the next level of education, and Christopher graduated from kindergarten and will start first grade in the fall. It's not the same as before but watching my children and grandchildren grow leaves the hope and dream alive.
+ Read More
Read a Previous Update
Be the first to leave a comment on this campaign.