Nasawyia women organization
€225
of €25,000 goal
Raised by
12
people in 11 months
Why are we raising money?
We are raising money to start the first Arabic feminist TV channel in Europe.
We already have a popular page on Facebook called
Nasawyia.
We have 360 000 followers. We have been working since 2014, but so far it is not enough to
make a change in society and challenge the dominant pattern that controls over 200 existing TV channels.
Who are we?
We are ten women and men, writers from Syria, Egypt, Jordan, Iraq, and Morocco.
Our writing is Middle East-oriented, and we have been volunteering for this project since 2014.
We are all college graduates with degrees in translation, literature, and philosophy.
Our writing critically analyzes vital issues related to women without censorship.
We provide alternatives to the existing media. Through media, we want to facilitate a transition towards a more humane, civilized society. We call out oppressive practices, and we translate some of the most important articles about women's issues from international media outlets.
What is our mission? 
Seeing that we succeeded in our writing project, we decided to take it a step further. We began producing movies that will tackle many taboos such as LGBT issues in addition to the classic problems that women around the world face, Arab women in particular (child brides, domestic violence, sexual assault, rape, and many more).
Our goal is to present an alternative to the status of chaos and corruption that is rampant in the Middle East, especially since the region has been tormented by wars. Our project is wholesome, humanitarian, and educational.
The Nasawyia team translates and dubs videos about women's issues and publishes daily articles and videos to empower women. On top of that, we listen to individual stories via WhatsApp to help women who suffer from emotional and physical abuse.
Who is the founder of this project?
Dareen Hasan

Dareen Hasan. Born in Hama, Syria in 1979 and living in Haarlem, The Netherlands since 2012. An independent journalist, film director, and artist. 
She has a bachelor's degree in mass media from Damascus University.
She has worked as a dancing teacher at a private school in Damascus for seven years, while at the same time learning filmmaking online.
She moved to the Netherlands after the war in Syria and worked as a journalist and editor for a year and a half at RNW "Radio Netherlands Worldwide." She established her project in early 2014: Nasawyia, an online NGO that publishes articles about women every day.
She is the director of "Bread and Iron," a film that won two awards in Italy and the US,
and was nominated for seven. The film was financed by Dareen herself and sheds
light on the life of Syrian workers in Lebanon. The movie screened in Rotterdam,
Amsterdam, and at Leiden University as part of a student project. Recently,
Dareen has directed, produced and filmed another short film on domestic
violence and it has received many accolades. Dareen lives in the Haarlem, 
The Netherlands since 2012 here is my page
Dareen Hasan
bread and Iron Documentary 

My words to you are:

I am a Syrian female journalist and a refugee. I am the head of a licensed women's rights organization in the Netherlands. I have been working on women's issues for four years, helping women individually as a volunteer.
I am writing this letter to all people around the globe, especially activists, feminists, and other believers in the importance of human rights. I am asking for support for my project: to start a TV channel in the Netherlands, which broadcasts for women from the Middle East and North Africa (MENA region) from a feminist point of view.
I would like to tell thousands of stories about women in the Middle East and North Africa.
Stories that have gone forgotten or neglected, about brave women who want to change the reality for other women. Stories about history, crime, and culture in the Arab society. I will explain the situation of women in the Middle East and the main issues that require awareness. I want to create a wave of awareness towards women's rights that Arabic mainstream media have been ignoring for the past 200 years.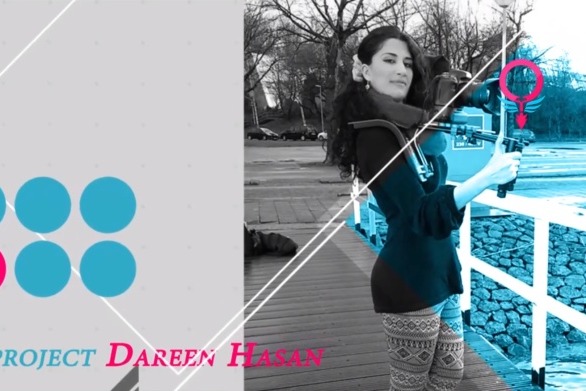 Who will benefit?
Among refugee women in Europe, even though they are now in a haven, there is a significant ignorance of their rights. Unfortunately, many keep living within the narrow borders of their communities where men are the rulers and women still face the same unjust and inhumane practices that they were subjected to in their homelands, such as domestic violence, rape, and honor killing.
Therefore, we feel the moral obligation to show the world that those crimes are still being committed and encourage women to take steps towards independence and away from those abuses. This TV channel will help women realize their rights and potential by providing information, aiding their integration into European society by assisting them to understand the laws and cultural customs.
We realize that women's problems are linked to many broader questions of social justice;
Their solution will require concerted action by many groups.  Therefore, convinced that human rights for all are indivisible, we expect to give active support to the common cause of equal rights for all those who suffer discrimination and deprivation, and we call upon other
organizations committed to such goals to support our efforts towards equality for women.
We need your support to our NGO to use the funding in:
1-renting a place to start making lectures about women in the middle east.
2-Making a website for the organization
3- equipment to start filming, making promotions, videos short films. short documentaries, short reports:
· Camera/Lighting/GripEquip
· Rental Sound Equip
·Studios rental
· Location Expenses
· Actor and actresses
· TV presenters
· Special effects
· Cameramen
· Sound Recorders
· Boom Operator
· Music composer
· Hair/Makeup/wardrobe stylist
· Kit Lighting specialist
· Editors
· Sound mixing
· Color correction
· Translation and subtitling
4- Printing/ posters/fliers
5- Advertising the NGO onTv channels
 I'm very grateful for any donations. Thank you
+ Read More