33
3
NALA's Tumor Removal Fund
$2,110
of $2,650 goal
Raised by
32
people in 8 months
I've never asked for help from my community so this is super hard but here goes...
NALA HAS A MAST CELL TUMOR THAT NEEDS TO BE REMOVED ASAP...
Nala is a very happy and otherwise healthy "Red Nose" pittie, however last week she had a random flare up of welts and bumps pop up all over her body that occurred out of nowhere in the middle of the night, like in litterly just a few moments.  I took her in to the vet immidiately and they found a small/medium size tumor in her inner thigh.   After $500 worth of blood tests and 3 days later I was informned that the tumor is indeed cancerous and a mast cell tumor to be exact (Mast cell tumor (MCT) represents a cancer of a type of blood cell normally involved in the body's response to allergens and inflammation).  The cancer has not yet spread to her lymph nodes so there's a good chance that quick removal and radiation treatment will be eliminate this threat on her life.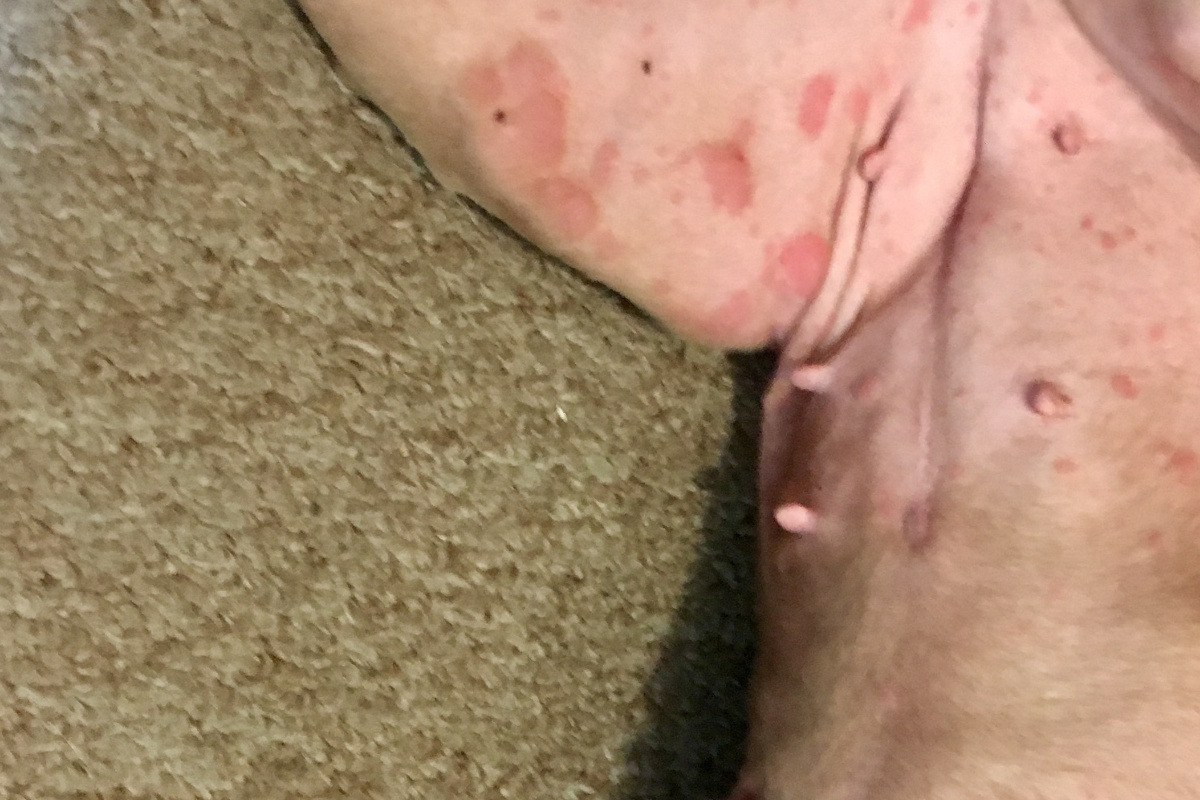 ABOUT NALA...
Nala is a pittie rescue who came into my life 4 years old and has been a true blessing. Nala started out as my therapy animal but is now a fully trained service dog and helps me stay mentally and physically healthy every single day . I have never been happier than I have been since she came into my life.
Because Nala is still  relatively young and otherwise very healthy, she has a very high chance of beating this cancer and living a long happy life with me.  Her treatment costs are completely beyond the range of my already limited finances. I live alone, pay an exborant amount of rent (like everyone else in the Bay Area) and due to disability reasons, I  live soley on money earned from DJing which, as many DJs working in the SF queer community will likely tell you, we do it for the love because the money is not at all what one might expect.
FINANCIAL NEEDS FOR NALA...

Nala is a joy and a lifesaver. She is a sweet, loving, beautiful soul and I want her to have a fighting chance to live a long happy life with me. Any amount that you may be able to spare will be used to help pay for her surgery, treatment and recovery costs.  Her blood work, X-rays and oncology consultation costs have already wiped me out (about 1K already spent just figuring out what was wrong and figuring out how to fix her).   Again, I have always prided myself in being self sufficient against all odds and I thought I would never ever ask for help from anyone, but my love for her has compelled me to reach out and do the thing I thought I could never do.
I would be forever grateful to each and every person who may be able to help me save Nala's life.  No amount is too small and if you can't contribute financially, EVEN JUST  SHARING THIS would help tremendously.  Thank you in advance for taking the time to read this.
SOMETHING FOR YOU...
As a small token of my appreciation for your help and If you like Hip Hop, Soulful House or 90s throwbacks, I can offer you free downloads of my mixtapes for you to get through a long commute, a work out, a small party/gathering or just a tough day.   All of my mixtapes are seamless continous live mixes made with love and passion for music and the true DJ artform.  Download anything you wish at;
https://soundcloud.com/djolgat
enjoy and THANK YOU!
Much love,
DJ Olga T  & Nala the Pittie
+ Read More
Update 2
7 months ago
Share
Good news! Thanks to each and every one of you I'm very happy to report that Nala is cancer free and doing fantastic in her healing process. On Friday December 7th at Pets Referral Center in Berkeley her surgeon (Dr. Grange) removed what we later found to be a "grade 2 " or a low grade cancerous tumor from her inner right thigh. He actually found another small one also which was also removed. He said he got great margins and that he was able to get all of it out.

Just about two days later Nala was trying to run around like nothing happened and so she is doing great and in high spirits. And today (12/14/18) is also her 7th birthday and she is getting spoiled rotten all day of course!

My absolute deepest gratitude goes out to you for helping me be able to do what was needed for my sweet Nalita. I truly could not have done it without your help. Nala quite literally keeps me alive every day and I'm so happy to be able to continue to give her a great life until she is hopefully old and grey. She is a sweet soul and a Godsend of a service dog. Thank you again friends and family!

Much love,
Olga & Nala
+ Read More
Update 1
7 months ago
Share
Good news; I found a much more affordable surgeon so the fundraising goal amount to get her tumor removed is just within reach. If they find that she needs radiation treatment I will not be going that route but instead will be using a holistic approach working closely with our vet to go the akaline diet route. This significantly reduces the cost and allows me to move forward to at least get the tumor removed ASAP. I'm so thankful for everyone who has helped so far.
+ Read More
Read a Previous Update