Monica (Li'l Mo) Passin's new album
$4,875
of $8,008 goal
Raised by
93
people in 6 months
Hello, dearest everybody!

The album release party was some smashing good fun, the CDs are here (album art inspired by the lovely 1960 vintage Sinatra cover), and I'm starting the process of shipping them out to all you wonderful and generous folks. I couldn't have done it without you.

Thanks and love,
Monica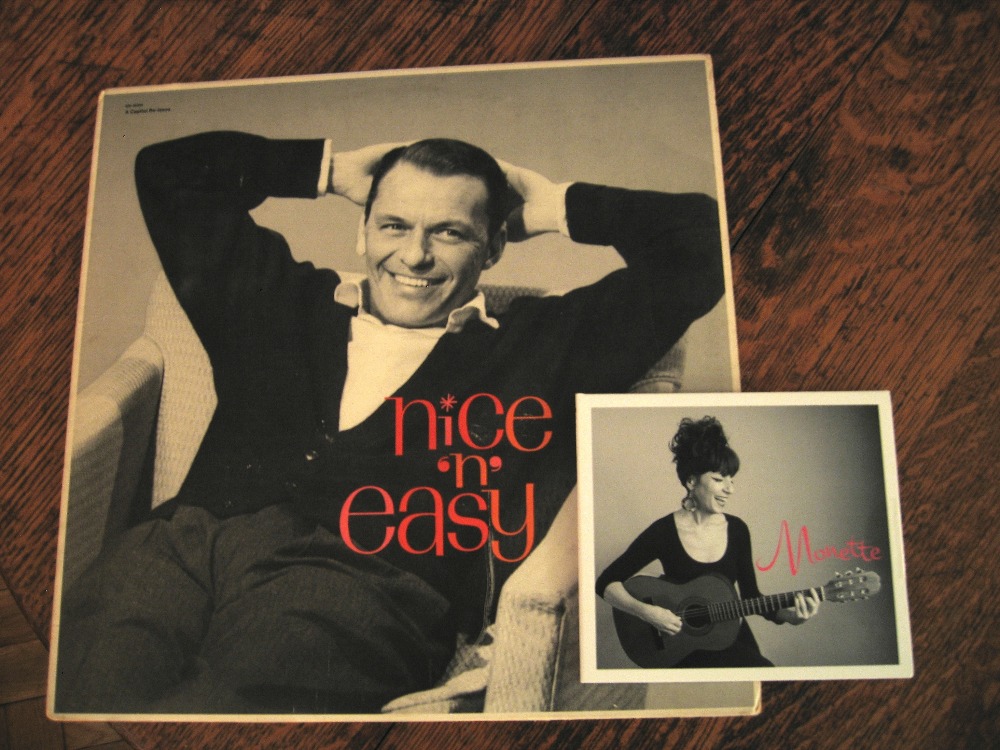 Hello, dearest everybody!

Thankyouthankyouthankyouthankyouthankyouall.
Love, Monica


Hello, dearest everybody!
I am spending some of Valentine's week packing up and shipping some handmade PainterGirl chocolates of my own design to the lovely donors at the "melodic" and "gold record" levels. You and all the generous supporters at every level are my valentines this year! The music will be following next month in its own heart-shaped way, and we will have an album release party on March 26 in New York City. Please hold the date and give me some sugar! Thank you, thank you!


This campaign remains open, and simply buying the album in advance is a great help. I'm very proud of the work, and I look forward to bringing you the best musicians and singers to make it come alive.
Thank you so much for the loving support.
Monica


Hello, dearest everybody, and Happy New Year!

It's been awhile since I've updated you here, but that's because I've been very busy making headway with this project. I've formed my new vocal group, which includes Sherryl Marshall and Deborah Berg, and Lesley Miller, who sang with me on the album, will join us whenever she is available. This is vocal powerhouse stuff! We have planned an album release show/party for the end of March, in New York City, and those of you who have donated to the campaign will have received your albums by then, too. By the way, if you donated $100 or more, you have some chocolates coming to you, and they may arrive before the music! How much fun to get lovely things in the mail.

This campaign remains open, and simply buying the album in advance is a great help. I'm very proud of the work, and I look forward to bringing you the best musicians and singers to make it come alive.

Thank you so much for the loving support.

Monica


__________________________________________________________



Hello, dearest everbody! Please see update #7 for a new video!


Hello, dearest everybody,

I have returned from Asheville with a recorded album of songs! As promised, I'm giving you a sonic preview. I couldn't simply upload a music file; I had to make a video, too (another learning curve for me) so I gathered some old family photos from the 50s and 60s, and some musical memorabilia, and married them to bits and pieces of the tunes. Please give a listen by clicking on the video in the Updates section below.

This particular campaign is not over yet, as now I must have the recordings mastered, work on the design and layout of the album cover, and move toward duplication and distribution. Simply buying my album in advance is of great help, and very much appreciated. My hope is that the songs bring you great joy and rhythm in the new year.

Thank you, dearest everybody!
Click where it says "Updates" to see the video!


___________________________________________________________



UPDATE! Hello dearest everybody! 
This campaign has been going swimmingly and I am really grateful that we are more than half-way to the goal (with added outside donations). I am on my way to Asheville for the recording, and when I get back, the mastering and duplicating will follow. But while I'm away, I tend to unplug a bit, so I might not check in here too often. I thank you in advance if you happen to add to the campaign while I'm gone.
I'm excited about this recording, and as soon as I return, I will share some music here as a preview.
Thanks again!


(If this is your first time visiting this campaign, please read the description below)
–––––––––––––––––––––––––––––––––––––––
Dearest friends, fans, and family,
I'm in the midst of a new musical adventure, and I'd love for you to join me.
I'm writing songs for my fifth album, which I will be recording in Asheville, North Carolina, at the end of October. My last album came out in 2012, and in the four years since then, in addition to teaching and performing music, I have been hosting The Field of Stars song circle and The Great Harmony Swap shows (at The Treehouse at 2A here in NYC) through which I've met and worked with many great singers. They've helped me flesh out my 60s girl-group songs such as When Girls Sing and Too Much Time With Your Tears, and this in turn has inspired me to write a full album of songs with plenty of back-up parts and harmony singing, to fulfill the dream of having a full-fledged vocal group! My new songs sit comfortably in the styles of the vocal groups of the 1950s, stretching a little from the late 40s to the early 60s, inspired by such artists as the Platters, the Flamingos, the Miracles, and Louis Jordan, with a heaping helping of the Chantels, the Orlons, the Davis Sisters, Julie London, Peggy Lee, and Sam Cooke. Or something like that... There's jump blues, rockabilly boogie, doo-wop, ballads, r&b pop, and cha-cha-cha! Plenty of irresistible sing alongs and dance tunes, yes!
I go to Asheville to record because my perennial co-producer, Hank Bones, lives there. He's a multi-instrumentalist, a brilliant vocal arranger, and master recorder, and we have the ability to inspire each other to create the sounds of the eras and styles of American roots and popular music that we want to help keep alive and vital. And we do this by my living in Asheville for 8 or 9 days and we complete the recording of the album in that time. When I return to New York, the album must be mastered, designed, and of course, duplicated in a couple of formats and distributed.
My friend Lesley Miller will be joining me in Asheville. She's an amazing and highly experienced singer and recording artist, and I look forward to creating the vocal parts with her and Hank. When the new album is in our hands, we'll put our singer friends to work and present the album live. And by the way, recording is always an amazing learning experience for me, and as a music educator, I love to share what I've learned with my students and those whom I mentor.
The outlay of funds for this project is simply too great for me to handle by myself this time, even as I actually save money by working with Hank in Asheville as opposed to recording in New York, so I have decided to go the crowd-sourcing route for the first time. The basic idea is for me to sell the music in advance, and you may choose to buy it in advance, for as low as $10, and since I will be making this album no matter what, you will receive the album as soon as it is available. If you are in a position to give more, I have come up with some fun incentives for you. In addition to receiving a CD, at different levels you'll also get signed posters, of album art and/or shows, that I've designed, or chocolates I created for my PainterGirl chocolate company, made for me by Jomart Chocolates in Brooklyn, or a guitar lesson or music/performance consultation with me, or a book of my photographs. At any level, you are a true patron of the arts, and the world (and this "starving" artist) needs you!  
Thanks for reading this far! And for coming back for updates! I'm very excited about this record and the future performances of it, and I'd be so very, very grateful if you were a part of it all.
Love, Monica
+ Read More