Falconer in Legal Battle With USFWS
$4,980
of $25,000 goal
Raised by
85
people in 39 months
They are going after me for the very thing I'm licensed to do. Imagine being given a speeding ticket for driving 55 miles per hour in a 55 mile per hour zone.  That's what happened to me...
I am Mike Dupuy, a licensed master falconer and public speaker. In July 2014 the US Fish and Wildlife Service (USFWS) brought unwarranted charges against me alleging that I violated the Migratory Bird Treaty Act for illegally possessing a baby goshawk.
Although the initial violation only carried a fine of $325, I had to fight the charges because paying the fine would have caused me to enter a plea of guilty. Falconry and Raptor Propagation are part of my very livelihood, pleading guilty could have caused the loss of my permits simply due to the ambiguity of the federal and state laws I strive to follow. 
On February 18, 2015 I was acquitted of these charges at a cost in excess of $25,000 in legal fees. I am asking for help to defray my legal expenses.
Winning this case, although costly, helped to establish a clear precedent for how these regulations are to be enforced.  Ever the activist, I am currently working with US Senators, State Senators and a national falconry club to prevent this from happening to anyone in the future. 
As many of you know, for almost three decades I have devoted my life to raising and training birds of prey and educating people across the country about them. I have a falconry permit that allows me to capture and possess birds of prey (or raptors), and a raptor propagation permit that allows me to care for and breed wild birds.  Both permits allow for a "take" (taking birds from the wild) of up to two birds per year for falconry or breeding and in most years I take none.
The reason raptor propagation was originally licensed by the government is based on the biological understanding that having reserves of different species of interest under the control of breeders is necessary.  Should anything go wrong in nature there would be a reserve breeding stock available.  It was the Peregrine Falcons falconers had in captivity that provided the initial breeding stock to help repopulate the species when it was on the endangered species list due to DDT.
In 2012 I contacted USFWS and the Pennsylvania Game Commission (PGC), both by email and phone, and was led to believe that, under the law, I may capture two birds per permit annually, based on the two permits I hold. I contacted PGC in June of 2014 to notify them that I had three baby goshawks that I was raising, which would have died had I not cared for them because first year raptors have a 70-90% mortality rate in the wild.
Federal authorities were notified and, instead of trying to work out the situation, I was issued a violation and found myself in an expensive legal battle. Knowing I had to fight this charge, I hired a Washington DC law firm that specializes in wildlife law. 
Falconers like me care about conservation and the long-term survival of birds of prey and support regulations that protect them, but many of the regulations are ambiguous and the guidance received is often based on the personal interpretation of the government employee you speak to. Few other sportsmen are subjected to this level of oversight. We nurture these birds, care for them, raise them, and cry over them. Then we fly them free and hope they come back to us.
If you care about supporting and taking a stand for the people like me who become licensed to practice falconry and educate the public about this passion, then please make a contribution to my legal expenses.
Thank you for your support.
You can also help by clicking the share links below and spreading the word.
Here are links to stories about my case:
Huffington Post Article: Meet the Falconer Who Took on the Feds - And Won:
http://www.huffingtonpost.com/2015/03/04/fish-and-wildlife-service_n_6788640.html
Radio Interview on Free Talk Live:
https://youtu.be/DzWWhepm6xU
Patriot News: Articles About Trial and Acquittal:
http://blog.pennlive.com/wildaboutpa/2015/02/pennsylvania_falconer_claims_f.html
http://blog.pennlive.com/wildaboutpa/2015/03/falconer_acquitted_of_migrator.html
You can read more about my work at:
http://www.mikedupuyfalconry.com
+ Read More
Update 2
38 months ago
Share
Is anyone else really confused about what happend in my legal case after reading a few of the articles, listening to the interview or simply with the "Not Guilty" verdict! I got this email as a second round after explaining what happened and re-providing the links, but he and the other falconers he talked to are still tallying their "consensus." Does this person really not get it or are they pretending not to get it? Here is what he wrote:

Mike , thanks for the info. I did go through the links and still, I did not understand what the feds were after. I talked to a few different falconers and they have different opinions on what this issue is about also. so it is not only me. the consensus seems to be either take or written permission… hopefully you get this clarified in the state you are in, good luck, Rxx.

Let me know what you think and please donate whatever you can afford.
+ Read More
Update 1
38 months ago
Share
I would rather be asking my friends and "fans" to help me with this conservation effort in Haiti but instead feel I have to take care past obligations first. I will soon post a modest request on helping save the Ridgway's Hawk, last month I sent ($333) one of three checks to the Peregrine Fund who's work I will piggyback onto. Thanks, Mike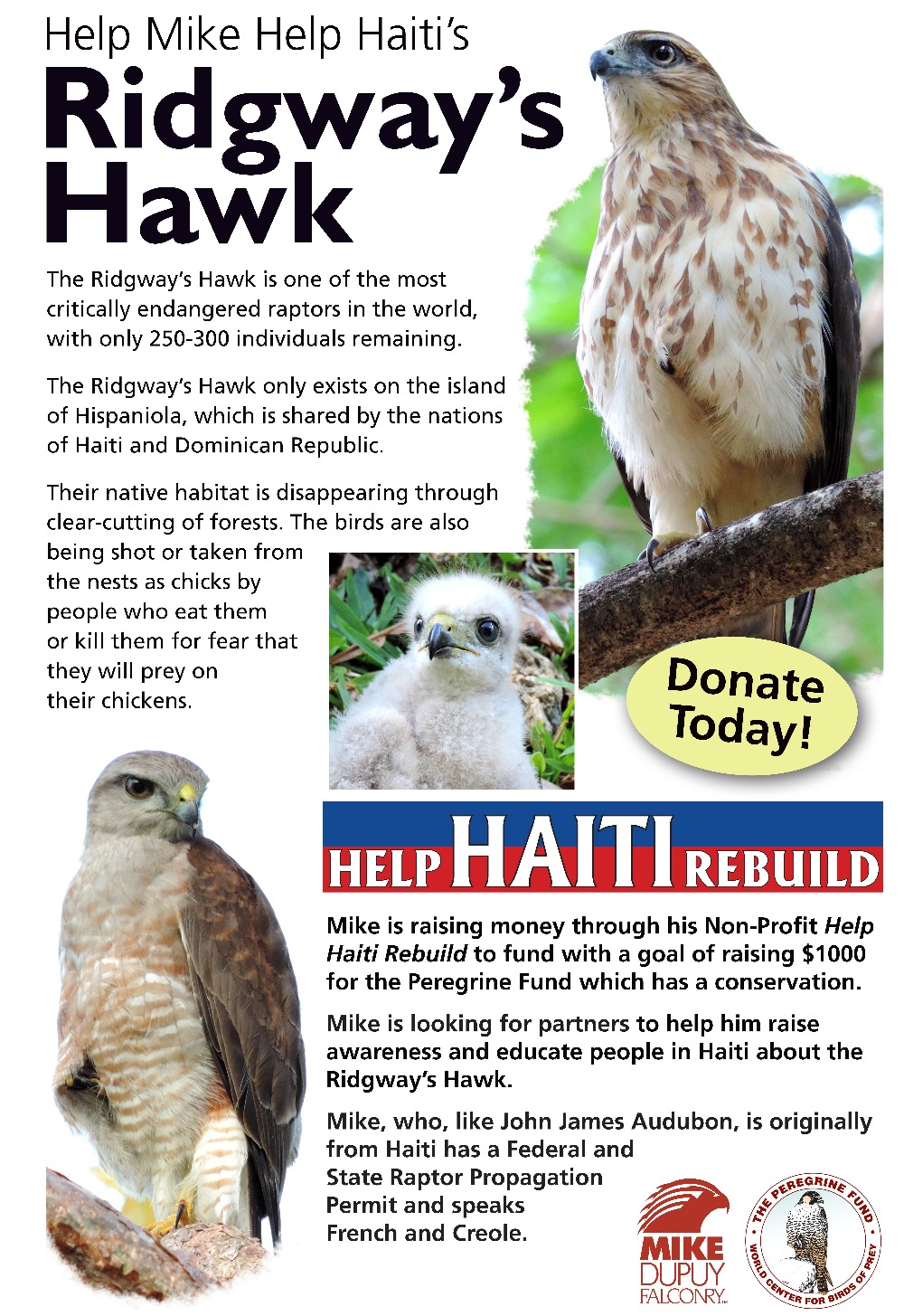 + Read More
Read a Previous Update
Be the first to leave a comment on this campaign.