Voyaging in the Salish Sea
$1,160
of $15,000 goal
Raised by
18
people in 26 months
2018 Funding Needs:


We  are currently seeking donations for 2 phases of our 2018 projects!
Little Wayfinders Forest School
, launching Spring 2018
-requesting
$5,000
for start up supplies for our school serving kids in the San Juan Island community ages 3-6
Kaigani Canoe Voyaging Program,
Summer 2018
 -
$10,000
for rigging Kaigani for traditional Polynesian style canoe sailing. (sails, trampolines, rigging, mast, safety equipment, etc)

Spring/Summer 2018 Programs


-May canoe voyage, Spring Street International School
-
PROJECT WAYFINDER
  youth voyaging pilot
Middle School Session
HS session
Dates/Info TBA!
In partnership with Standford Universities famous Hasso Platner dSchool, we will be one of the founding pilot partners to deliver the
PROJECT WAYFINDER
tool kit to engage High School students; integrating the dynamic experiential toolkit and practical application on our voyaging canoe, Kaigani.
Project Wayfinder
is a collaboration between Stanford University and the Polynesian Voyaging Society.
www.projectwayfinder.com

Past Summer 2017 Program Highlights:
In summer 2017
Kaigani
was rigged for traditional Polynesian outrigger paddling and took to our precious waters of San Juan island on her maiden voyages.
We had small programs with youth from Island Rec, paddles with students from the Salish Seas Science Camp(Spring Street International School) along with a small group of dedicated adult paddlers joining Kaigani for her 1st season!
Adult community recreational paddling, IMUA!
Island Rec Canoe Survival Camp
Kaigani
and the Lummi cedar strip canoe
Xwachxeng
paddled together for Island Recs summer Canoe Survival program.
-----------------------------------------------------------------------
E Aloha Mai Friends & 'Ohana near and oceans away, 
Synergies are converging and amazing stories have been blending and unraveling the past year on my project.
The Year 2016 brings a deep and profound momentum in Ocean Voyaging globally and the perpetuation of traditional and indigenous ocean wayfinding and navigational systems. Voyaging is happening to bring awareness to the need for our Island Earth to come together as one people; to share one another's stories of hope and progress to sail towards a more sustainable world for our children. Ocean Voyaging on traditional vessels of all peoples is an all encompassing spiritual and cultural conduit to ensure that our future generations are mentored in perpetuating a deep connection to Mother Earth and the inherent wisdoms she teaches us.
We (the community and youth of the San Juan Islands) have been blessed with our
FIRST
Hawai'ian Wa'a, named
KAIGANI
( a year or two ahead of schedule by fate) and a partnership with the Pacific Northwest Voyaging Society and our connected 'Ohana Wa'a spread across Pacific Northwest, Canadian Islands, and the Main Hawai'ian Islands.
The
Kaigani Voyaging Canoe,
 which will eventually be rigged for traditional Hawai'ian style canoe sailing will arrive to San Juan Island in March 2017.
In September 2016 we incorporated
Kaigani Canoe Voyaging Society ( KCVS)
as a 501c3 Federal non-profit organization and donations are deductible to the full extent of the law.
The Mission for the
Kaigani Canoe Voyaging Society
  is perpetuation of canoe culture through ocean voyaging, traditional knowledge systems, community building, maritime skills training, and stewardship.
SUPPORT
THE CAUSE AND GET A FREE SHIRT WITH A $50 DONATION

NEW 2018 KAIGANI CANOE FAMILY PADDLE JERSEYS!! ORDER NOW! 

$45 Nickel or Mango (water visibility)


KAIGANI Tshirts (New Design coming soon!)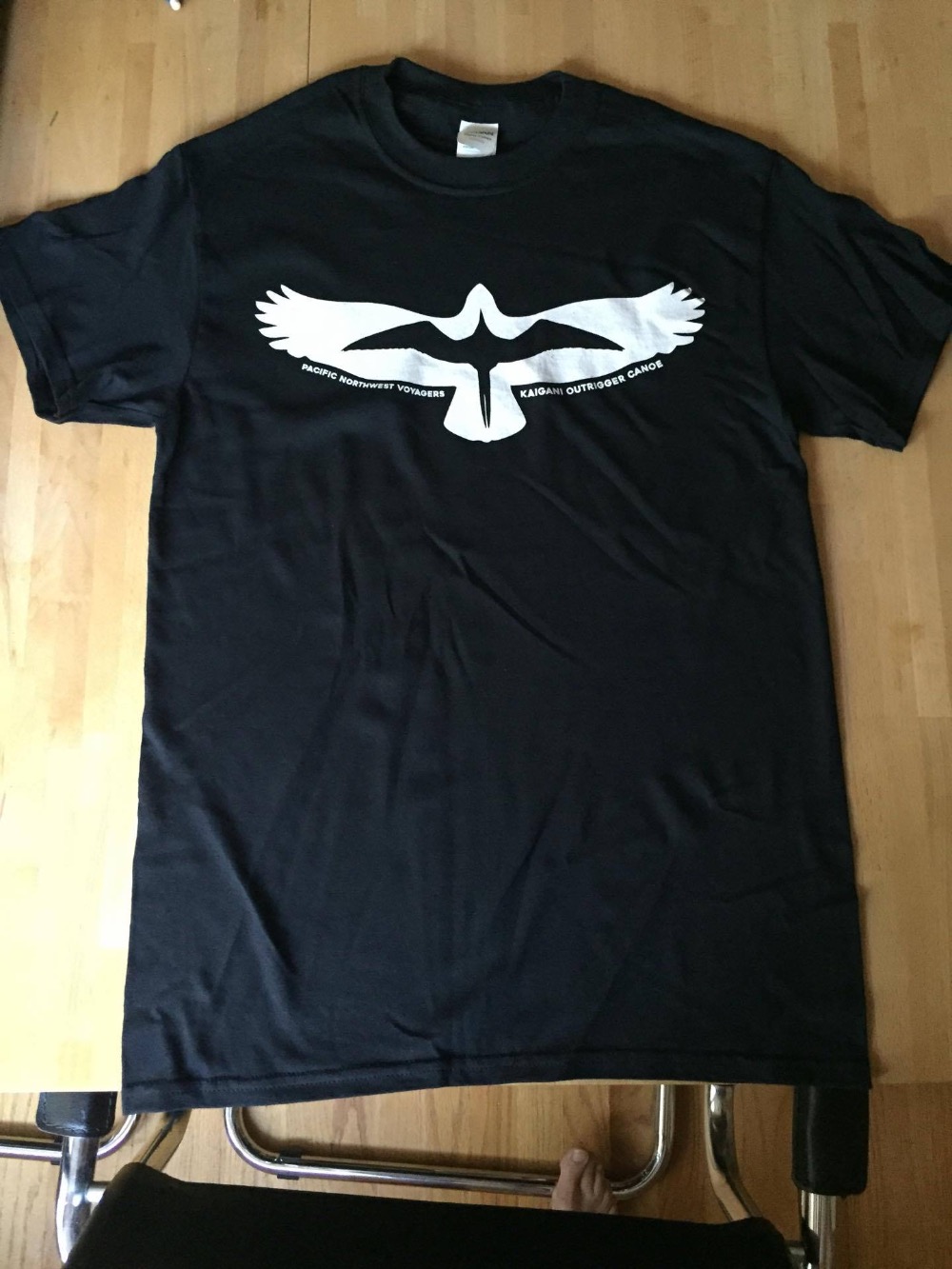 Birth of Kaigani:
Kaigani
was transformed from tree to canoe with care and years of building experience by master boat builders John Guzwell and Jono Saunders of Port Port Townsend, WA.
Kaigani
was named after the forest where the timber was harvested for her creation (the same forest that produced the timber for the Hawai'ian Double-Hulled canoe, Hokule'a) located in the Haida Gwaii, Queen Charlotte Islands. Kaigani is a Hawai'ian outrigger canoe specifically designed for the waters of the Salish Sea. She will ultimately be rigged in Polynesian style for Canoe Sailing.
The Kaigani voyaging canoe comes to the Community and Youth of the San Juan Islands with an existing vision.
We will carry forward and continue her work. As paddlers we believe the canoe has its own spirit, a life of its own. We choose to live that not only in respect but in stewardship. Kaigani will be an ambassador of canoe culture, bringing her voyaging spirit and experience to new people, young and old.
The people who arrived in Hawai'i a millennium ago were voyagers and continue to voyage throughout the world. The Hawai'ians, Polynesians and Coast Salish First Nations are canoe people, traveling on man powered and wind powered canoes across great distances.
So, Why a Hawai'ian Voyaging Canoe in the Salish Sea?
Why the Inclusion of Hawai'ian voyaging traditions into one component of a project-based voyaging & stewardship curriculum serving the community of the San Juan Islands, connections and relationships with the Salish tribes, and Washington mainland?
There is a deep cultural and historical connection between Hawai'i, the San Juan Islands, Vancouver Island, BC and near coastal islands.
The mo'olelo (oral and written history) is full of stories of early Hawai'ians and their presence on San Juan Island.
We integrate the Hawai'ian Sailing Wa'a into our conservation and experiential programs on San Juan Island, Friday Harbor, WA to honor the history of Kanaka whose home is our home. What happens to the children and people on the shores of the Salish Sea, happens to the children and the peoples of Hawai'i nei.
The stories are interconnected within the current healing process of coast Salish indigenous peoples, it is interconnected to the Hawai'ian story; and more importantly the unfolding of this story in the Salish Sea is rooted in Aloha and the unconditional love that binds us to our Island Earth, all living beings, the Universe, and the Great Spirit.
Vision:
Our vision for Kaigani is to connect with the natural elements of the Salish Sea while discovering the richness of canoe culture, ocean travel and awareness, through voyaging, discovery and experiential education. We enter this mission with humility and reverence of our natural world, Polynesian and Coast Salish knowledge and seek to better our understanding of past, present and future. To stand in solidarity with those that protect the sacred and honor our natural resources. Discovering the richness of wildlife, the water, the land, the trees, the elk, the eagles, the salmon, the orca, the communities, the people of today and the people who have come before.
Through voyaging we understand the importance of teamwork, community, and that each one of us is a leader and a contributor, providing assets and resources that help us all reach the next step. We discover what it means to live in the moment and disconnect from the stresses of modern life, as we stretch out beyond our comfort zone, to a place where land and ocean meet and possibilities arise.
A voyaging canoe is a maritime parallel to an Island village system. The success of our canoe depends on all roles and responsibilities of our Island village. Our crew consisting of fishermen, farmers, spiritual leaders, craftsmen, teachers, healers, Leadership, and the people with all their unique skill sets. The canoe presents a modern platform for individuals to practice their cultural lifestyle in a synergetic way. Each individual is celebrated for what they can contribute to the whole.
What we do to survive on the land, is what we do to survive on the canoe. How we conserve, act, or educate our people about our precious Island resources is a direct reflection of how we will navigate forward together on a canoe and survive, explore, and flourish at sea...
CURRENT/Potential PROJECTS of KAIGANI
*
Little Wayfinders Forest to Ocean Immersion School Program 
(Ages 2.9-6) 
Pilot Program TBA Spring/Summer 2018
*Stanford University pilot program,
PROJECT WAYFINDER
, Summer 2018
* May 2018 Spring Street International School canoe voyaging program May 18-June 8th
*Community Voyaging Programs around San Juan Islands
*Voyaging with Youth Conservation Corps programs from around Pacific Northwest (EarthCorps, NWYC, SCA, etc) and eventually exchanges with Hawai'i youth programs.
*Scientific research with focus on voyaging, traditional knowledge systems, and canoe culture in partnership with Universities and community colleges
*Wounded Warriors Project
*Salish Seas Science Camp, Spring Street International School TBA
*
Race to Alaska, Summer 2019
*Annual Tribal Canoe Journey & Collaborations with Coast Salish Canoe Families
*Youth voyaging exchanges, leadership, stewardship between youth/tribes of Pacific Northwest and Hawai'i 
*Year-round youth maritime vocational skills training program
*Sailing Canoe Club
*Salish Sea Awareness Projects - Salmon Recovery,
Paddle In Seattle, Arctic Oil Drilling, Coal Trains, Invasive Species Eradication, Orca Projection and Activism, Water Quality Research, Cascadia Now.
FUNDING PHASES-



PHASE I-
Procure funding to pay for KAIGANI Canoe
UPDATE>>> GOAL MET September 2016!

PHASE II-
Secure funding to traditionally rig Kaigani for Hawai'ian style canoe sailing and launch a year-round youth ocean voyaging, stewardship, and maritime skills program. A Pilot Program is anticipated for launch Summer 2017 with a small group of youth from Spring Street International School and the local community.
Currently this will be a tuition-based program until we secure revenue generators; at which time the program will be free of charge to youth that go through an application process.
When funding is secure for rigging and related equipment and safety gear, youth from the 2018pilot program will engage in a trip to Port Townsend to work with a Master Rigger and Sailmaker to craft the sails/mast/rigging for Kaigani so that she is transformed to sailing vessel for our experiential programs.
Traditionally-rigged Hawai'ian Sailing Canoes


PHASE III-
Launch internal programs that are revenue generating that accomplish the goals of the program being self-sustaining into future, meeting operational and staff costs, as well as providing a quality service to youth of the San Juan Archipelago free of charge.
We have already
identified 3
highly feasible and proactive ways to generate income for our Non-Profit and are already proceeding with portions of Phase III.
1-
"Little Wayfinders"
Forest to Ocean Immersion School

We will be launching a Forest/Ocean School pilot program Summer 2018 for ages 3-6yrs old to provide a much needed service for families on San Juan Island.
We will begin with a 3 day per week operation and 4 hour sessions. This will be a tuition-based program and the pilot program will accept 10-15 little Wayfinders per week. We hope to expand sessions into the future with the goal of birthing this into a year-round Forest School program for our young ones.
Forest Schools are growing in popularity across the US, and Orcas Island currently has one. Our little ones will engage in outdoor experiential based education and spontaneous play in nature while also engaging in canoe culture. Select High School age youth from our regular voyaging program will serve as paid Team Leaders for the Forest School, providing them with Leadership opportunities, job skills and training, and also passing along to our little ones portions of what they learn in their voyaging program.
Revenues generated by the Non-Profit from Forest School will be applied to the main Voyaging Program for the older youth and at no cost to participants.
2- Community Canoe Building Project


Kaigani is currently partnered with Spring Street International School, HS STEM Center, Friends of the San Juans, Island Rec, and Washington Canoes to present a program to youth from all organizations coming together to learn the process of constructing traditional Lummi cedar-strip travel canoes. Elder and Master Canoe Builder Dean Washington of the Lummi Nation will mentor our youth and community members in the process and we are scheduled to commence building two more tribal canoes Spring 2017.
These canoes will be shared community resources for respective canoe programs.
The partnership has also obtained the master canoe mold and seeking funds to pay for it so that subsequent canoes can be built at wholesale cost using the canoe mold as yet another valuable community asset to promote canoe culture and maritime skills/shipwright training to our youth.
Our Non-Profit foresees shared access to the canoe mold as a means to not only engage our program youth in vocational maritime skills, but selling the canoes to private funders, community at large, mainland programs, etc as a means to fund our regular year round programs to offset costs and create longevity.
Dean Washington, master carver Lummi Nation & Matt- blessing of 1st Canoe "Smeye" built Summer 2016
Westcott Bay, San Juan Island
        "Xwalelq" being constructed summer 2016
Dean Washington Lummi and SJI Youth from Conservation Corps
Members of SJI Canoe Family paddling new 6 person Lummi travel canoe "Xwalelq"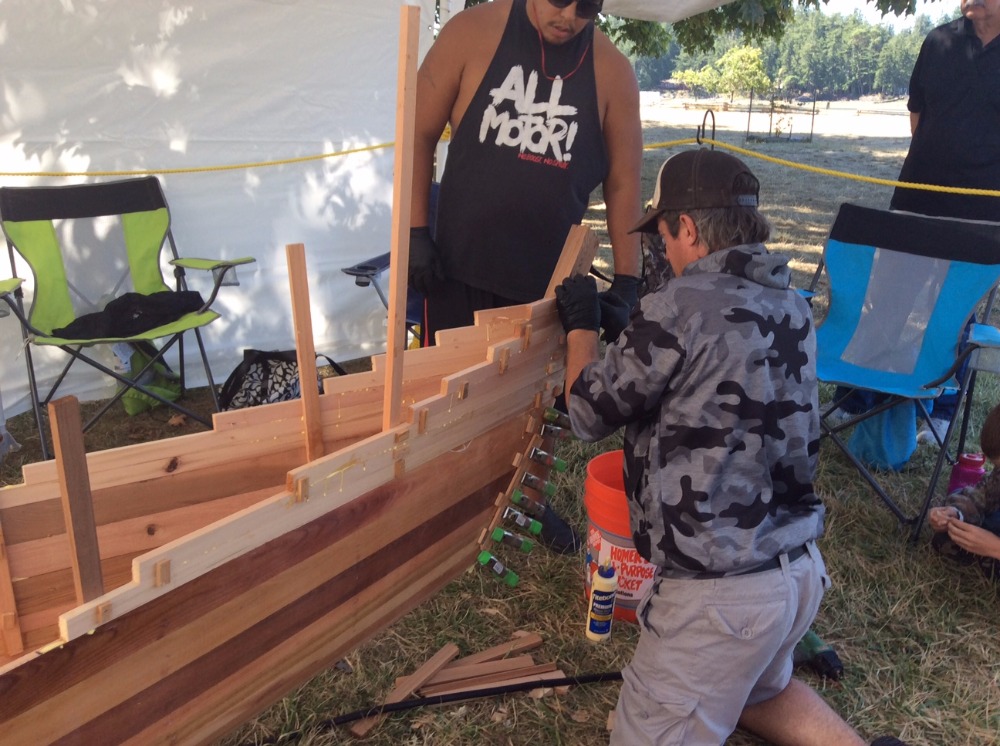 2017 Updates:
2 new canoes are completed and currently have a home at Spring Street International School!
Xwachxeng
being birthed on canoe form
                                              "Xwachxeng"3- Educational Guided Canoe Excursions


Ultimately, our Non-Profit will posture to build a 2nd Hawai'ian Sailing Canoe dedicated solely to Outward Bound type expeditions offered to students & families globally during the busy tourist season. Given the nature of our tourist economy, our changing and challenging global issues, the need for ocean-based education, local job employment, honoring the cultural traditions of all those who used the waterways, we see Kaigani as a ambassador that can offer life changing experiences and perspectives for people of all ages and walks of life.
Youth from the regular program will again serve as excursion deckhands (paid) on Kaigani commercial operations and to engage tourists, visitors, and even local Islanders, about canoe culture and our precious Island resources.
Revenues from our expeditionary program will sustain us into the future, provide more training & leadership opportunities for our youth, while also giving our program the ability to give a percentage of our revenues to our partner colleagues in the San Juan Archipelago whom are also working tirelessly to protect our resources for future generations.
YOUR CONTRIBUTION WILL ENSURE OUR YOUTH THE OPPORTUNITY TO BE PASSED THE TORCH TO SUSTAIN FUTURE GENERATIONS- TO KEEP ALIVE THE SPIRIT OF THE VOYAGING CANOES AND THEIR CULTURAL AND HISTORICAL IMPORTANCE TO ALL PEOPLES OF THE SALISH SEA.IF YOU ARE A PADDLER, AN OCEAN LOVER, HEAR THE CRIES OF THE OCEANS AND THE FORESTS, OR ARE AN ADVOCATE OF TRADITIONAL WISDOM, WE GREATLY APPRECIATE YOUR SUPPORT IN THIS JOURNEY- HOPE TO SEE YOU IN THE WA'A IN THE NEAR FUTURE!


Mahalo nui loa for considering supporting this project and our voyage.
For our keiki(children) our future...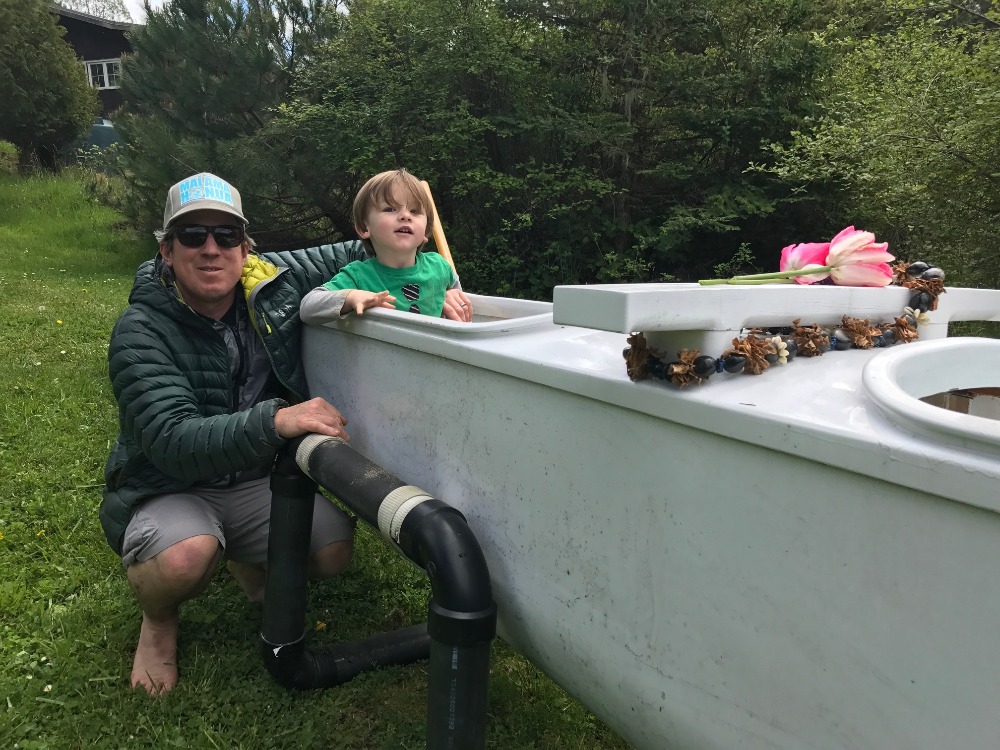 Me ke aloha la,

Matthew Wickey
Kaigani Canoe Voyaging Society
Executive Director/Skipper
www.kaigani.org
 

Matthew has worked as an outdoor educator and conservation biologist for the past 20 years in a multitude of programs and projects centered around conservation biology, adventure & environmental education, advocacy of traditional indigenous knowledge systems and community building. He has taught in Hawai'ian immersion schools, ocean-based experiential therapy programs, has worked as expedition guide, directed University outdoor programs, and has extensive professional experience as a field biologist in the Main Hawaiian Islands. Matt has an academic background in Outdoor Education (BS) & currently wrapping up an MS in Conservation Biology/Sustainability Education. Matt is dedicated to community building and bringing youth, families, and individuals to a greater awareness of the natural world and the connections that exist and that need to be healed to sustain our future as a global community. Matt finds his passions and is accomplished in ocean sports, sailing, snowboarding, mountaineering, backcountry medicine, and has interests and background in organic farming, natural/herbal medicine, Tai Chi/Qi Gong, and primitive living skills. Matt is also an active EMT with San Juan Island EMS and a Firefighter with San Juan Island Fire & Rescue.Matthews vision is binded by the glue of his Wife, Melissa; and her wisdom, passion, and knowledge of Chinese Medicine and Acupuncture that compliments the experiential and healing nature  of Wayfinding and Ocean Voyaging.


www.wayfinderwellness.com 

Matt & Melissa are both part of the International mentor network for The Tracking Project, out of Corrales, New Mexico. We are blessed to be a part of this amazing family and to assist in passing on the wisdom and teachings passed down by friend and teacher, Uncle John Stokes.

A lot of inspiration and curriculum for the Canoe programs comes from these important teachings for our youth.

Read more here:
www.thetrackingproject.org

+ Read More
Be the first to leave a comment on this campaign.