Lindsay's Fight Against Lyme
$30,922
of $40,000 goal
Raised by
160
people in 42 months
**Please check the updates section for the latest information on Lindsay's health**
Lindsay's husband has taken the time to share her battle with Lyme. For those who do not know them personally, here is their story. 
We Have Decided to Move Forward
June 27, 2015
Dear Family and Friends, most of you know me as Ian. I had the pleasure of meeting my wife Lindsay 17 years ago. This summer, we will celebrate our eighth wedding anniversary and have been so very blessed that God has entrusted us with a sweet and beautiful child, Grace, whom will soon celebrate her 5th birthday. Most of you are aware that for more than three years, Lindsay has been passionately battling Lyme disease which has resulted in numerous debilitating effects both mentally and physically. Her battle with Lyme, unfortunately, began much earlier than when she finally received the proper diagnosis. By the time Lindsay was diagnosed, just shy of two years, she had already reached a chronic stage of Lyme.
Living with Lyme
Personally, these last three years have been quite a journey for our family. I'm sharing my life with "someone" who has Lyme, and I've witnessed firsthand the steady decline in Lindsay's health. Living under such conditions has presented a myriad of physical and emotional instabilities that has stolen her quality of life and ours. Lyme has not just taken Lindsay's health, it has taken the person I once use to know; I want my wife back and Grace wants her mom back. This disease is very deceptive and continues to prove time and time again the lack of acknowledgment from the medical field resulting in incorrect treatment from these doctors, as well as an overall lack of education among the general population. Due to living in a fallen world, we judge people from their exterior, thinking because they look ok, they must be ok, and this couldn't be further from the truth. While not having any idea what their physical and/or emotional state may be and the pain and suffering many people may carry.
Lindsay's effort and stamina to heal and overcome this disease requires her full 100% participation all of the time; however, because of this, you can imagine the stress it has put on our family, both financially and emotionally. While she tries very hard to hold things together being a mother and wife, as well as perform her full-time duties at work, she is sick and she is struggling. Lindsay is still taking pills around the clock. She is also required to go for monthly blood draws to check her organ function, due to all the medications she is on, as well as have monthly checks with her Lyme Literate doctor. 
As I become more educated about this disease, I have tried to be a supportive husband, the best way I know how. However, it is extremely difficult to gauge when these symptoms will flare; there are ok days (or just hours) when she will experience some level of normalcy, but that can soon go south in an instant. In my humble opinion, the gravity of the situation is seen in the increasing number of individual Lyme cases, as well as the decreasing assistance of government programs/funding for Lyme disease, that results in a great deal of financial strain for those seeking any viable treatment to cure/control this disease.
 Doctors/Treatment Protocol
As I previously mentioned, Lindsay was diagnosed 22 months after she was initially infected. During the course of our relentless search to find the correct doctor/proper diagnosis, she visited over 15 specialists in the surrounding MD and VA area, and underwent numerous brain scans, spinal MRIs, kidney and bladder ultrasounds, a cystoscopy, and a spinal tap, not to mention the endless blood draws each of these doctors required. Each and every visit, she was dismissed, with, "you are simply overworked and under an extreme amount of stress, which is causing a variety of symptoms". She was then prescribed valium by several of these specialists and sent on her way. Since the symptoms of Lyme mimic those of MS, she went through many unnecessary tests, which not only came back as "normal", but created further anxiety and distrust in the medical field. Lyme was tested a total of four times throughout this process, and each time the test results came back as negative. For those of you who are not familiar with the current test(s) your doctor would use to check for Lyme, I will give you a quick summary.
The Elisa and Western Blot tests are what will be used to test Lyme when you go to any one of your in-network doctors; these tests are covered by your health insurance. The ELISA test is the standard test for finding out if someone has antibodies to a particular antigen (or Lyme). The Western Blot is similar to the ELISA test, as it also detects antibodies for Lyme. However, it works slightly different than the ELISA, in that it works by detecting antibodies to lots of specific antigens at the same time. The inaccuracy of these tests comes into play when you, as a patient, are not producing the antibodies to this disease, which was the case for Lindsay. If you do not notice a bull's-eye rash or recognize the early onset of Lyme and its symptoms and are not tested within a specific timeframe), your body could reach a chronic stage very quickly. Lindsay's case was beyond the point of being detected by anyone other than an LLMD (Lyme Literate) doctor; he was able to find the biofilms that the Lyme (spirochetes) had enclosed themselves in, hiding from her immune system and therefore not producing the antibodies.
After almost two years of endless doctor visits and several hospital visits in-between, Lindsay continued to get worse.  We finally decided to visit an LLMD (Lyme Literate) doctor in our area, where she was diagnosed with Chronic Lyme disease - affecting the frontal lobe of her brain, also including: mold toxicity, numerous co-infections (resulting from the Lyme), and an array of parasites.
Currently she is still being treated by the local LLMD and has been seeing him for a total of 19 months now. While he has indeed assisted Lindsay in her recovery, his fee-for-service is $400 an hour, which is two hours for each visit, and insurance will only cover one hour with him. It does not cover the monthly medications or supplements (as seen in her pictures below), which, as you might have guessed, are not covered by the insurance companies and deemed necessary for her recovery. While our family has great insurance, we are also at the mercy of what they choose to pay for. Sadly enough, our insurance has not stepped up to the plate in this game, and has been nothing more than a huge headache trying to explain why these tests and medications are continually required. Just two of Lindsay's medications are $400 a month, and she is currently taking six different medications, not including the supplements she is on.
Lindsay's Current Medications and Supplements.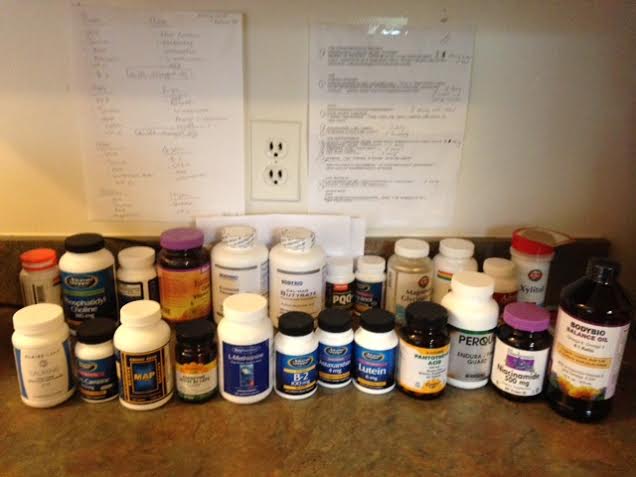 Which brings me back to
why we have decided to move forward:
After relentless hours of researching Lyme treatment centers, Lindsay came across the Sponaugle Wellness Institute, located in Florida, which specializes in treating Chronic Lyme patients. With a very high success rate, they are able to rehabilitate the entire body with an aggressive regime by utilizing IV drips, five days a week, that will be tailored just for Lindsay's needs. The program will require Lindsay to be away for an extensive amount of time from family and friends to fully heal from this disease.
This was a very hard decision for us to make, since treatment is not local, and it is also not covered by our insurance. However, Lindsay's health is at stake here, as well as her quality of life. We feel we have gone above and beyond our efforts to heal her locally, carrying the financial burden, and all the while she is not improving. Next month, we will visit the Institute and pre-register for the best chance of eradicating this horrible disease once and for all. Beginning this fall, Lindsay will be admitted to Sponaugle, where she will undergo her extensive treatment plan. Our immediate concern is the wellbeing of Lindsay, and we are willing to do whatever it takes for her to return to a healthy lifestyle.
However, the reality is, we also lack the necessary funds to attend the program in its entirety and turn her healing into a reality. We are kindly asking for your help with whatever you are able and comfortable contributing. The goal we have set on our page includes: extensive pre-testing upon her arrival, her room and board, and the treatment program. We also ask that you be in prayer for our family and ask God to give us His patience, wisdom, and strength as we begin this program and Lindsay undergoes her treatment. We are praying for a full recovery from this disease, and have asked God for his guidance and direction as we make these decisions moving forward. We know He is the ultimate healer of all things and every good thing comes from Him. We are at His mercy now as we live, as well as when we leave this earth. His Grace is abundant and sufficient, and we continue to be in awe of Him for all that he has done for our family.
We are very appreciative of each and every one of you - being part of our family, and sharing our life and special moments with you. We thank you for visiting our site. We are extremely touched that you are here and could not ask for a more supportive network of family and friends. We appreciate your faith in us and meeting us in our time of need. We also want to thank Kara (KJ) for being so kind and taking the time to put this site up for Lindsay and I; we are very appreciative of you.
Lindsay will be providing weekly updates via an additional site, as she is able, which will be provided to all at the beginning and throughout her treatment this fall.
Love to all,
Ian and Family
+ Read More
Hi everyone,

It has been quite some time, but I wanted to post an update on Lindsay's health and her continued fight against Lyme disease and the other co-infections that she suffers from.

After Lindsay returned home from Sponaugle in 2016, she was significantly improved but not a 100% better. Her hope was that she could continue treatment at home and find a local solution that was not as costly. Over the last year and a half, Lindsay's continued to have symptoms that ranged in severity. She started having new symptoms in December which impacted her heart from beating regularly (premature ventricular contractions and premature atrial contractions). Throughout the winter, she struggled with the old symptoms and the new symptoms, and sadly, her health really started to decline over the Spring. After numerous trips to the ER, and many doctor's telling Lindsay they could not help her, Ian and Lindsay realized she had to return to Sponaugle Wellness in Tampa.

Lindsay has been in Florida for two weeks now receiving treatment. They have run numerous tests which show she is still testing positive for Lyme and other co-infections. Please continue to pray for Lindsay and her family. And if you feel inclined, any financial support you can offer while she undergoes this treatment, would be greatly appreciated. Thank you.

Kara
+ Read More
I wanted to give a quick update on Lindsay's condition since beginning treatment in Florida this week. She received the following diagnosis from the doctor: Lyme disease, bartonella and babesia infections, mold toxicity and industrial pollutants, specifically benzene. Her benzene levels are 7 times what are allowed by the FDA.
The bartonella symptoms can include headaches, dizziness, brain fog, memory loss, visual problems, tremors, tingling in the head, and creepy crawly sensations which she has daily. Babesia is a malaria-like infection caused by a parasite. The symptoms include fever, chills, fatigue, headaches, sweats, and anemia. She recently completed a PET scan ordered by the doctor to determine if the malaria-like parasite has traveled to her brain. She should have the results back from the doctor in the next week. In the interim, they have started her on several medications and supplements, as well as anti-seizure medication to help her successfully complete her daily drips and protect her brain. No time estimate has been given for her recovery as of yet.
Going forward, Lindsay will be posting all updates regarding her treatment on the Caring Bridge site for family and friends. This will allow her, Ian, and her mother to post updates and easily communicate her progress in a central location. The gofundme site will remain up until the completion of her treatment for those who may still want to donate to Lindsay's care.
Lindsay did ask that I once again thank EVERYONE for all of their prayers and support. It has meant so much to her and she is incredibly grateful.

-Kara
+ Read More
Read a Previous Update
Be the first to leave a comment on this campaign.