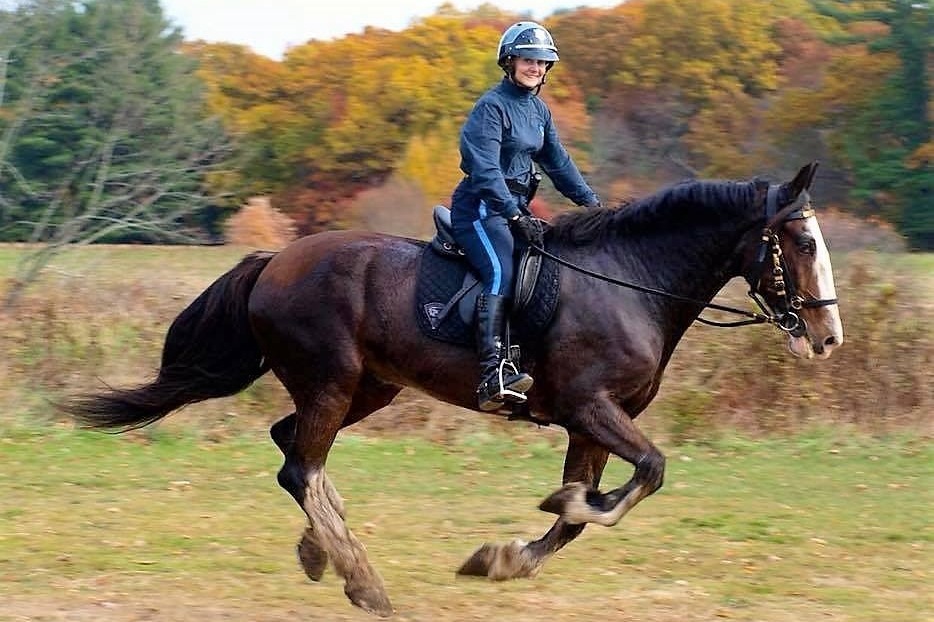 77
6
The Lt. Maureen Wesinger-Lewis Scholarship Fund
$8,020
of $25,000 goal
Raised by
78
people in 5 months
 
Nobody Fights Alone....

This campaign is  a jumpstart to establish an endowed scholarship in memory of Lt. Maureen Wesinger-Lewis, Commander of the Massachusetts Mounted Unit of the Massachusetts State Police. The scholarship will be awarded to a graduating senior from Maureen's alma mater, Concord-Carlisle High School, ideally who is striving for a career in law enforcement, social justice, sociology,  military or public service. As a life-long resident and graduate of Concord public schools, Maureen's life embodied the fundamental pillars upon which Concord was built:  commitment, pride, integrity, sacrifice, and unwavering courage. Your contribution to this scholarship will be instrumental in ensuring that Maureen's love of her town and commitment to the development of youth devoted to serving their communities are integral components of her continuous living legacy.

                                                  *****
For those of us lucky enough to be In Maureen's orbit, we were blessed to know her as a nurturing mother; a loving wife; a tireless, devoted friend; the most solid of colleagues; and a selfless mentor.   These qualities, so special and vital to what made Maureen so loved and cherished, however, do not capture the most unique of her gifts that she had to share with world:

Maureen the Pioneer, Maureen the Leader, Maureen the Hero.

Maureen was born into a law enforcement family—from her earliest years, Maureen knew she would dedicate her life's work to law and social justice, and in her perfect world, somehow weave in her love of animals.  To accomplish her mission to protect and serve, she completed her training with the Massachusetts State Police Academy. She then broke the traditional gender barriers (and wove in her love of animals) by serving as an explosive detection K-9 handler at Logan Airport, as a Sergeant with the Narcotics Inspection Unit, and ultimately, as an acclaimed horse trainer and the first female Commander for the Massachusetts State Police Mounted Unit.

It is in these roles where we all benefited from Maureen's courage and heroism—courage and heroism – not words to be bestowed lightly. Every day Maureen put on her uniform, despite being a wife and a mom, and put her life on the line to keep all of us safe. This is what a TRUE hero does—selfless, courageous, without hesitation—her own needs put behind those of all others. Yet, somehow, despite the incredible pressures and demands of her profession, Maureen found the time to devote countless hours as an acclaimed Concord Girl Scouts Troop Leader, licensed horse trainer and medaled equestrienne, as well as to developing her artistic talents in pottery. In all her endeavors, Maureen was known for her integrity, kindness, dry wit, inclusivity, and willingness to roll up her sleeves to get the toughest of jobs done.       

                                                  *****    
We have a goal of $25,000 – this is amount required by The Scholarship Fund of Concord and Carlisle that will allow us to set up a permanent Named Endowed Scholarship for Maureen . Contributing to this campaign—be it $1 or $1000– will endow a scholarship focused on providing critical need-based financial support to a student who shares Maureen's vision for a safer and kinder world.  All contributions will be in the custodianship of The Scholarship Fund of Concord and Carlisle ( http://www.thescholarshipfundofcc.org) which, since 1966, has supported more than 1,400 students from the Concord and Carlisle community, each painstakingly chosen to ensure they embody the spirit and goals of the Named Fund's honoree.

If you would prefer make a charitable contribution (tax deductible to the extent of the law) directly  (vs. GoFundMe) to The Scholarship Fund of Concord and Carlisle to help us fund the Maureen Wesinger-Lewis Memorial Scholarship Fund, use this link to go to their Donate page and in the box marked "Designation (optional) type in "Maureen Wesinger-Lewis."
                                         *****
            
On the back of Maureen's memorial stone are the words "Nobody Fights Alone." Please consider donating in support of another warrior for Maureen's "army" of passionate, focused young people dedicated to building a better world. With this scholarship, Maureen's fighting spirit will live and flourish in this world FOREVER.
+ Read More
Update 2
4 months ago
Share
Between the GoFundMe and direction donations we are at just under 8K! PLEASE keep envangelizing!
+ Read More
Update 1
5 months ago
Share
Hi all, thank you all who have donated so generously and shared this campaign so far! Please continue to do so; email the link to those in your circles who may not use social media or not participants in various groups, pages, to which you may have shared. Also, be sure to emphasize that contributions can go directly into the fund (provided in 2nd last para. of the write-up). This is very important!
+ Read More
Read a Previous Update