Let's get George in school!
£2,602
of £1,500 goal
Raised by
90
people in 6 months
This is George. He is one incredible little boy who I have grown to love so dearly.


I first came to Uganda in 2014, but moved here in 2016 to pursue the adoption of my little boy Adam.
It was in 2016 that I met my now partner of over two years – Josh. Josh comes from such humble roots; he grew up in a village in rural Uganda with very little opportunities available to him, yet he worked so hard to get where he is today. I do sometimes think about how much he could have accomplished if only he was able to complete his education. One day, I hope he will be able to.
His mother is an incredible woman. She is an elderly lady who lives off the land. Despite her everyday struggles, she spends her time doing her very best to take care of her growing number of grandchildren who have been abandoned by their parents and are now in her care.
Josh hasn't seen his older brother in over ten years. His mother hasn't seen her eldest son in over seven. He has continued to have more and more children who then have then been sent to live with their grandmother.
Despite her very best efforts, she has really struggled to look after them all. On our last visit to the village, we could see that the two youngest: George and Tallie, were not in good health. Josh's niece and nephew – our family. In Uganda, many children are brought up by their uncles, aunts, grandparents, etc.  We didn't hesitate – they immediately came to stay with us.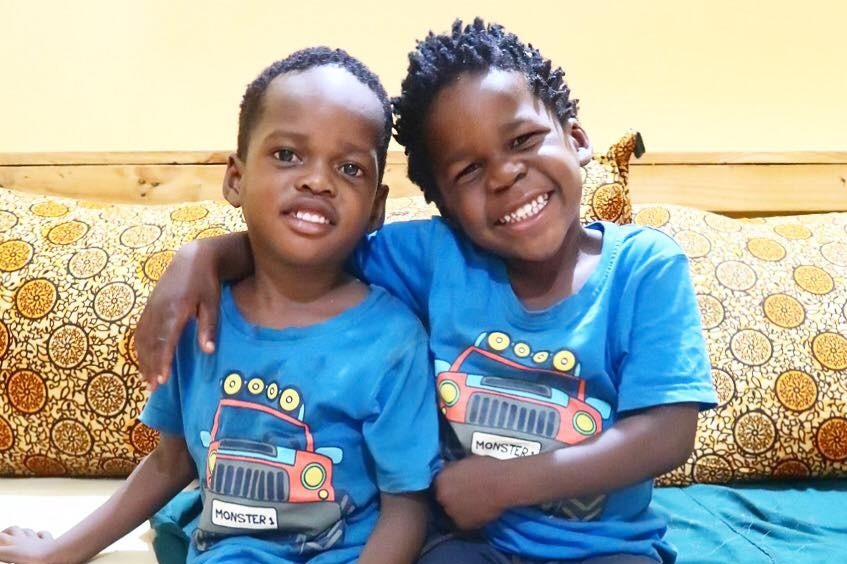 They've been with us for four months now, and they have brought so much joy to our lives. Everyday we see more and more changes in them; they are happy and healthy and although still behind their peers developmentally, we are seeing lots of progress.
George has made phenomenal progress in just 4 months, but at 5 years old he SHOULD be in school.
Unfortunately, it's just not an option right now. School costs out here. I don't earn a huge amount every month and as much as I wish I had the money for it, I simply don't.
As he is still behind his peers, I so much wish I could send him to a quality school – which would give him the best possible chance to catch up. I believe the best place for him to begin his education would be
KJP
  – the school where I currently work and Adam and many of the other children also attend.
The cost of George schooling here for a year would be 6,750,000 Ugandan Shillings – that is approximately £1438. Then the payment gateway will take approximately £70 and my bank a further £43. So, I'm setting our target at £1500.
It's pricey, but I truly believe he's worth every penny.
If you would consider donating towards this, I'd be ever so grateful. I'm not sure if we'll achieve it. But I owe it to George to try.
He is such an incredible little boy. He is sweet and kind natured. He is trying his best to learn all the time; he shows great perseverance with new challenges, such as getting dressed and using a fork to eat. He is always repeating English phrases and working hard to learn new words.
He is so deserving. If you are unable to donate, please share and spread the word.  It would mean so much.
Love to all x
+ Read More