Leo the Lion´s Fight for survival
£3,312
of £2,000 goal
Raised by
63
people in 15 months
Leo has fought through, two rare agressive brain tumours, septicemia and various other complications in the last 7 months. He is partially paralysed now, please help towards his rehabilitation so he can become the little 3 year old he was.
Hello,
My name is Alda and ´Leo the Lion´  is my beautiful 3 year old grandson.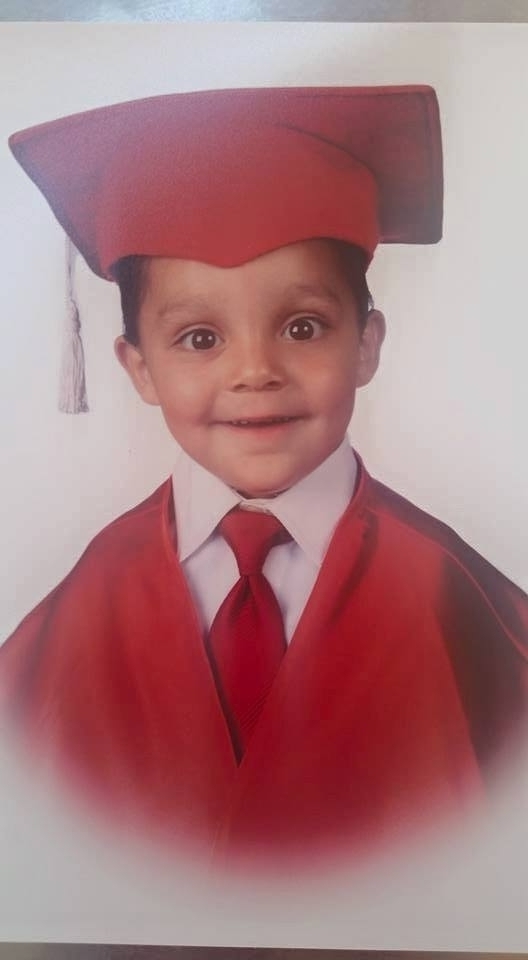 Leo the Lions Facebook Page
Karen´s Blog September to November 2015
Leo the Lion An Inspiration and a Miracle (video made before second tumour was discovered)
Who is Leo?

Leo was a happy, cheerful and beautiful 2.5 year old boy, running riot everywhere, with so much love and affection oozing out of him.
He was such a loving little boy and many people commented on his loving nature. This is one of the reasons he has hit the hearts of hundreds and hundreds of people.
He was known as the little ´brown eyed boy´ who never stopped smiling!
He has now become an inspiration to so many people.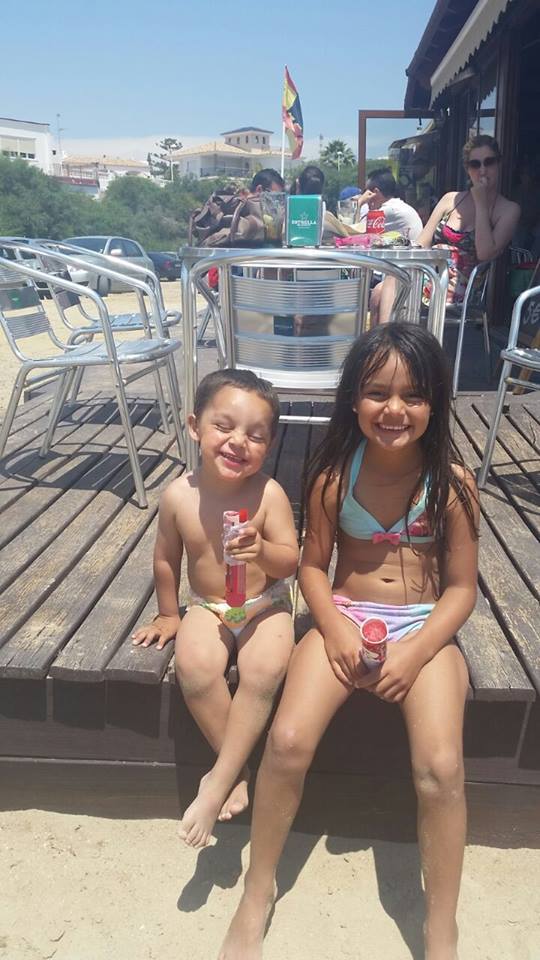 Last September, Leo had a 9cm brain tumour removed in Spain, the tumour was misdiagnosed and some of it was left in during the operation.  He also contracted septaecemia, was told he had hours to live and had a stroke, leaving him partically paralysed on the right hand side. 
After only 7 weeks after the first operation another brain tumour grew to 4cm.
Karen my daughter and her husband Jorge panicked and seeked the best treatment for him, the best hospital and the best neurosurgeon to perform another operation on their son.
This quick decision meant uprooting and leaving jobs behind and not having time to prepare themselves
financially
for this move.
Leo is now at Alder Hey in order for him to receive the best treament with the best doctors, he has undergone a second operation to remove the second tumour and the tumour has now been diagnosed as a rare type called PNET.
He has to now undergo intensive chemotherapy,
stem cell transplants
etc.
I would like to try and help Karen, Jorge and Sofia on this awful journey they have gone through and are still continuing to go through as much as I can.  
I have flown over to Liverpool myself with Sofia, (Leos big sister who is 7 years old) and also given up my job to help to support them on this fight.
Karen, Leo and her daughter Sofia are all British and Karen´s husband Jorge is Mexican and unable to work in the UK and they are not entitled to any benefits in the UK.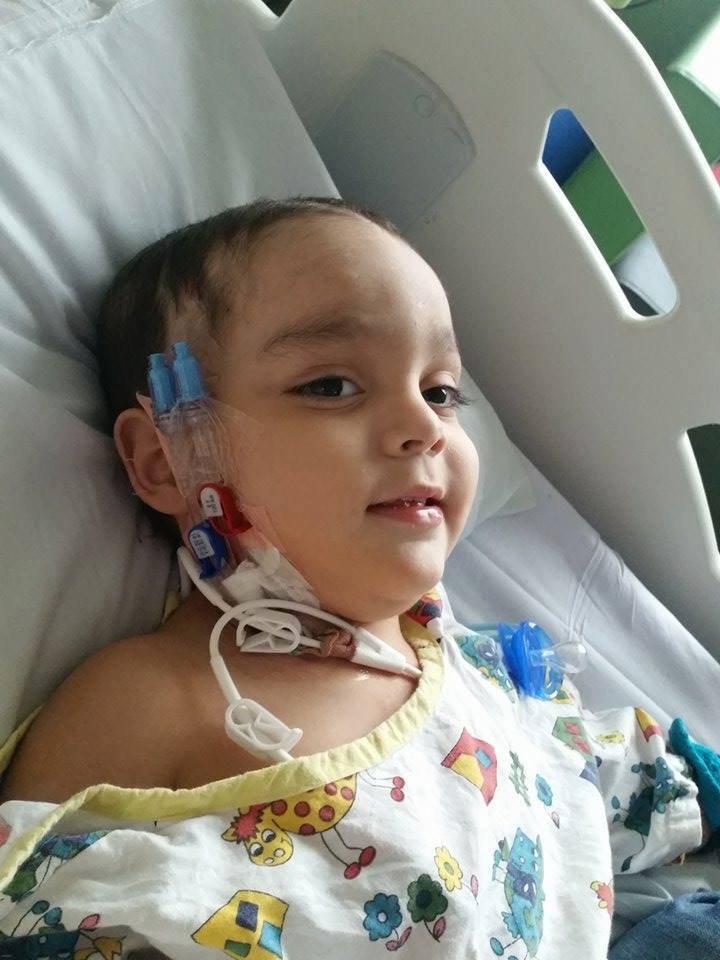 They have had to give up their jobs in Spain and my daughter Karen only receives a small percentage of her salary and her husband is not receiving any help.
I want to try and take the weight off them a bit by trying to raise a few more funds for them. When Leo wins this fight he will also need extensive rehabilitation which will also be another big cost for them.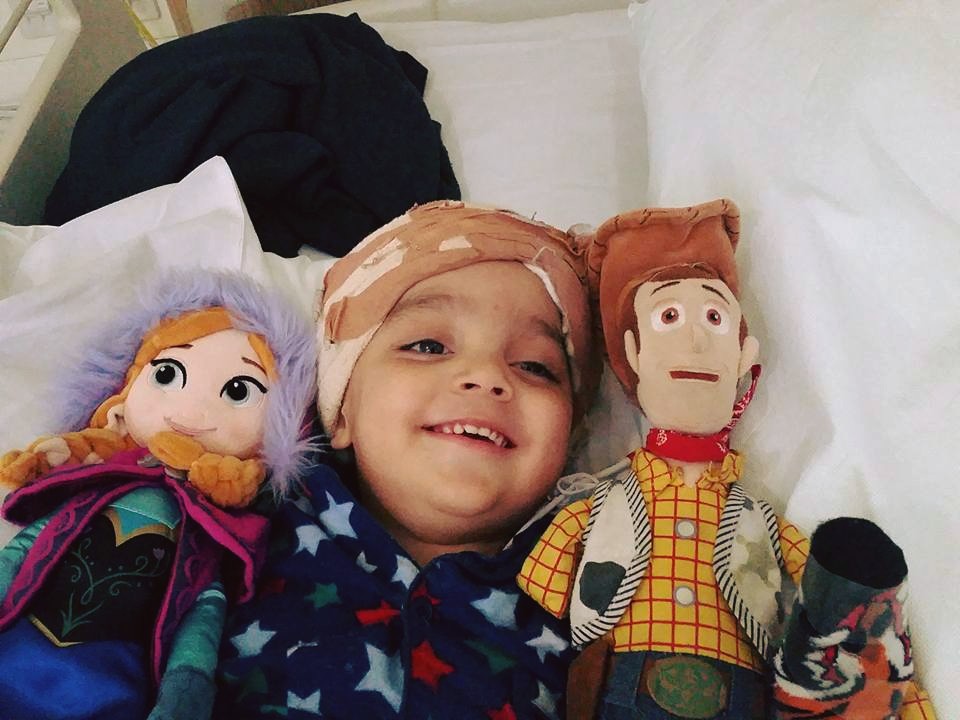 Leo could also need additional treatment which is not included in the medical services provided so they also need to prepare themselves for this.
They have really been dealt the worst set of cards that parents can be dealt, and they are doing everything they can to save Leo´s life and I do not want them to also have additional
financial
worries on top of everything.
Even if it is 1 pound or 50 pence, every little helps.
Thank You
No child deserves this.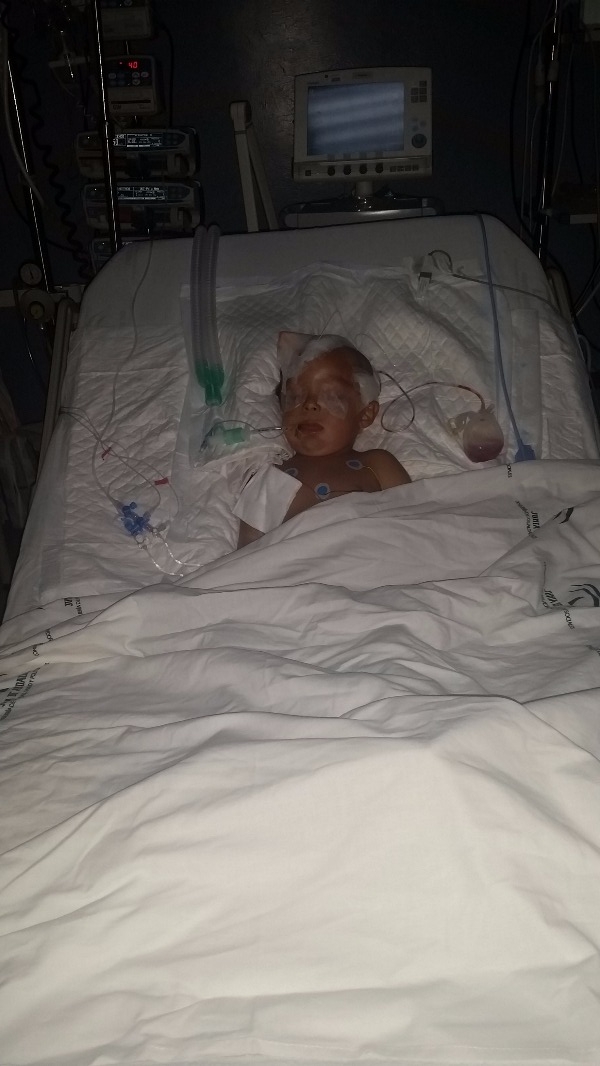 This is what my Karen had written about her Leo´s journey:
Leo the Lion´s Journey in a nutshell.
Leo was a happy 2.5 year old boy without a care in the world. During the summer of 2015 he began vomiting and being very tired every day. The doctors reassured us that everything was ok and told us that he had a stomach
virus
and prescribed vomiting medication. We went to the doctors and the emergencies 8 times in the space of 8 weeks to express our concerns as we knew something was not right with him but the doctors dismissed our worries.
On September 2nd 2015 Leo lost some movement in his right hand,
We took Leo to the hospital emergency department and eventually after a few debates as some doctors thought that Leo was just being lazy not moving his hand, but then luckily one doctor ordered a CT scan. The scan revealed a large tumour measuring about 8.5cm in Leos left brain.
Immediately we were sent to another hospital an hour away and told that it was cancer and he could need an operation the same day. To cut a long story short, The doctors were not going to operate on Leo until the following week when some inflammation had gone down in his head but Leo ended up having an emergency operation after suffering from convulsions 3 days after being admitted.
The operation was 6 hours long and we were told they did not know if Leo would survive the operation. Leo survived the operation but the extent of the damage done from the surgical intervention was unclear.
A few days later Leo looked like he was on the right road until he suddenly developed septicaemia, the infection attacked Leo's lungs causing acute respiratory syndrome and also attacked his liver.
We were told that Leo would die in hours, it was the worst day of our lives.
The following day Leo was put on an artificial breathing machine, to the amazement of all the doctors his lungs recovered after just 24 hours.
Leo then eventually managed to fight the infection out of his body, stunning all of the medical staff with what they actually called a miracle. Leo did not cry until 3 weeks after the operation nor make any sounds or speak. He also had trouble swallowing and eventually after persistence only started eating pureed food.
A few days later at the hospital Leo was given an eye test and hearing test. The hearing test results were perfect but the eye test came back concluding that Leo was blind. The doctors said as the tumour was located in the left side of Leos head it affects the movement of the right side of the body, therefore Leo can only partially move his right arm and leg now.
His speech gradually began improving little by little but again as the left side of the brain contain the speaking functions this could also be a problem for him to recuperate. We believe that Leo can see something, we are not sure how much but for sure he does have some vision. The biopsy of the tumour eventually came back as non-cancerous immature teratoma tumour. The doctors concluded that Leo would not need further treatment.
Leo gradually improved little by little and eventually got permission to leave hospital for a weekend where we  organized a welcome home party, bought new special furniture for him, gifts and everything.
The following week Leo had to return to hospital for a final MRI in order for the hospital to release the discharge papers. The doctors were speechless as the MRI revealed that the tumour had regrown in 7 weeks since the operation and was about 4cm in size already. They basically said they could give some chemotherapy but the chances were not good for him, they advised us that they could not operate as he would die in another brain operation.
We research on the net and facebook groups for advice. Eventually a number of people recommended Alder Hey Hospital and a certain world renowned neurosurgeon. I managed to get into contact with a nurse from the hospital who showed the surgeon the MRI scan of Leo and he said that the tumour was easily operable. Within 2 days we  flew to Alder Hey Hospital and met with the neurosurgery team.  
We signed the necessary papers for the treatment and within 2 days Leo had his second operation to remove all of the tumour. The operation was a success and another biopsy was done. The results came back that Leo had a PNET cancerous tumour, stage 4. We were devastated as it was misdiagnosed in Spain and also the scan in the UK revealed that Leo also had a stroke which explained the paralysis in his right hand side.
The survival rate for PNET is 20% for young children. Leo has to now undergo a very intense high dose chemotherapy session for the next 5 months and he will spent most of the next 5 months in hospital. He will also need
stem cell transplants
and to be fed by an IV line.
Nobody knows what the future holds for Leo but he is a fighter and he will pull through this and when he wins this battle then he will need rehabilitation for a long time possibly for the rest of his life. 
How will the funds raised help Leo?
The doctors or Leo´s parents do not know how long Leo will take to recuperate but something that has been made clear is that it will be a long road to recovery.
* Leo will need a private physiotherapist for a long time in order for him to gradually regain movement in his right arm and leg. The social security service only provide the very basic services and sessions which is not many in Spain.
* Leo will need to learn to walk again.
* Leo will need a private speech therapist as he will need to learn to speak again properly as a young baby does.
* People have advised us that it would be beneficial for Leo to also see a child psychologist as they understand how the brain works and this knowledge could help with his recuperation process.
* As we do not know how much vision Leo actually has and the eye test results came back as zero. Leo will need to see an eye specialist.
* I have been living out of the UK for a few years and Leo was born in Spain. Leo is not entitled to receive NHS free treatment. The social security in Spain have agreed to pay hospital costs until February. After February we will need to ask for an extension, if Spain do not agree they will have to fund the treatment ourselves.
*We are currently not working in the UK due to the situation so we do not have any income as wehave left our jobs in Spain for the foreseeable future until Leo recovers.
+ Read More
Be the first to leave a comment on this campaign.