Help Leah & Her 2 Moms Keep Fighting
$22,361
of $24,000 goal
Raised by
387
people in 64 months
Leah Valerie. Born 2 months early with Down Syndrome & without a working esophagus. She's a fighter and her two moms, Lisa and Mandy, need your help to keep her fighting!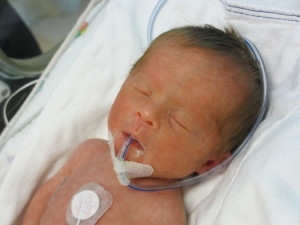 Leah Valerie: Due July 4, 2013. Born May 8, 2013. 3.5lbs, 16.14in, 10 fingers, 10 toes,
47 chromosomes.
Oh - and two mommies.
Leah has
Down Syndrome
, and has several of the medical issues associated with it. She has a
choroid plexus cyst
in her brain and one small and one moderate hole in her heart. Doctors are hoping these will resolve on their own. She was also born with long-gap
esophageal atresia
, which means that her esophagus and her stomach did not connect.
Leah's form is particularly rare
; not only did the two ends not connect, but a very long portion of the esophagus simply wasn't there. This would make for a much more complicated surgical repair. The day after Leah was born, her surgeons informed Mandy and Lisa that
she was too small to do the repair
, and that she
needed to reach about 10 lbs
before they could operate. They estimated she would reach 10 lbs in about
5 months
. Then they told Mandy and Lisa that
Leah could not go home until she had her surgery.
Since Leah's stomach and esophagus did not connect, Leah had no way to swallow her oral and throat secretions. She required constant suctioning of the esophageal pouch, and was at continual risk of aspiration pneumonia. As a result, Leah was not able to leave the hospital until her esophageal atresia was repaired.
After birth,
Leah spent six months in the neonatal and pediatric intensive care units (ICU)
before undergoing her major surgical repair on November 1, 2013.
Thanks to your generous donations and support, Leah's mamas were able to stay a few blocks away from the hospital at the Los Angeles Ronald McDonald House during this difficult time
so that they could be by Leah's side throughout her stay in the hospital.
Leah had a rough time early in her recovery from surgery; after a failed extubation, it was discovered that she had laryngomalacia (floppy larynx) in addition to her existing tracheomalacia, as well as some vocal cord nerve damage from the surgery. Leah remained on the ventilator for about another week, and continued on high-flow and then regular oxygen for several weeks after. It took about a month for her voice to return.
Leah remained in the hospital until her discharge on November 27. After another week and a half at Ronald McDonald House,
she finally came home on December 8, 2013, her 7-month birthday. Leah left the hospital on oxygen, continuous feeding via g-tube and feeding pump, and without the ability to feed orally
. Her recovery will be a long-term ongoing process, but once she was medically stable, her doctors' priority was to get her out of the pediatrics unit before the onslaught of winter cold, flu and RSV cases on the floor; with her respiratory weaknesses Leah would be at serious risk if she were to contract an infection.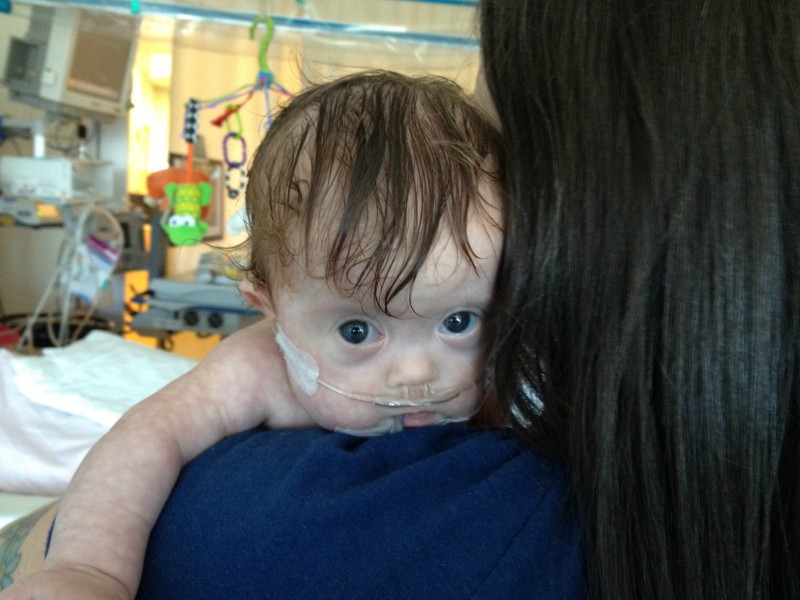 Now that Leah is home, she needs extensive day-to-day care and monitoring beyond what a typical child-care provider can offer
, as well as frequent speech and occupational therapy visits so she can learn how to feed by mouth, something she has never done before. Down Syndrome also causes low muscle tone, so Leah needs physical and occupational therapy to help her reach basic milestones.
She has a minimum of seven appointments per week. 
Because of her underdeveloped airway and congenital heart defect, she cannot go into a daycare program even part time due to the risk of respiratory infection.
Additionally, once Leah starts learning how to feed by mouth,
she will require vigilant monitoring for two potentially life-threatening complications
,
aspiration
(inhalation of foreign material into the lungs, which can result in pneumonia), and
stricture
(a narrowing at the surgical site which can cause choking and vomiting and which necessitates dilation by endoscopy). Both complications are common in children with post-repair esophageal atresia, and either complication could lead to further hospitalization. Leah has already experienced a persistent stricture that resulted in over a dozen procedures requiring general anesthesia over just a few months.
Leah and her Mamas need financial help to ensure that Leah has the care that she needs on a day-to-day basis.
I've been friends with Lisa and Mandy for over a decade, and have watched with pride as they achieved their dreams of Mandy becoming a community college professor and Lisa a disability rights lawyer. They each have a long history of service to the community in areas of LGBT equality and disability rights.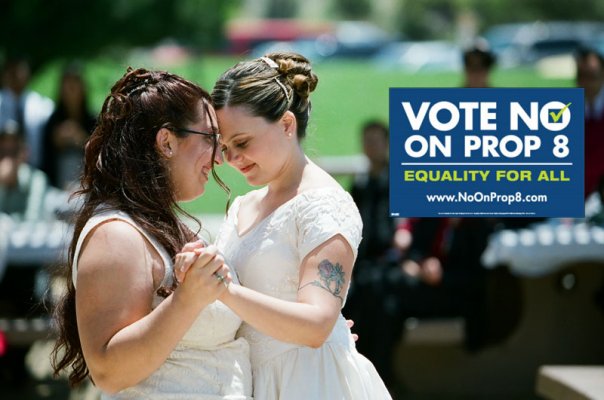 There are many causes in this day and age, but baby Leah could really use any generosity you find in your heart to give.
I visited her in the NICU the weekend she was born, and while she was tiny, she was STRONG. She was wrapped in tubes but still lifting her feet to kick out at the glass every time her moms spoke her name.
With moms like Mandy and Lisa, Leah will
always
have someone to fight for her and with kind donors
like you
in her corner, she'll get better so much faster!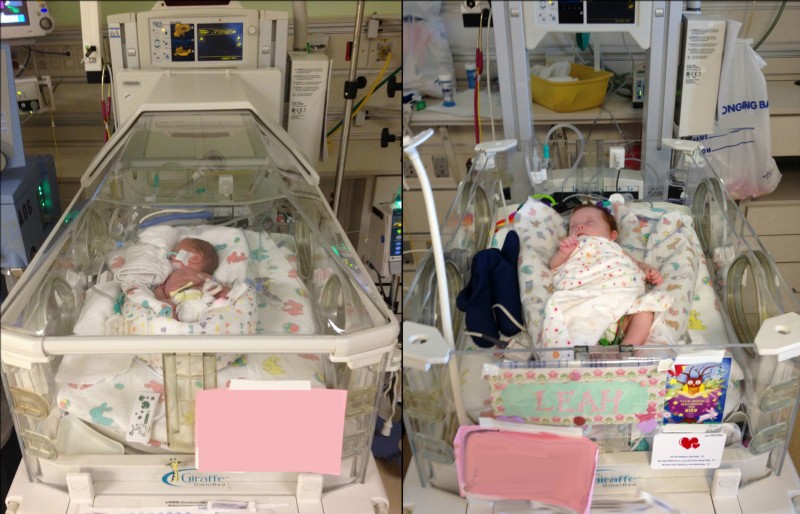 Leah has come so far already, but she still has a long road ahead of her.
Can you help by donating today and sharing this link with your friends and family?
Thank you in advance for your kindness and generosity. Every dollar makes a difference!
+ Read More