Kristy's Medical Fund
$2,967
of $50,000 goal
Raised by
40
people in 49 months
Kristy Hayes, her family, and friends are trying to help raise money to fund her medical costs as well as to try to get her to Boston to see a doctor who specializes in her prognosis; Dr. Mariana Castells. She has been batteling a rare disease called agressive systemic mastocytosis (mass cell disease) for approximately 3 years.  Without proper treatment (IF any) she could possibly lose her battle within 3 years of diagnosis.  She has beat those odds and is still currently under treatment with her current doctor which helps stabalizes her mass cells.  She travels 45 minutes there and back; Monday, Wednesday, & Friday to receive treatment. Finacial burdens weigh heavy with travel and living expenses (due to not being able to work & no income).  Our goal is to raise money to help Kristy see Dr. Castells and to hopefully find a way to give her the life she deserves.
Here is the full story our local paper wrote on Kristy
STANFORD — Kristy Hayes once helped prove to a doctor and nurse that she had an aggressive form of a rare disease by throwing up on them.
Hayes was at Mayo Clinic in 2012. She was throwing up food, losing weight and getting weak, she thought, because she had aggressive systemic mastocytosis. That means she's so allergic to most foods that her organ functions become impaired.
Because mastocytosis is rare — and the systemic form is rarer — doctors were skeptical, believing she had anorexia nervosa.
So they asked her to eat a turkey sandwich in front of them.
"I inhaled it," Hayes recalled. "They thought I'd put my finger down my throat. I didn't, but it came up anyway."
That led to a series of tests that proved Hayes had what she thought she had.
"They told me, 'You have two weeks to live,'" said Hayes, 37.
While treatments have extended her life, the prognosis remains bleak. So she finds it annoying that when she tells people — even medical professionals — what she has, she frequently encounters skepticism.
"No one (at first) believes you have it because its rare and hard to diagnose," she said last week in her Stanford home.
"But you wouldn't fake this life," she said. "I had a life. I love to eat and cook and can't do it anymore.
"No one wants this disease," she added. "It's not curable. I'm kind of pissed."
Hayes can eat only a few foods. Because she's allergic to even the smell of most foods, she doesn't go out much.
When she does, she wears a special air mask that filters out 99 percent of smells, allergens and pollen; takes Benadryl and an EpiPen (epinephrine) Auto-Injector with her in case she has anaphylaxis (shock); and brings her Life Alert button.
"My body is in a constant state of histamine reaction," she said. "I can't break down histamine."
That means she's frequently breaking out in hives and rashes, her skin feels hot, her tongue is numb, her lips are tingly and her throat swells.
Because the disease is affecting her organs and bones, she also experiences bone pain (mainly in the hips), has "explosive diarrhea," severe abdominal pain, vomits up blood, gets dizzy, lightheaded, fatigued and occasionally passes out.
"I'm a fun first date," she said with a smile.
Hayes is battling back with knowledge, attitude and a sense of humor. "Life is too short to be so serious," she said.
"Her positive attitude ultimately is what keeps her going," said her friend, Annrika Dithen, 31, of Normal.
"People with aggressive systemic mastocytosis generally don't live beyond three years of their diagnosis," said Hayes, who was diagnosed three years ago. "I plan on beating those odds."
Earlier health scares may have prepared Hayes for her current battle. The 1996 Normal Community West High School graduate was in car crash years ago and injured her head, right knee and right shoulder. The knee injury resulted in her using a cane.
At age 20, she was diagnosed with ovarian cancer and had a complete hysterectomy.
But those scares didn't stop her from working. She was a scrub technician at Advocate BroMenn Medical Center and then a professional photographer. She married; she and her husband adopted a newborn girl and named her Jessie.
Three years ago, the couple divorced and she got custody of Jessie, but soon began vomiting every time she ate. After awhile, she began throwing up blood.
"I couldn't eat anything. I was living on a bite of mashed potatoes a day and damn macaroni and cheese," she said.
"Within six months, I went from 280 pounds to 135 pounds," she said.
She went to a gastroenterologist, who thought she had gastroparesis.
"By this point, I was fighting for my life," she said. She did research, leading her to believe she had aggressive systemic mastocytosis.
At Mayo, "They ordered a million tests and found out I had an elevated Tryptase level, which is a marker for this disease," Hayes said.
Tryptase is the most abundant protein in mast cells. Mast cells are in skin, lymph nodes, internal organs such as the liver and spleen, and the linings of the lung, stomach and intestine, said Dr. Mariana Castells, associate director of the Mastocytosis Center and an allergist and immunologist with Brigham and Women's Hospital in Boston.
Mast cells help your immune system defend these tissues from disease and release histamine to defend the body.
But with mastocytosis, there are too many mast cells, resulting in cutaneous or systemic mastocytosis.
Cutaneous is when mast cells infiltrate the skin. Systemic is more serious and is when mast cells accumulate in the tissues and can affect the liver, spleen, bone marrow and small intestine.
But mastocytosis remains rare, affecting fewer than 200,000 people nationwide. And most of them have cuteneous.
Hayes was so weak that she was hospitalized at Mayo. She was there for three months. When she was discharged, she completed her end-of-life planning.
She stopped working and her parents — who live in Tennessee — had to assume caring for Jessie.
Hayes went to Cleveland Clinic, where her diagnosis was confirmed.
Then she began investigating possible treatments and found documentation by Castells that interferon, a medicine that helps the immune system fight disease and may slow or stop the growth of cancer cells, may help to keep mast cells under control.
She went to her Peoria oncologist, presented him with the documentation and asked to be prescribed interferon treatments. He agreed.
For the past six months, she has gone to Peoria every Monday, Wednesday and Friday to get an interferon injection. While side effects include vomiting, fever and fatigue, the interferon is bringing her Tryptase levels down.
"The interferon is helping me to tolerate foods better," said Hayes.
Dithen is blunt. "Without interferon, she would not be here."
Every day, Hayes takes 14 medicines, including antihistamines, a medicine to help her pancreas to function and anti-nausea medicine. Each day, she drinks 20 ounces of a cocktail that includes a protein shake (to give her the vitamins and minerals she's missing), a muscle recovery drink with caffeine and a liquid chemotherapy drug to bring down her mast cells.
Hayes hopes to continue interferon treatments until the next medical advance. She hopes that someday her daughter, now 8, will return home. She hopes to work again. She hopes to pay off at least some of her $500,000 in medical bills.
"I'm going to beat the odds," she said.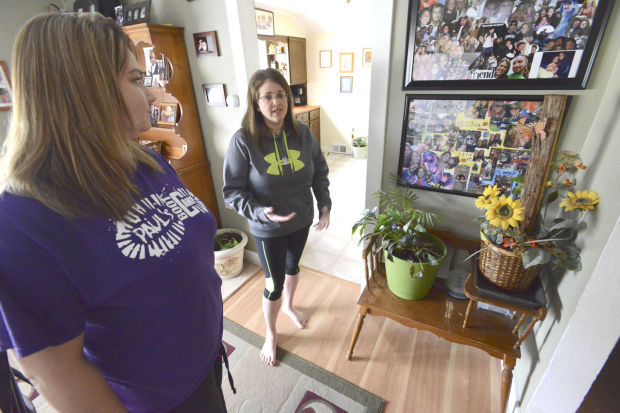 + Read More
Jennifer Dratch
47 months ago
In what testing were you diagnosed?what is your tryptase?
+ Read More
I was diagnosed by bone marrow biopsy my Tryptase bounces around between 20 up to 80 but being on the interferon Sometimes keeps it stable
+ Read More