ACL, PCL, and meniscus surgery
$13,455
of $25,000 goal
Raised by
121
people in 69 months
Hello. My name is Brendan, and I love to cook. Even more, I love feeding people. There is nothing more fulfilling to me than to see the smiling, satisfied faces of those who have just eaten the food I prepared. Since I was a child, growing up in my mother's kitchen, I have dreamed of becoming a top chef.
I believe that "old school" values "" passion and hard work "" provide the secret ingredient to becoming a successful chef. My culinary career has been definitely old school. I have worked full time from the ground up "" prep cook, line cook, and sous chef "" for the past dozen years since leaving school.
This is my first time fundraising. Asking for help does not come easily for me. However, the current circumstances in my life have placed me in a position of humility and need. You see, in February of this year, my older brother organized and gifted to me an amazing snowboarding trip in Breckenridge, CO, for my birthday. This was to be my first real vacation in over five years. I was anticipating a life-changing experience. A chance to bond with the mountain and learn and grow from some amazing people who joined us. I had no idea just how right I was about "life changing" and "bonding with the mountain" ... just not in the way I expected.
On the first day, my 31st birthday, and my fourth run down to the bottom (still on the blue, or easy, run), I took a path through a small patch of trees. Just as I was about to get through them, I saw a downed tree. This is what ski professionals call "a dead tree on the ground." This tree was parallel to the ground and was held up at knee level by the trunks of nearby trees. I was unable to react, hit the tree, heard *pop* *pop* *pop*, and flipped over the tree. I waited in the snow for over an hour, then was strapped into a toboggan on the back of a snowmobile and towed to the clinic, an extraordinary facility staffed by amazing medical professionals, at the bottom of the mountain. The doctor performed an exam and took x-rays, then gave me the grave news; torn ACL, MCL, PCL, meniscus, and fractured tibia.
A catastrophic knee injury!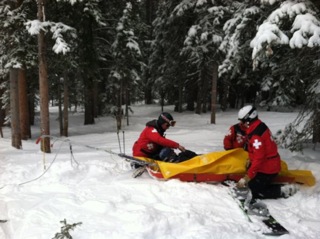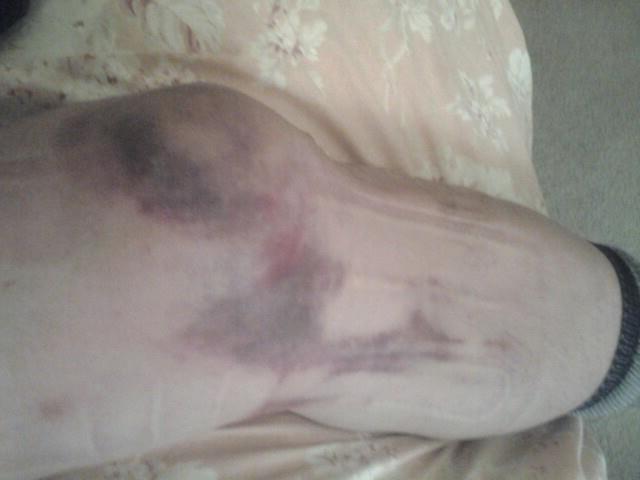 As soon as I got home to Austin, TX, I met with a surgeon. He told me that because of the severity of the injury, my knee would never heal on its own. Without surgery, I would never be able walk without a heavy brace. Eventually the bones in my knee would wear away all the cartilage and grind against each other. He told me that surgery is the ONLY option.

Remember how I said this trip would be life changing? What an understatement. I have never been challenged so hard in my life. You see, I don't have health insurance -- an incredibly scary place to be with the injury I have. The estimated cost for the surgery is $25,000, and the surgeon is requiring this to be paid in its entirety up front.

I have applied for Medicaid and disability benefits, with no luck. Medicaid considers the surgery to be "elective" -- the same as liposuction, face lift, breast implant, or a nose job. I called friends, family, and charities. I contacted my state and federal representatives. And even though I'm not 65, I even applied for Medicare! Every path I have followed has been met with rejection.

I won't lie to you. There have been moments that I've felt defeated and hopeless. Thankfully, I have great friends and family. Some in my situation become homeless. I will move in with my parents. As grateful for this option as I am, it is quite humbling.

This is where you come in. Would you please find it in your heart, as well as checkbook, to donate to my cause? I would like to look back on this opportunity in the future -- when I am running my very own kitchen and my like is back to normal -- and remember that I couldn't have done it without everyone of you. If you would be so generous, please help me reach my fundraising goal of $25,000.

Even if you are unable to give monetarily, you can still be a huge help to my cause. Would you please pass this on to your friends, family, and co-workers? The more people this reaches, the better my odds at raising the money I need for this surgery.

From the bottom of my heart, thank you for your thoughts, prayers, time, and generosity.

Brendan Retherford




+ Read More
Be the first to leave a comment on this campaign.