Keep Timeless Burning
$1,145
of $35,500 goal
Raised by
8
people in 1 month
What happened?
After 20 years in Carson City, the show-piece Timeless Sculptures has been served a 30 day vacate notice, mid winter, "For Sale" sign killing commissions  that drive the one-of-a-kind art studios, all to accommodate a land sale. The High Sierra community may be losing a prominent cultural feature, but this dark cloud may have a bright
silver lining
  yet...
What now?
Consolidate 45 years of creating art into manageable, secure shipping containers and relocate to a smaller building, in a more affordable setting. The savings will help drive the production of more and bigger monuments throughout Matthew "Timeless" Welter's most capable years.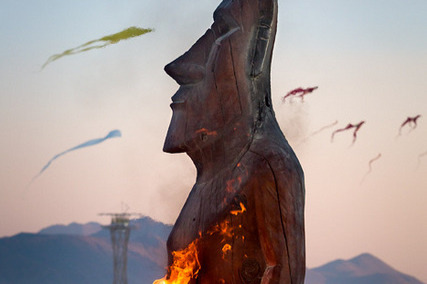 Where will the money go?
All
funds will be used
  to relocate Timeless Sculptures, and at the same time, more able to facilitate the sharing of Timeless' massive artworks, far and wide.
Timeless' way of giving back...
This creative solution will also transition Timeless Sculptures into a semi-mobile company, with movable "studio-pods" and improved internet presence, thereby positioning the company for an American tour of
"Liberty (R)evolution"
 .
What's that?
Inspired by arson at the mysterious Burning Man (below) Timeless and his crew are now known in that community for their distinctive style of burning art -- these carved monuments crack with fire, but deep inside the wood. With this never before seen art form called Fire Inside, the fire is extinguished before any collapse. These are the only sculptures from the famous events to survive their own burn … literal embers from the creative cauldron. Char textures later hardened, these "playa artifacts" go on to share the story of Liberty's extreme antiquity and evolving possibilities through a touring art installation by now numbering
20 works
  -- Liberty (R)evolution. 
Please help this phoenix rise again; in the process you will spur the (R)evolution. All in for Liberty?
+ Read More