Let the Words Flow
$190
of $12,000 goal
Raised by
5
people in 28 months
Hello, internet people. Thanks for stopping by.
My name is Kaine Andrews, and I am a lot of things; a reader, a writer, an online presence, a videographer, a banker, a gaming enthusiast, a cat owner, and a pile of other descriptives that could likely go on for ages.
Chester is not the most willing subject for photography.
Not all the things I am are so pleasant, though. But set that aside for a moment. Let me tell you more about me before I get to the embarrassing whining, shall I?
I was born in San Diego and spirited away to Carson City, where I spent most of my life. Later moved on up to Reno for a few years, before transplanting to Salem, Oregon in an attempt to create a healthier environment - which has turned out to be a bit of a bitter joke, but we'll get to that.
During my 38 years on this planet, I've spent about 3/4ths of it writing. It started when I jacked a typewriter out of my dad's closet and sat down to write a truly atrocious Super Mario Bros. fanfiction - that even included artwork, mostly traced from the cover of Nintendo Power.
Yeah. Remember that magazine? Anyway. From there I moved on to a D&D inspired bit of fluff called "Tooth of the Vampire." Which was fairly ambitious for my six-year-old self; I still have the file around here somewhere, but I believe it clocked in around 12k words. Almost all of it conjured by a single phrase and image: "The vampiric bard backflipped over the barbarian's head." (And yes, that line is in the final manuscript.)
I moved on to continue my demented scribbling, in the meantime finishing up high school by 14, working for a television station for twelve years and discovering a certain affection for video editing and production - though my skills were never up to the level of my ambitions in that department, I still enjoy it and keep trying things out - as well as obtaining a private investigation license, learning C++, running my own BBS - remember those, kids? Probably not, but it's what we had before this newfangled "Interwebs" thingy everyone's in love with these days - and creating software for it, some of which I actually sold. I also did a stint in radio, worked for a craft store, worked management in video game chain stores for almost a decade, got married, got divorced, and stored up all kinds of fun tidbits that bleed through into my writing.
During that time I also published a handful of novels. Self-published, of course, via things like iUniverse and CreateSpace, but still published. Some of them even got okay reviews from the small number of people who read them.
But during that time I also struggled quite a bit; financially, due to poor choices and associations. Mentally and emotionally, partially due to same and partially due to genetics. Physically, due to a number of injuries that were never properly treated and more fun in the genetics pile. I'm a stubborn little bugger, and not prone to giving up, but every inch forward comes at a great cost and generally includes a heaping pile of shame, pain and the feeling that I didn't really accomplish much.
I work; or rather, I am employed. Problem being, a lot of those physical and mental issues make it difficult to perform my duties. No work? No paycheck. No paycheck? No meds. No meds? Problems get worse, even less work. When you're not working, off your meds, and generally feel like someone is dropping a weight on your chest to crush your lungs as slowly as possible while someone else has your hands jammed into blenders and a third person has a weed whacker stuck in your brain and revving it up, it's hard - if not impossible - to focus on creative endeavors. That leads to the writing suffering as well as everything else, which increases the level of guilt and shame, which then compounds and so on as so forth.
What's wrong with me? Quite a lot; the short list includes bipolar disorder, chronic depression, possible Autism Spectrum (the docs are still arguing on that), Carpal Tunnel Syndrome, severe rheumatoid arthritis, severe asthma, borderline COPD, severe infection in my jaw that ultimately led to surgery and the loss of all my teeth, a great set of allergies that ensures my next-door neighbor's "green" habits - and the smog cloud that keeps seeping under his door and then into my apartment - keep me sneezing and coughing all day long, near-blindness in one eye (and I don't see too good out of the other one, haha) and a penchant for migraines.
I get by on a pile of meds - to the tune of around $500 per month - and the Sith-like ability to funnel self-hatred into energy that propels me from the bed each morning. Not the healthiest combo, but we do what we must.
Much as it runs against my nature, much as it triggers every one of my "last" nerves, I need help... and have to ask for it. I need to keep my medicine box filled. I need to give my existing books the love they need - proper layout and covers, proper exposure. I need to keep the lights on and the door unlocked and to be able to shuffle home without worrying about seeing an eviction notice.
If anyone out there wants to help, please and thank you. It doesn't even have to be a contribution to this campaign; well-wishes, a like, a comment, a virtual pat on the head, stopping my by website or Wattpad and reading something I've written, they all help. Sure, financial contributions are nice, but when half your problems are mental and emotional and often hinge on the existential crisis of "Why do I bother?" some indication that somebody is paying attention is great, too.
I knew what I wanted to do when I was six and stole that typewriter. I've never stopped trying to do it. I just need a little help.
If you help, you'll have my gratitude. If there's something you'd like for that assistance - a shout out, a command to "pay it forward," a copy of one of my books, a mention and a link on my website, a cup of coffee if you're local - say the word. If I can do it, it'll get done. And know that when it's ready, when it's the best it can be, my next book will be dedicated to you. All of you who helped. Because without that help, it's not going to happen.
Right now, my main goal is to get someone I call my Darling Daughter what I think she deserves. I wrote a story about her, and its a good one... at least, I think so. She needs some cleaning up, and I want to make sure when she comes to the world that her dress is fresh and clean, her hair is properly styled, and her knife is nice and sharp. She stands watch over my desk, one hand outstretched, as though asking "When will you tell them my story, Daddy?"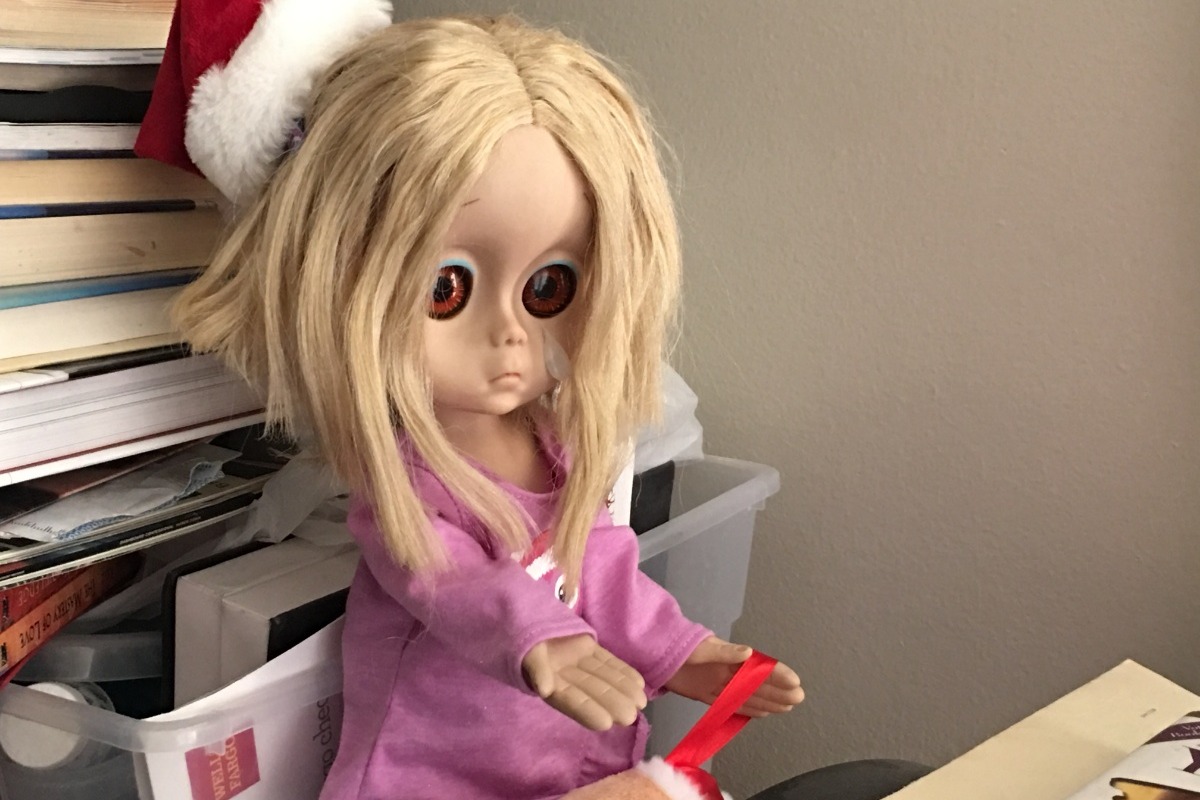 Soon, my love. Soon.
Thank you for reading all of that; it's long, meandering, and more than a trifle whiny, at least to my own ears. If you're interested, you can find my website 
here
, my Twitter at
@KaineAndrews
 , my WattPad (and thus several of my stories and about 1/3rd of a novel) right 
here
,  and, if you're still with me and crazy enough to want to see the finished (ish) products, my Amazon page 
right here
.
That's a lot of places to find little old me, I guess; I like to think it shows that I'm not just some layabout looking for a handout so I can sit in the living room with a case of Mountain Dew and "get ideas" that I don't intend to actually do something with. But you folks can be the judge of that. And feel free, if it takes your fancy, to drop me a line in any of those places. I'm never averse to chatting; I am a real human, after all - or at least close enough - and occasionally enjoy contact with others of my tribe, which my current situation doesn't always allow for.
Thank you again for reading this. Best wishes, and be well.
+ Read More