Joshua Tree Artisans' Collective
$9,617
of $50,000 goal
Raised by
107
people in 55 months
In this day and age of global manufacturing, Joshua Tree Artisans' Collective has been a thriving example of the lost art of quality, made in the US workmanship. We recently suffered huge losses due to a fire at our wonderful Berkeley facility. We're asking you and others like you who cherish and support fine craftsmanship and design to help us get back on our feet again by donating to [GoFundMe.com]. Thanks to you, we can rebuild our collective, continue to support the creative fabric of the Bay Area, and contribute to the greater design community.
On April 12, 2014, a massive six-alarm fire that started in the adjoining storage area of the Wooden Duck's warehouse ravaged our building, completely destroying heirloom and modern woodworking tools and machinery, welding and blacksmithing tools, CNC equipment for both wood and metal, extensive personal material collections, projects in progress, finished pieces of furniture in our showroom, designs and portfolios, and business records. Even though some members have limited insurance coverage, most have little to none, and collectively insurance will not come close to covering the losses.
Since 2005, the Joshua Tree Artisans' Collective has provided a unique environment where woodworkers, metal workers, designers, contractors, inventors, fabricators, product developers, and mixed media artists could pool their resources and talent to optimize the quality, character, and integrity of finished products. Even though each of our members mostly worked independently on our own residential, commercial, or personal projects, we still created a collaborative atmosphere of pride in craftsmanship and attention to detail, with a strong emphasis on sustainable and locally sourced materials.
The Collective's members are working together to create fund raising mechanisms and events to meet immediate needs and to rebuild the Joshua Tree Artisans' Collective in order to:
• Financially assist individual members to replace the tools, equipment, and materials needed to restart their businesses.
• Quickly locate and equip temporary space(s) so individual members can fulfill outstanding orders.
• Begin the search for a new location where we can rebuild in order to preserve Joshua Tree's unique synergy and creative strengths.
Please visit any of the following sites for updates.  And please tell your friends about us!
https://www.facebook.com/JoshuaTreeFurniture
Joshua Tree Artisans' Collective Home Page
https://www.joshuatreefurniture.com
Articles and news stories
http://www.berkeleyside.com/tag/joshua-tree-furniture/
http://www.dailycal.org/2014/04/18/artisans-try-salvage-remains-west-berkeley-fire/
http://berkeley.patch.com/groups/police-and-fire/p/joshua-tree-artisans-collective-suffered-devastating-loss-during-warehouse-fire
Thank you for your continued support!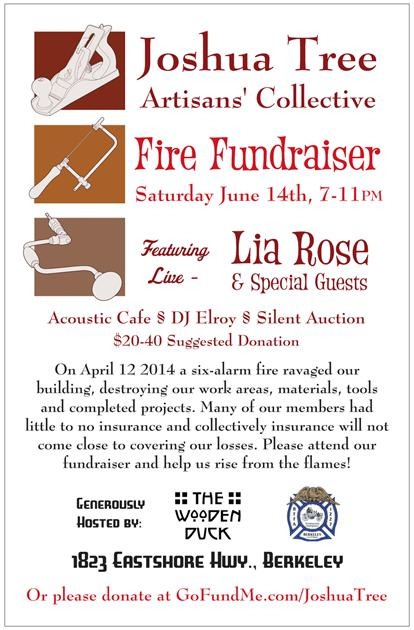 + Read More
Update 1
54 months ago
Share
Thank you all to those who have supported us so far, and for spreading the word on our continued efforts to help get the Joshua Tree Artisans' Collective back up and running.
We had a great fundraiser generously hosted by The Wooden Duck on June 14th. We enjoyed meeting those who could make the event and enjoy the amazing musicians, tasty food selections, and the great beer donated by Linden Brewery.
Keep checking out Facebook page for updates on more fun fundraising events to come. Think beer pours and great prizes for the bingo winners!
www.facebook.com/JoshuaTreeFurniture
Thank you again for all your support, coming to share in our efforts to rebuild, and for spreading the word!
The JTAC thanks you!
+ Read More