Jon Krop's Medical Fund
$4,580
of $4,500 goal
Raised by
64
people in 2 months
Hello, my name is Jon Krop; and for the past 20 years I've worked as a freelance graphic & web designer . Mostly working with indie musicians, artists, film-makers, and non-profits. Some of you might be familiar with some of my work designing album covers, web sites, and other visual/creative things for clients such as Redd Kross, Lee Ann Womack, Brian Posehn, Persephone's Bees, The Muffs, Imperial Teen, Frightwig, We Got Power Films, Daniele Luppi, Abby Travis, Patrick Park, The Misfits, Johnny Ramone, NARAL, Planned Parenthood, KLCS/PBS, Rykodisc, Big Star, Chris Manning, Jon Auer, Barsuk Records, Peter Bradley Adams, Sarathan Records, and many more over the years.
On January 20th, 2017 - I fell ill, and thankfully my fiance Barb and our neighbor Margie (a registered nurse) talked me into going to the ER after ruling out food poisoning/stomach flus and other ailments. It turned out that I had an acute pancreatitis attack and spent 4 days in critical care at Alta Bates hospital in Berkeley.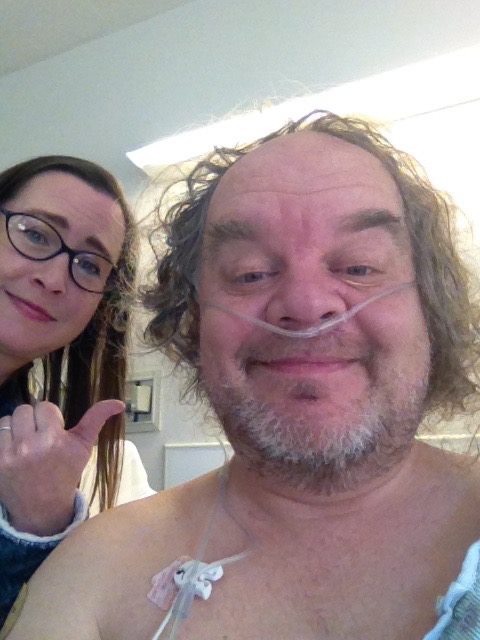 Despite having a strong work ethic, a faithful client base and living frugally; the life of a freelance designer/artist doesn't include paid sick days, or any other financial perks. Luckily, I have been able to afford health insurance thanks to the ACA .
Even with the insurance, there are still a rather sizable co-payments and balances due to the hospital, plus other parties who processed various tests, CAT-scans,  blood/lab work, follow up visits and medical expenses.
I'm doing MUCH better and focusing on a new diet along with making major life-style changes to regain my health and stamina. So far, I've dropped 10 pounds, have been able to get my blood pressure and heart rate back to healthy levels. We're now focusing on balancing out my cholesterol and blood sugar levels into the healthy zone.
I've drained out essentially all of my savings to cover what I can - and have been trying to negotiate /  arrange monthly payments. Even after negotiations, the additional bills will currently still leave me hundreds of dollars short every month to make ends meet.
My close friends know that it's very difficult and humbling for me to have to ask for help, I usually am typically a rather stubborn person who insists on paying my way - but this is one time where I am swallowing my pride and asking for some help to get me back on track and on my feet.
I am very eager to make more art and work as much as I can. I am also offering my skills and services to anyone needing design / web / illustration / creative projects in order to earn additional income - feel free to contact me to discuss such opportunities.
Thank you for your consideration,

Jon
+ Read More
Be the first to leave a comment on this campaign.