INTELLIGENT SEEDZ DOCUMENTARY FILMMAKING BOOTCAMP
$660
of $5,000 goal
Raised by
12
people in 3 months
THE INTELLIGENT SEEDZ DOCUMENTARY FILMMAKING BOOTCAMP IS BACK! We're giving scholarships to 12 deserving youth filmmakers. WE NEED YOUR HELP TO MAKE IT HAPPEN! Help us raise 15k in TWO WEEKS!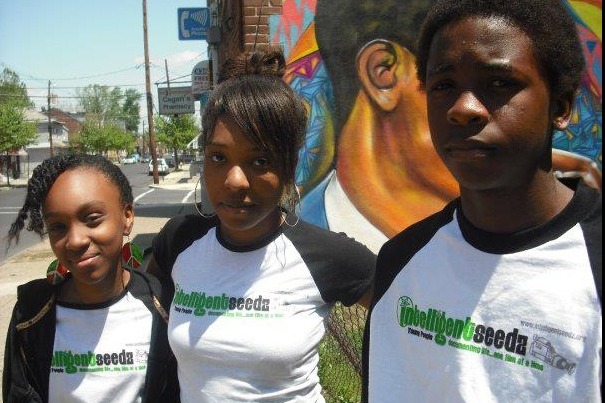 Our next stop -- the exciting, culturally rich city of NEW ORLEANS! 

WHO WE ARE AND WHAT WE DO:
The Intelligent Seedz Documentary Filmmaking Bootcamp is a 12- week, HANDS ON, youth media program that guides students through every stage of documentary film production from concept to finished project. 

We support and train young filmmakers who will revolutionize the quality and integrity of future multi-media entertainment by using their talents to promote the greater social good.



Our program equips young creatives with the specialized skills they need to produce high quality short form digital content, by teaching them the technical and creative aspects of digital filmmaking and media production. From their first day,  students are immersed in the world of film production.

THE HISTORY:
IntelligentSeedz is the merging of Intelligent Kidz Inc., a Trenton, N.J. based youth media organization founded by Timothy Taylor (a.k.a.Wise Intelligent), and Wildseed Films, an award winning independent film company founded by Stacey Muhammad. 



Founded in 2009, we've facilitated programs in New Jersey, California and Atlanta assisting aspiring youth filmmakers in producing award winning socially conscious documentary films.

THE ISEEDZ PROGRAM!

WHAT STUDENTS LEARN:

-The short form digital content creation process from start to finish
-How to develop story ideas and write treatments
-How to tell a visual story and capture footage with DSLR Cameras and I-Phones
-How to edit with Adobe Premiere
-How to work with a team
-How to give and receive constructive feedback
-How to use social media to impact change

WHAT STUDENTS CREATE:
Short form documentary films / music videos / PSA's. 
Memories and connections to last a lifetime!

The ISEEDZ Filmmaking Bootcamp is a PATHWAY for young filmmakers to gain:
-Critical thinking and leadership skills
-Support for their artistic endeavors
-Encouragement as well as a channel (film production) to engage their
communities as active participants
-An opportunity to cultivate lifelong learning habits

In an effort to  increase the visibility of socially conscious youth media, young creatives will learn:
-The power of documentary filmmaking.
Nine Documentaries That Really Did Change The World 
-The film festival submission, acceptance and screening process.
-Distribution opportunities for short form content.
-Resources for young creatives (fellowships, internships, etc.)

Young creatives will meet, learn from and work with established industry professionals in film and television. 12 young
creatives / aspiring filmmakers will receive the opportunity of a lifetime!  We need YOUR HELP to make it happen!

FACILITATOR:


www.staceymfilms.com

New Orleans native Stacey Muhammad is an award winning writer / director / producer with an impressive slate of groundbreaking, critically acclaimed film and television work that has screened before audiences worldwide.

As an arts educator, Stacey has taught documentary filmmaking to a diverse group of youth from communities historically
under-served and in need of opportunities to learn filmmaking and acquire skills in emerging media technologies. 

Other accolades:
- One of thirteen directors chosen by the Directors Guild of America and the Association of Independent Commercial Producers for the 2017 Commercial Director's Diversity Program.

- Her latest independent film, The Creed, starring veteran actress Yolonda Ross (The Chi, The Get Down) premiered at the 2017 BlackStar Film Festival and can now be viewed on Comcast Xfinity.

- Stacey's critically acclaimed digital series, FOR COLORED BOYS, REDEMPTION was named one of the top digital series upstaging TV dramas by IndieWire. The soul stirring dramatic series has screened before audiences worldwide and was chosen for special screenings highlighting excellence in digital media by Viacom and NBC.

- Stacey's  work includes directing 2 seasons of the Being Mary Jane After Show; serving as Director / Co-Executive Producer of the Flavor Unit produced Docu - Series "From The Bottom Up" for BET / Centric, as well as producing the award winning What's At Stake New Program and the Justice For Ferguson News Specials for BET.

- Stacey's  award winning documentary film "I AM SEAN BELL, black boys speak" premiered at the PATOIS, New Orleans International Human Rights Film Festival.  An official selection to the Media That Matters Film Festival, where it was awarded the "Speaking Out Award", the film received international acclaim and toured with HBO / Media that Matters, screening for audiences worldwide.

- Stacey has lectured at universities nationwide on a broad range of topics including hip hop, pop culture, media, film, social justice issues, and most notably, the history of Black women filmmakers in cinema.

- Stacey's currently in production on her latest digital docu series titled SECOND LINE.  She's also in development on her first feature film titled, THE RETURN.

WISE INTELLIGENT  / CO - FOUNDER / FACILITATOR:

www.wiseintelligent.com 

OUR WORK WITH YOUNG CREATIVES / YOUTH FILMMAKERS:

---IntelligentSeedz aims to help youth tell their stories 

---THE LEAD OUT!"~FILMMAKER STACEY MUHAMMAD AND HIP HOP LEGEND WISE INTELLIGENT TEACHING
YOUTH TO DOCUMENT REEL LIFE… 



WE NEED YOUR HELP TO MAKE THIS HAPPEN!

We're raising 15k to give scholarships to 12 deserving middle / high school aged aspiring filmmakers!

The funds collected will be used for:
- filmmaking equipment (cameras DSLR / GoPro)
- lighting / sound equipment 
- bootcamp teaching staff
- trophies, medals and plaques
- other miscellaneous production costs (e.g. decorations, food for crew, batteries, etc)

Please join in our efforts to give 12 young creatives the opportunity of a lifetime.  No donation is too small! Even a small contribution can go a  long way in making a difference!


WHO: INTELLIGENT SEEDZ / YOUTH FILMMAKERS

WHAT: Youth Filmmaking Bootcamp! A dope, fun filled, educational experience where young people learn every aspect of documentary filmmaking / digital content creation from concept to finished project.

WHEN: January - March 2019

WHERE: New Orleans, LA.

WHY: WE NEED the courageous voices of young people to be amplified through filmmaking! We support and train young filmmakers who will revolutionize the quality and integrity of future multi-media entertainment by using their talents to promote the greater social good.

HOW: WITH YOUR HELP! WE ARE RAISING 15k  to provide this incredible opportunity to 12 deserving creatives.
HELP US MAKE IT HAPPEN!

For More Info: https://iseedzyouthmedia.org/



Q: HOW ELSE CAN I HELP BESIDES MONEY? 
Please help me spread the word about this exciting youth program by
sharing this campaign with your social community. 

https://iseedzyouthmedia.org/

Our goal is to raise $15,000 in donations. Any additional funding will support future versions of this journey!
+ Read More
Update 1
3 months ago
Share
Thank you to all who have donated and shared our campaign. We're pushing to reach our 15k goal in two weeks and will provide 12 scholarships to youth filmmakers with the funds raised. Thank you again!
+ Read More