HELP THESE WOMEN BE INDEPENDENT
$1,651
of $25,000 goal
Raised by
19
people in 23 months
Each of these women, and many others, received a micro loan from Heart of Africa and are now healthy, happy, and self sufficient.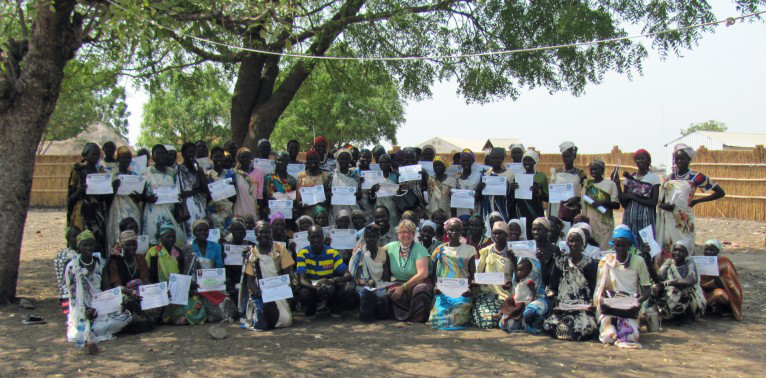 Hazel Seavey is a Heart of Africa staffer dealing with African widows;  some of the most vulnerable women in the world.   She trains them in micro business and organizes them into cooperatives of 30 women each, administers a micro loan to start their own business, and provides them with training and materials for personal and spiritual growth.  The program is a smashing success largely due to the accountability built into these coops.  But, it needs to grow.  That's where you can help.  Many more African widows and families need to be helped with these life changing micro loans and we need more capital to reach more women and families with more loans and training.
We need to make 190 micro loans of approximately $100 each to widows and do 5 training seminars for them.  In Africa, a little goes a very long way.  Any size donation helps us empower one more widow and teach her to raise herself out of an unimaginable poverty.
Heart of Africa realizes that locals are the key to local success and focus on projects that are a catalyst for more extraordinary efforts by locals.
The Heart of Africa difference that makes this program so successful is application of the old proverb:  "Give a woman a fish, and you feed her for a day.  Teach a woman to fish, and you feed her family for a lifetime."  My friends, Tom and Laura, were visiting widows' homes in Uganda . . . . dirt floors, no electricity,  corrugated tin roofs  riddled with holes all over them.  Imagining kids sleeping in mud Tom said to Mike, the Heart of Africa director, "Let's raise some money and buy new roofs."   He received a mild reprimand, "No Tom, we don't fix roofs.  We provide a business loan and training.  With the proceeds from their businesses, they can buy their own roofs when it is their priority;  not ours."  This is a vision that changes lives and empowers those in the micro loan program.
"I've lived in Africa and had widows asking for cardboard scraps so their children would not have to sleep on the dirt.  Relief efforts are great but what these widows really need is training and just a tiny bit of capital to get them started on a road to self sufficiency and success.  It takes so little to do so much." - Jim McCathren
100% of your donations will go directly to make micro loans.  Heart of Africa is a 501(c)(3) non-profit charitable organization that is tax-exempt under the U.S. Internal Revenue Code.  All contributions to Heart of Africa are tax-deductible.
Asante Sana!
+ Read More
Be the first to leave a comment on this campaign.