Wheelchair Basketball to Briarcliff
Be the first to like this update
Even the teachers got into the fun!!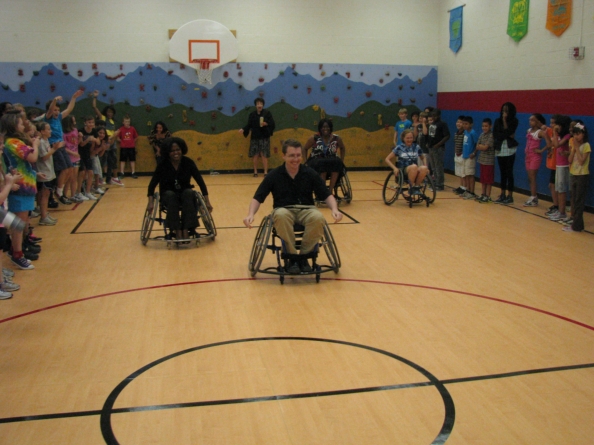 My son Nolan Turner is trying to bring his wheelchair basketball team sponsor, BridgeIISports, to his school Briarcliff Elementary so that all of his friends can experience what it is like to play sports in a wheelchair. He really enjoys it.

It is going to be $1000 to cover the costs so that the organization can be there the whole day. This is so that the ENTIRE school will get to experience this. Anyway, he has been sitting out on the sidewalk selling bottled water for $1. Sitting there in his wheelchair, doing tricks for those who came by and donated or purchased some water. Today (March 22) he was sitting there selling and some low life comes by and stole the money he had made. He had already made enough to cover just his class ($250) and was trying to earn more so that the school could do it. The thief took approximately $150 from the jar.

Whether you donate or not, thank you for caring enough to read this. Pass it on if you feel the need. All funds will be donated to BridgeIISports so that others can experience this.
Thanks.


What is GoFundMe?

Fundraising made easy >>
CONTACT
LINK
POSTER
REPORT
MR & Mrs. Deleston
47 months ago
God Bless u Nolan 4 what u are doing 4 people. My husband & I wish u the best.
Anna, Zack, Nathan, Noah
47 months ago
Nolan, I just heard your story on News 14 and was moved by your determination, positive attitude, and abilities. America is built on young people like you who persevere in difficult times. You make me proud and give hope for the future. I'm a mother of 2, grandmother of 4. You are an inspiration to us all. I'm donating $100 in the name of each of my grandchildren.
Raymond Washington Jr
48 months ago
nick hayden
49 months ago
i heard about what happen to your son i am also disabled i have spina bifida which i believe your son does to. I am so sorry that there are people out there like that but as soon as i heard the story i was thinking i would love to donate money to help your son raise the money.
Brittany Forbis
50 months ago
God Bless you Nolan!!! Keep your head high and know that as long as you are doing what's right, you will be rewarded! The thief that took your money actually did you a favor! Continue to turn all of life's struggles and mishaps into good! This was just a blessing in disguise!
chris jewett
50 months ago
Nolan, Please don't let the idiots of this world get you down!! I hope that you are ale to accomplish everything you set your mind to! Keep on keepin on!!
Hether Pierce-Smiroldo
50 months ago
I read your story, and was very moved. I hope all your dreams come true!