Honor Student Lost Her Mom
$1,455
of $8,000 goal
Raised by
30
people in 1 month
My name is Ivonne Raya, I am 21 year-old and I graduating from SWC as a history major this spring.  I was accepted to UC Berkeley, UCSD, UCR and SDSU with a 3.8 GPA. I work for Southwestern College as a peer mentor at San Ysidro and serve as a role model to our First Year Experience (FYE) students as they make their transition from High School to college.
For more than three years my mother Paula Barraza, was sick with Emphysema Pulmonary, a lung disease.   Last month, my mother passed away unexpectedly from this disease. The entire process of her death was traumatizing for my little brother and myself. I remember Tuesday night I called the hospital to get an update on her status. She was in a coma and the doctors said, "Please come immediately, your mother has little time". I did not have a car, so I call my friend and we drove the longest and silent ride of my life. When I got to the hospital, the doctors told me that it was time. I let my brother say his last goodbyes and he then waited for me outside with my friend. I stayed with her holding her hand and she got super warm, and when the doctor came he told me that he was going to check something really fast. I let go of my mother's hands for a second and in that second she said her last goodbye to me. At her service, since we are Catholic, the priest asked me if I could walk my mother's ashes to the altar and it was the last time we walked together.
I assumed the responsibility for the burial service and the custody of my brother, Eliseo, who is 16 years old and who suffers from anxiety due to bullying in high school. Now that it's only him and myself, I had to assume my mother's role in every aspect of our life. I need to travel to Mexico on a weekly basis to purchase his  medication. Again since I don't own a car I need to take the public transportation of a place I am not familiarized. Although I am afraid of Tijuana, I do it because I love my brother.  I decided to accept the offer from UCSD so that I can remain closer to my community and so that my brother could be closer to his therapist. I am graduating this month and will be starting as a junior at UCSD. I will be taking the trolley and bus to get to my dream school. My mother used to tell me "Mija, aplica a la universidad en La Jolla," or in english,  apply to this amazing school in La Jolla, UCSD, even if she did not know the name. Now I can finally say that I will be continuing our journey at  the university of our dreams. 
I will always need my mom, her hugs, her advice, and her unconditional love. I will always look up to my mother, who was the strongest and most precious person in my life. She taught me that if I kept my head up high and smile, life would eventually rule in my favor. She was a fighter, since the day she decided to get pregnant with me. She always looked for our wellness even if she had to sacrifice it all. After all, my mom lived to her word of always protecting her most valuable little people, us!
I am also a survivor of domestic violence since my father is an alcoholic and he is very aggressive. Staying with him is not an option for my brother's mental health. Thanks to my mother I was able to become a very independent women who does not give up, despite of the circumstances, I will always try to follow my mother;s foot steps. She taught me that hard work leads you to achieving your dreams. There are times when I seeks comfort and I listens to my mom's last phone message.  My mom called me the day she got admitted to the hospital and left a message saying "Everything is fine, I would not be leaving the hospital today, but I will see you soon, call me whenever you can, I love you my kiddos"  That was the last time I heard my mother's voice. 
My second family is Southwestern College!  Staff from the San Ysidro campus have taken me under their wing to make sure that I receive support and resources.  I am especially thankful to my counselor Lisa Rodriguez who checks on me regularly. Without her support I would not be here standing and telling my story. I am grateful for the SWC Cares grant, Jag Kitchen Food Pantry, Cal fresh and other student resources that have been instrumental in my academic success.  The Go Fund Me would cover the burial expenses and expenses to care for my brother. 
With warm regards, 
 Ivonne Raya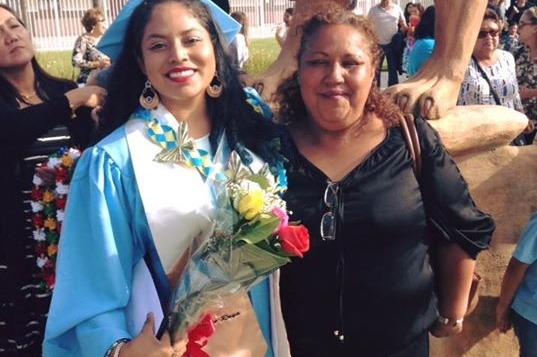 + Read More