18
7
Honey's Vet Expenses
$750
of $1,000 goal
Raised by
15
people in 14 months
Hello all! 
Meet Honey... Honey is a cat that I came across on the street 48 hours ago. It was immediately apparent that she needed a good meal, but I also noticed some serious growths on her abdomen. I decided to stop, and to my surprise, she came right to me. After further inspection, I realized there were 2 serious growths.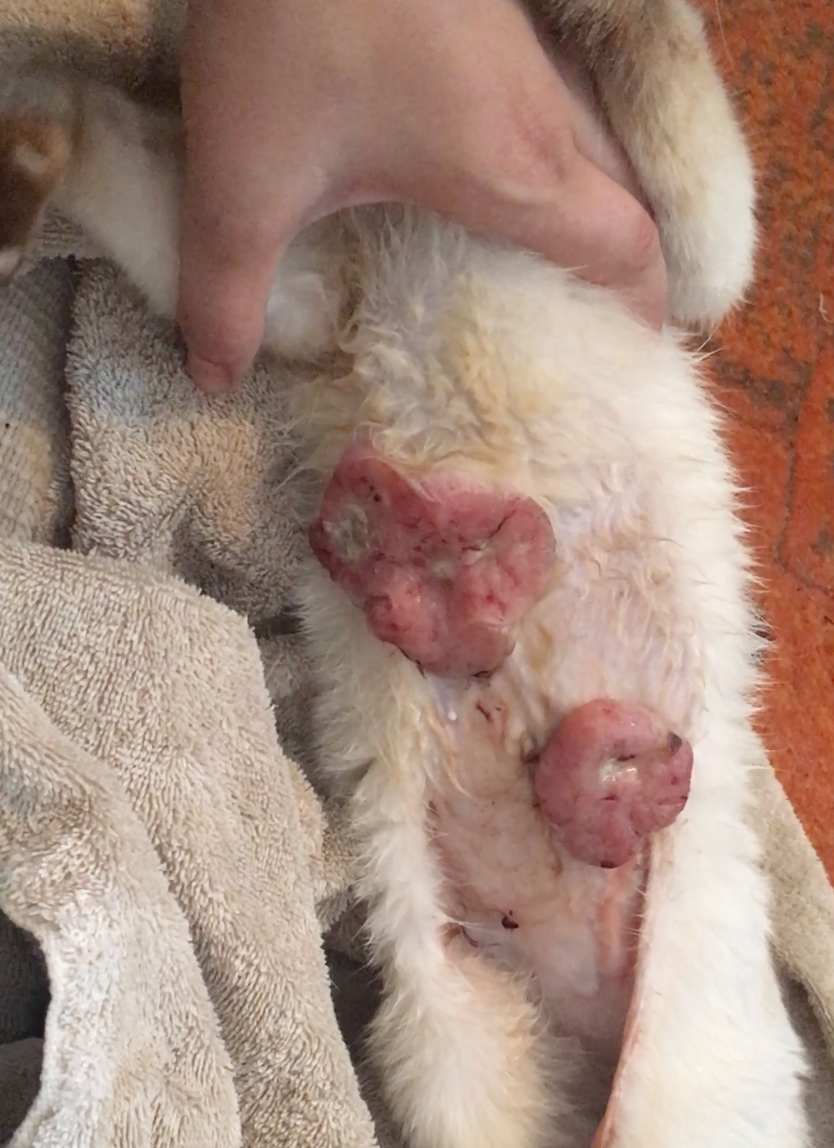 I took her to our vet, who did a check up for free. I purchased some steroids and antibiotics to help with the inflamation and infection. 
Honey is the sweetest cat. She is very affectionate, friendly, has a great energy levels, and is eating. She is definately not a feral cat.
The only issue she seems to have are the growths. They are very large and open. They are bleeding and extremely uncomfortable for her. They vet has said that she can remove the growths for a discounted rate, to help us out.
Under normal circumstances, we would gladly take this on ourselves, but we are currently caring for one dog (our sweet Sug) with Lymphoma which requires a  significant financial investment.
I thought I would put this out to our generous friends, and see if our community could donate a little bit to help make this seet girl a bit more comfortable. She deserves it!
+ Read More
Update 2
14 months ago
Share
Hi everyone,

Some of you may have heard the news already, but I wanted to give the official update.:

Honey had her surgery yesterday, and passed away a few hours later.

The vet did everything she could to save her and Honey was never alone or in pain. The surgery itself went very well, but her blood was very thin as a result of the growth constantly bleeding.

We also had blood work done and her blood sugar was very high. The doctor speculated that she was likely diabetic and anemic, likely as a result of her poor condition.

Ultimately, she could not have gone on with the growths festering and growing like they were. We were hoping to give her a some more time in a safe and happy place, and we are truly upset that we could not do that for her.

We were optimistic, so this was a tough loss. She was an incredible kitty with the best personality, and I wish we could have known her longer.

The vet really helped us out with the cost of the surgery, so we have some money left over. We will be donating the remainder of the money we collected to a cat rescue in Honey's name. When we decide on the organization, we will update that here.

Thank you for helping out. I am sorry that this did not have a better outcome.
+ Read More
Update 1
14 months ago
Share
We have scheduled Honey's surgery for Thursday. We are hoping to raise a bit more money by then. Thank you for everyone who has already donated!
+ Read More
Read a Previous Update