win and help me to live MY DREAM
CHF55
of CHF6,765 goal
Raised by
2
people in 5 months
Fast Food – Auswirkungen auf den Körper
Es geht schnell, es schmeckt lecker und die Auswahl ist groß, ob als schnelles Essen in der Mittagspause oder am Abend, damit man nichts mehr kochen muss
Doch welche Auswirkungen hat ein übermäßiger Konsum an Fast Food? 
Zu viel Fast Food schädigt das Gehirn Jugendlicher
von V. Fehlmann - Eine neue Studie der ETH zeigt: Essen Heranwachsende über längere Zeit fettreich, kann dies gravierende Folgen für die Persönlichkeit und beim Lernen haben!
WARUM WERDEN WIR SO?
Bauchfett: 5 überraschende Gründe für eine dicke Leibesmitte
AUTOR: ELISABETH SPITZER
1. Magnesiummangel
2. Zu wenig Schlaf
3. Salziges Essen 
4. Falsche Trinkgewohnheiten( viel Kristallzucker)
5. Falsches Workout
HIER DIE LÖSUNG
BERGOLIO
SACHA INCHIK
PROTEIN BURGER
SACHA INCHIK
 war vor mehr als 5000 Jahren  in Peru nur bei Leuten mit königlichem Blut, Diplomaten, Fürsten, Krieger und anderen wichtigen Personen bekannt. Es war das Geheimnis der Prä-Inkas.
SACHA INCHIK ODER INKA NUSS
Sacha Inchik ist eines der ernährungsreichsten und wertvollsten Lebensmittel der Welt! Deshalb galt es als Geheimnis bei den Inkas!!!
Museo Tumbas Reales de Sipán (Museum der Königsgräber von Sipán)
Die Schweiz, vertreten durch SECO, hat den Peruanern geholfen lernen, nach dem Standard BIO-KNOSPE zu produzieren.
Wo liegt das Geheimnis bei BERGOLIO?BERGOLIO
 ist 100% BIO-VEGAN-GLUTENFREI-NON GMO-ALLERGENFREI -FAIRTRADE
Wir verwenden rein natürliche Zutaten ohne Zusatzstoffe und arbeiten nur mit BIO KNOSPE ZERTIFIZIERTEN COOPERATIVEN  zusammen.
Die wirkliche Magie bei
BERGOLIO:
Sie können
FAST FOOD OHNE REUE
essen.
 Die BERGOLIO Protein-Burger enthalten viele Proteine, Vitamine und Mineralien sowie Omega 3-Fettsäuren. Sie sind leicht verdaulich und der frische echte Geschmack bleibt sehr lang erhalten ohne Zusatzstoffe. Dank unserer  innovativen und schonenden Verpackungs-Technologie.  
FAST FOOD OHNE REUE ESSEN
Für gesunde Ernährung unter Zeitdruck , Cool. Mega!!!
BERGOLIO SACHA INCHIK PROTEIN BURGER
Enthält 34 % Eiweiss, Magnesium, Thyptophan,
Magnesium, Gamma-Aminobuttersäure, Phenylalanin und viele andere wertvolle Stoffe (mehr Informationen siehe weiter unten bei Proteinpulver).
Enthält wenig Salz und hilft beim Muskelaufbau!!!
Bergolio Sacha Inchik Sozial Projekt
MERCEDES  DALIA ANDIA GUTIERREZ DURRERBERGOLIO GMBH / CEO and FOUNDER
Mein Name ist Mercedes, ich bin aus Peru, mein Traum begann mehr als 15 Jahren, als meine Mutter meinen kleinen Sohn mit vielen gesundheitlichen Problemen sah. Sie erzählte mir über ein Hülsenfrucht welche in Peru wächst und die großen gesundheitsfördernde Eigenschaften hat. Sie besitzt 3 mal mehr Omegas 3 Fettsäuren als Fisch und 3 mal mehr Protein als Fleisch. So entdeckete ich SACHA INCHIK. Ich war so überrascht über dessen Stärken und positiven Auswirkungen, dass ich mich entschieden habe dieses wunderbare Projekt zu unterstützen. Es hilft vielen in Perul lebenden Menschen und ist eine gute Methode zur Beseitigung von der Kriminalität und dem Schutz des Peruanischen Amazonas.
Mit Dir und Deiner Hilfe ist es möglich, die Achaur-Indianer so zu unterstützen, dass sie ihre Territorien und ihre alte Kultur schützen können.
Sacha Inchik wird von den Achaur produziert, was mich nun seit über 13 Jahren dazu bewegte, diese magische Pflanze  namens Sacha Inchik zu studieren.
Ich wollte weitergehen und nun ist es mir gelungen einen schmackhaften und aromatischen Protein-Burger frei von Gluten und frei von Soja herzustellen.
 SACHA INCHIK 
dient als Rohmaterial in vielen gesunden Produkten, wie zum Beispiel Ölen, Snacks und Proteinpulver UND die besten Vegan Kapseln. 




BERGOLIO PROTEIN PULVER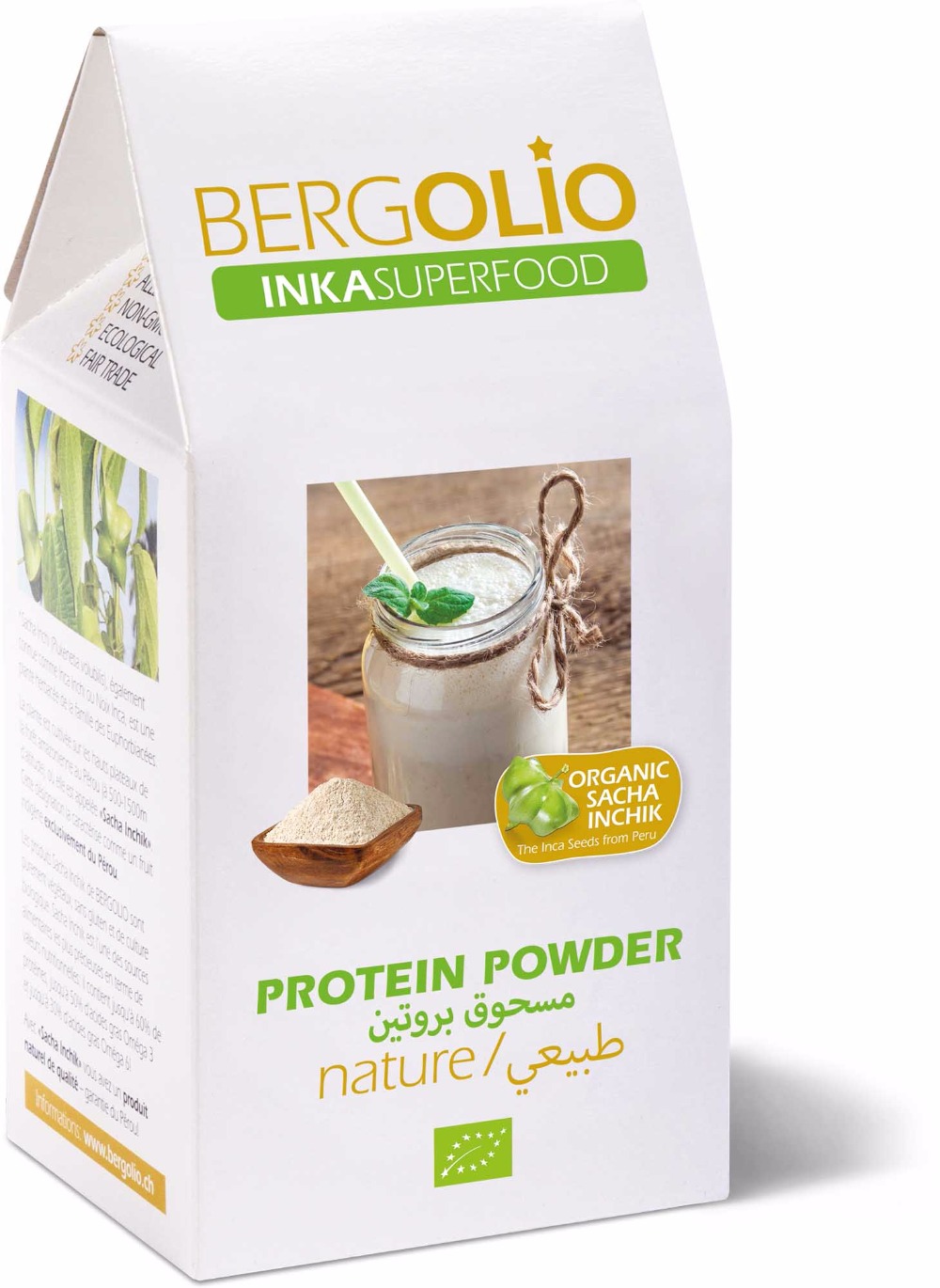 Diese Stoffe sind im BERGOLIO
Protein-Pulver enthalten
Alanin (2140mg/100g)
Arginin (5160mg/100g)
Asparaginsäure (8220mg/100g)
Glutaminsäure (8350mg/100g)
Glycin (6480mg/100g)
Histidin (1230mg/100g)
Ornithin (<500mg/kg)
Methionin (710mg/100g)
Lysin (2550mg/100g)
Cystin (490mg/100g)
lsoleucin (3100mg/100g)
Leucin (4260mg/100g)
Valin (4120mg/100g)
Tyrosin (4120mg/100g)
Threonin (2680mg/100g)
Tryphophan (1260mg/100g)
Gamma-Aminobuttersäure (<500mg/kg)
Phenylalanin (1690mg/100g)
Prolin (2310mg/100g)
Serin (2970mg/100g)


Wozu brauche ich das Geld?

um diesen grossartigen Protein-Burger zu vollenden, ich brauche folgendes;
1.- Design for Packing (Recycling)
2.- Bio Inspecta ( Organic Certificate)
3.-Vegan and Gluten Free Analysis
4.-Produce the Packing
5.-Produce the Label
6.-Produce the Burger, (Logistic, buy the Ingredients)
7.-and sell to our Customers


Darum bitte ich Euch: gofundme! Ich warte auf Euch und Eure Unterstützung!



Bergolio GmbH wurde im Dezember 2015 als Start up gegründet. Erfahre alles über das Sacha Inchik Sozial-Projekt auf unseren Degustationen in der ganzen Schweiz oder direkt bei uns unter Bergolio


Deine Unterstützung auf: www.bio-und-fair.ch





My name is Mercedes, I'm from Peru, my dream started more than 15 years when my mother saw my little boy with many health problems.

She advised me to try a legume that grows in Peru with great health properties. It especially has 3 times more Omegas 3 than fish and 3 times more protein than meat. So I discovered SACHA INCHIK, I was so surprised about its strengths and positive effects that I made the decision to contribute to this wonderful project, which benefits many Peruvian people. Further, it is a safe method of eliminating the Criminality and protect the Peruvian Amazon.

With your
help
it's all possible, together we can support the indians Achaur so that they can defend their territories and their ancient culture.Sacha Inchik is
produced
by the Achaur, what motivated me to investigate it for more than 13 years how. I have found this magic plant called
Sacha Inchik
to be a great raw material for healthy food in everyones life. Right now on marked you can find oil, snacks and protein powder.
But
I like to go new ways and invented a high
Protein Burger
with greater taste and aroma with no gluten and free of soya!
Why do I need the Money?
for making  this great protein Burger.
need 
1.- Design for Packing (Recycling)
2.- Bio Inspecta ( Organic Certificate)
3.-Vegan and Gluten Free Analysis
4.-Produce the Packing
5.-Produce the Label
6.-Produce the Burger, (Logistic, buy the Ingredients)
7.-and sell to our Customers
So please gofundme right now ! I will wait for you and your order!
Support the Sacha Inchik Social Project
High local added value:
BERGOLIO team looks after 150 families in five cooperatives. The role of women is fundamental in the project. Higher prices allow a regular life income for this families in the growing area.
And it displaces the illegal coca cultivation
PLEASE SEND US AN
E-MAIL
OR VISIT OUR WEBSITE
www.bergolio-global.com
instagram: bergolioglobal
www.20min.ch/Die
Supernuss aus dem Amazonas
THANK YOU FOR YOUR SUPPORT TODAY !!!
Danke Herr Bundesrat
Moritz Leuenberger!
Du findest Bergolio Produkte in vielen Bio-Laden, Globus, alnatura und Reformhaus Müller
Adios Amigos!!!
Gracias- Danke- Merci- Thanks- Grazie
+ Read More