23
5
Help Samson and Delilah
$775
of $2,000 goal
Raised by
28
people in 3 months
Samson is a lanky male tabby, and Delilah is a small tuxedo butterball who came to us with a group of twelve kitties whose owner, an older woman, passed away in Queens. The woman's daughter was simply going to throw the cats out on the street if nobody took them!  The kitties had only known that one home and they were about to lose it. I took in these cats to keep them from getting the boot. You may be familiar with our pleas for help.  Some were able to be passed to an organization that had the resources to take care of them in the longer term after I did their vetting. [What was this org again? We also met a new foster person over Instagram who was just crazy enough to respond and chose to drive a long, long way to pick up the last two, Jennifer (IG: @fourkittysmom). Samson and Delilah are now being fostered in central Maine. Things didn't end there. After the 8-hour drive to Maine, Samson (formerly My Son) was snorting and sniffling. Delilah (formerly Manicure) looked like she was limping. Their new foster person, fourkittysmom got them a vet exam by her homekitties' vet. The vet determined that Samson's snorting and snuffling was mainly from problems with his mouth. His teeth were all decayed. There was a lot of saliva and his mouth didn't smell too good.  In fact, she smelled that in burps on the way home. He had gingival hyperplasia--a swelling of the gums that comes from too much bacteria or plaque at the gumline. He couldn't even close his mouth all the way!  Samson needed extraction of probably all his teeth to be healthy. Delilah turned out to have an elbow that was fused from some old injury--her right front leg will always be shorter than the left because it is permanently retracted. There is nothing to be done about this, but Delilah has turned out to be a very affectionate girl. Delilah has a loud meow that shows she's just asking for attention. Scratch her head and she will love you!Samson and Delilah both have little white tips that look almost like fingernails on their front paws. This shows they are related, and it led to Delilah's original name: Manicure! Each cat cost $345 for its initial vetting, taken care of by the_crazy_cat_fam. The_crazy_cat_fam was able to raise $690, enough to cover two vettings, but twelve cats got done!  Exams, Convenia injections, metranidizole and an ear cleaning for Samson and Delilah were $331.92. Before we decided to do a dental on Samson, we needed to know the state of his blood--how were his kidneys and thyroid? Could he take anesthesia? Bloodwork was $370.00. Together, we spent $701.92 on vetting for Samson and Delilah and bloodwork for Samson. His thyroid and kidney were fine. He had some abnormalities that all had to do with resistance to infection--showing his body was fighting the infection in his mouth. Samson did great at his dental, Tuesday. The vet double-checked one level-the albumen level, a certain kind of protein. His protein level had risen and was normal! It was a little bit low when it was initially checked. The vet thanked his foster for letting him devour at least a can and a half of wet food per day as he has been doing for a little over a week now, saying the protein in his system may have risen due to his consistent feedings. Samson's dental on April 16, 2019 cost $707.41. Samson was left with one tooth--it wasn't bad looking and was close to the bone, so he now has one snaggletooth at his top left canine.This time Jennifer and I have paid the bills outright at the vet, going into debt in the process. We need help to recoup the cost of the bills! Since the rescue of the 12 cats, it has cost us over $2,000! Especially Samson and Delilah were a surprise, as these last two cats had hidden problems, likely from a lifetime without vetting. Although they got their intial shots, snap test and spay and neuter, other problems were revealed once they settled with their long-term foster. Samson and Delilah could be 5 years old or 15. We just don't know right now based on their condition! Samson was skinny enough to be an old guy, but he's already looking happier after his dental today and he could start to reveal a young self with a steady healthy diet as he will begin eating normally--even dry food--with gums instead of dead, decayed teeth. Delilah already has no teeth--probably the result of the same dental disease Samson had. But she's sleek and friendly and will make a great companion. Samson will make a great companion too once he gains a normal weight!Now we need funds for Samson and Delilah, including Samson's dental!Whatever you can donate to help Samson's restoration to health, and help him lead life at a normal weight with a normal mouth, will be greatly appreciated! All the twelve kitties have strained our resources beyond breaking. Help us create a healthy, happy life for more cats!
+ Read More
Update 1
3 months ago
Share
Samson is so much more comfortable since his dental! It was about two weeks ago now. He had some stitches that have now dissolved. Samson is so skinny because it used to hurt him to eat with his teeth the way they were. But now he's the most enthusiastic eater in the house!

Delilah loves to be pet. She has a bit of a grumpy face in photos but she will roll around accepting love for just about ever! Then she passes out on the bed from bliss.

We still need donations to make our goal to cover the initial vetting for all 12 cats including Delilah, Samson's bloodwork, and of course, Samson's dental! Please consider donating to this project and the two sweeties being fostered in Maine.

New photos:
1. Samson in his favorite spot, where his foster mom usually sees him first thing in the morning (look how comfy!)
2. Delilah napping

New video: Delilah getting some love!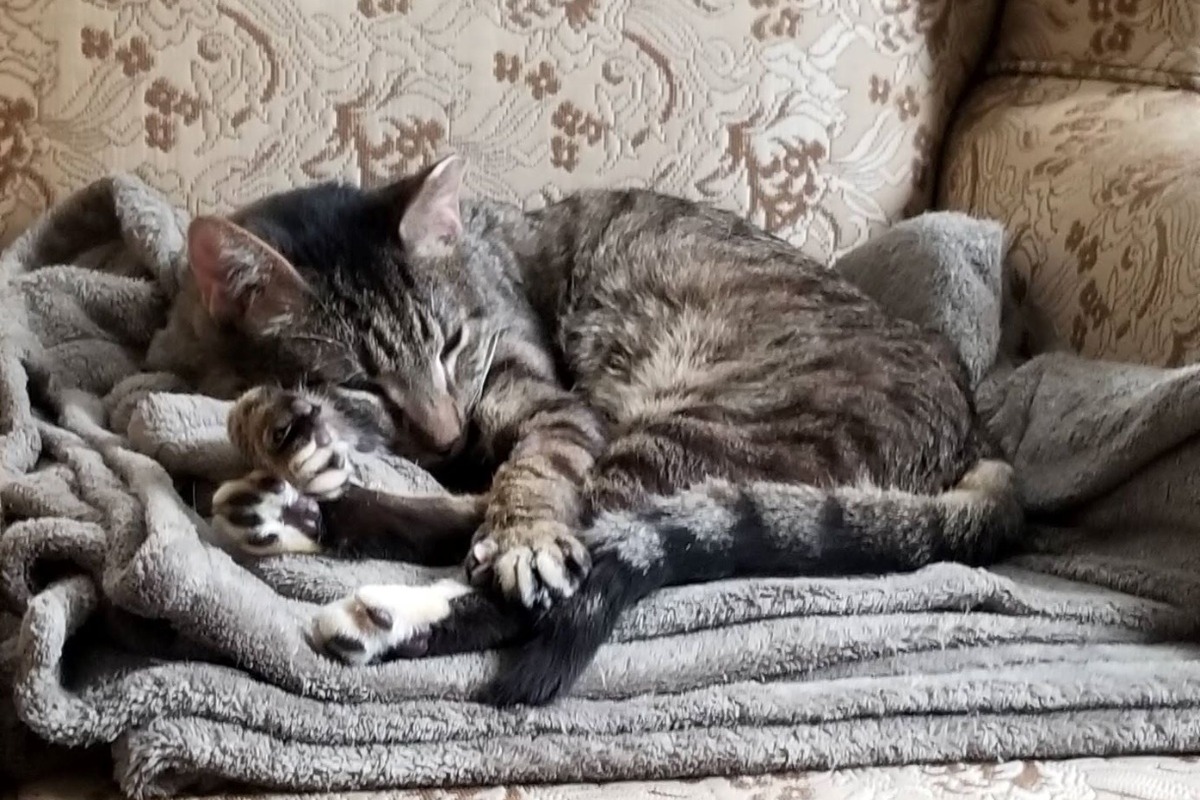 + Read More