Medical and Living Expenses
$1,847
of $10,000 goal
Raised by
42
people in 48 months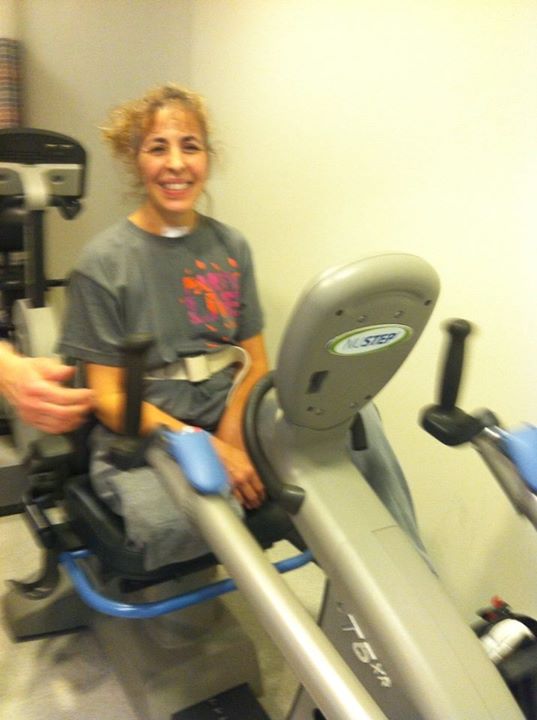 Zumba Teacher Trying To Get Back In The Gym After Losing Leg
http://minnesota.cbslocal.com/2014/04/22/zumba-teacher-trying-to-get-back-in-the-gym-after-losing-leg/#sthash.zpF1eZJR.dpuf
On Thursday, January 9th Adela was teaching a Zumba class when she unexpectedly went into cardiac arrest. CPR was administered immediately by her students and continued until the ambulance arrived. When the paramedics arrived, they had to defibrillate her 5 separate times before she regained a normal heart beat; she had been clinically dead for over 25 minutes. Even though her heart began beating again, it was functioning very weakly and her prognosis was very poor. Even if her heart recovered, Doctors were extremely worried about the state of her brain. It only takes 4 minutes without oxygen for the brain to suffer irreversible damage and she had been down for over 25. Adela spent the next three and a half weeks in the ICU in critical condition fighting for her life. Over that period of time, she underwent 8 surgeries to save her life. While in the ICU, Adela was put on a ventilator and as a result had to be heavily sedated so the extent of her brain injury was largely unknown.

Over time, Adela stabilized and her heart slowly began to recover. Doctors were able to take her off the ventilator and turn off her sedation.  As she slowly woke up, her brain showed no signs of injury and she slowly became aware of her surroundings. Miraculously and against all odds, Adela went on to make a full cardiovascular and neurological recovery.

Tragically, during one of her life saving surgeries, Adela experienced complications and as a result required an above knee amputation of her right leg. Going forward, the amputation will create many challenges for her. 
 
Adela is now at home awaiting her prosthetic leg and adjusting to her new lifestyle. She remains optimistic and is determined to return to work in the fall and to teach Zumba once again. During the last few days at the Hospital Adela told her doctors and nurses that she would be back within the year to do a Zumbathon for them to thank them. Doctors credit her healthy lifestyle as a pivotal reason for her survival.
 
Her prosthetic leg is expected to arrive sometime in June/early July.

 We are asking for funds to help cover her medical expenses as well as the expenses from the required adaptations she will need due to her amputation (accessibility modifications to her home as well as her transportation and the prosthetics she will need). The prosthetic alone costs $120,000! At this point it is unclear how much insurance will cover.

Thank you for you continued support and prayers.
+ Read More