Save a single mother of two kids
$23,071
of $62,000 goal
Raised by
52
people in 56 months
* Turn the CC/Subtitles ON above to view the subtitles in English! 
Irena,
 a 41 year old single mother of two young boys
 needs help to
save her life
so she can continue caring for her children.  Irena is currently in a hospital (Pirogov) in Sofia, Bulgaria and  is in a gruesome fight with cancer that has already taken her colon,  bladder and reproductive organs. Her only chance is to get  a life saving treatement in Turkey that costs 100,000 bulgarian lev or $62,000 dollars. Irena is currently living on 400 bulgarian lev or $250 a month.   She cares for her two small boys - a 9 and 10 year old,  and her monthly income is not enough to sustain her medical and living expenses.
Irena and her two small boys are
praying for a miracle this Christmas
! All her two boys want is for mommy to get better. 
I am attaching the story in Bulgarian, but I have translated the video above. You can click the CC and you will be able to see the subtitles in English.  
http://goo.gl/lj86W7
Irena is an incredible human being that needs support. Every donations will go towards the medical treatment she needs to save her life!  The life-saving chemoteraphy treatment will be performed at the Anadolu Medical Center in Turkey. You can find more information about the Hospital here: 
http://www.anadolumedicalcenter.com/
If you are in Bulgaria you can also make a donation at every bank with IBAN: BG79CECB97904036946700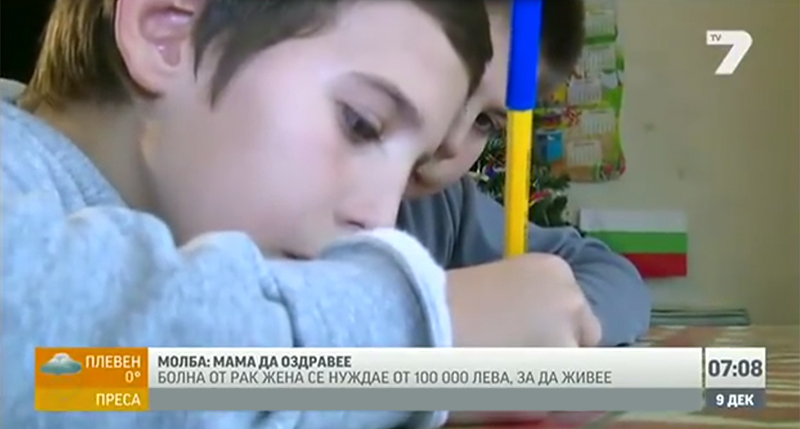 In the Christmas spirit let's help Irena come closer to her only dream - to get better so she can be a mom and take care of her  two young boys!
Thank you everyone for your kindness! Irena is immensely appreciative for every type of support she can receive.
In the picture above you can see Irena's sons writing their Christmas wish to Santa - " please help our mommy to get better!"
____________________
Обръщам се към всички приятели, познати и непознати хора със сърца – моля ви, кой с колкото може нека да помогнем на Иренка и да сбъднем коледното желание на нейните деца!  Ирена е рядко срещан добър човек с главно "Ч" и има две момченца на 9 и 10 годинки.  Живота и до момента на заболяването никак не е бил лесен, но тя никога не се отказва, бори се и всичко, което прави, го прави само и единствено в името на децата си!
41-годишната Ирена се моли тази Коледа чудото да стане и в нейния дом, за да може да отгледа децата си.
До момента в сметката: IBAN: BG79CECB97904036946700 - Ирена Йорданова Йорданова
 - са постъпили 22,341.82 лв
. 
До нужната сума трябват още много и аз се надявам, че добротата и човечността не са изчезнали и ще успеем да ги съберем! Вярвам, че ще успеем! Когато сме добри и задружни, всичко е възможно, особено, когато става въпрос за една незаменима майка и двете и чудесни деца! 
Моля ви, нека помогнем на един добър човек, на една майка и нейните деца да прекарат по-дълго време заедно! Коледа е- нека бъдем добри!
Благодаря на всички, които прочетоха това, изгледаха видеото, евентуално споделиха на стената си и решиха да помогнат!
Репортажа на ТВ 7: 
http://goo.gl/lj86W7
Информация за болницата в Турция може да намерите тук:
http://www.anadolumedicalcenter.bg/
Групата
 "
ДА ПОМОГНЕМ НА ИРЕНА
" във
Facebook:
http://goo.gl/uRW5s9
+ Read More
Be the first to leave a comment on this campaign.