47
4
Help Sarah get to Jnr Worlds
$3,607
of $5,000 goal
Raised by
45
people in 13 months
Hi everyone! My name is Sarah Gigante and I'm a 17 year old cyclist. I have been racing for my club, Brunswick Cycling Club, since I was eight years old and now also race for a road NRS team, Holden Team Gusto. I'm really passionate about my sport and juggle it alongside my Year 12 studies everyday.
At the start of this year, I won 3 junior national championships on the road (in the criterium, time trial and road race) and 3 on the track (in the team pursuit, madison and points race) as well as taking home gold and bronze medals at the Oceania Road Championships in Tasmania. With these results, I was fortunate enough to be selected to represent my country at both the Junior Track World Championships, in Switzerland, and Junior Road World Championships, in Austria.

I have never raced overseas or been to Europe before, so I am extremely excited for the amazing opportunities which await me and the honour of pulling on the green and gold. I can't wait to test my legs in bigger pelotons, over steep hills and even some cobbles! However, it hasn't all been smooth sailing. Eleven weeks ago I had a nasty racing crash where I shattered my left elbow and fractured my left shoulder and right wrist. Two trips to theatre and many many ergos later I am ready and rearing to race but I need your help! There are four weeks between the two championships (held in August and September), which, in a way, is an awkward amount of time, as I will need to stay over in Europe and source my own accommodation during this period. Fortunately, we have fantastic financial support for Track Worlds and members of my club have been wonderful at the "Chasing Rainbows" fundraising night (please do not donate twice! :)), however there is a significant levy for Road Worlds. My Mum is absolutely amazing but as you can imagine this is a very expensive time for her, after lots of time off work to look after me when I had no arms (I couldn't even dress or feed myself!) and the expensive excess fees from surgery and rehab for my elbow. Any help would be greatly appreciated so I can chase my cycling dreams over in Europe! Thank you so much and thanks to everyone who has already helped me get to this point! The list of supportive people around me is endless!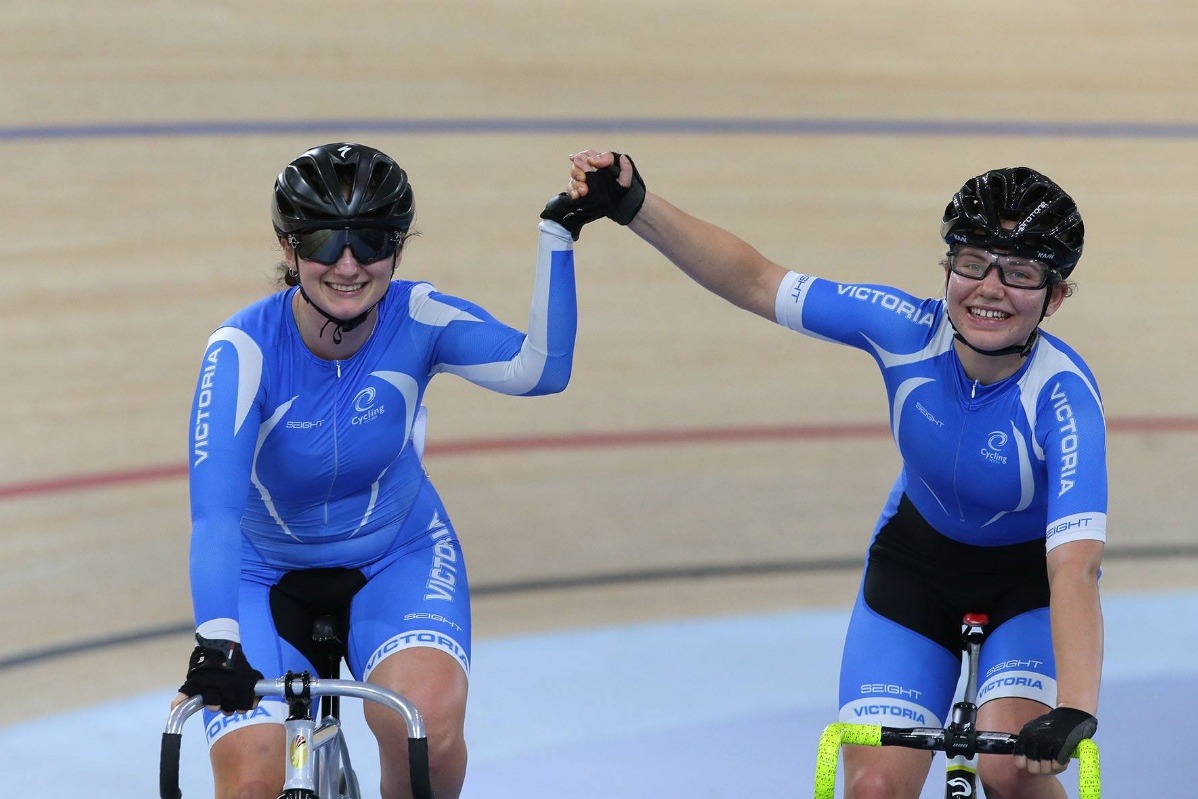 + Read More
Update 2
12 months ago
Share
Hi everyone! It's been almost a month since I left home and it's been such an awesome journey already!

We started off with a 2.5 week track training camp in Adelaide. It was filled with lots of training, usually 2 or 3 sessions per day, but we managed to fit in lots of fun and schoolwork too! I had only just started riding outside more than inside a week or so before the camp, so it was great to see my elbow's progression as the days went on. By the time we left Australia, I was even doing madison slings!

We left for Switzerland a week before competition started, in order to get over the jet lag and also get used to the track in Aigle. It was very strange and steep to ride on at first, because it is only 200 meters long (compared to the normal 250m!), but we were all super pumped for competition and adapted pretty quickly. The point of difference there that I liked the most was the range of languages you'd hear whenever you walked around the track. That's when you know you're at a World Championship!

Racing started on Wednesday and my first race was the scratch race qualifying, which I won. I attacked with a girl from Ukraine and we almost took a lap, which was a cool way to start! The final was a lot more serious though and my attempts to breakaway were quickly shut down, so I ended up in 16th place. I only had one more race and that was the points race three days later. I just scraped through my heat, but I was determined to work on my tactics and positioning for the final and it paid off - I somehow managed to take two laps on the field, which was very exciting! Coming into the final sprint, I was in the race lead by five points, however a super strong finish from the Italian Silvia Zanardi meant she took ten more points and the rainbow jersey. I was so stoked with silver though and very impressed with the whole of Team Australia's efforts (3 rainbow jerseys and 9 medals!)

I am now training hard in the mountains for Road Worlds, which begin in 31 days. I am super excited to race, but for now I am soaking up the sunshine, mountains and awesome roads. Every ride is a new adventure, which is so so cool! Thanks again for the support, I couldn't be doing this without you all!!
+ Read More
Update 1
13 months ago
Share
Hi everyone, today I fly out to Adelaide for the final track camp!! It goes for two weeks and then we're off to Switzerland for Junior Track Worlds. I'm super excited!! Thanks so so much for all of your help!! It's really appreciated and so lovely of you all!!
+ Read More
Read a Previous Update