Help Hadja Fanta Diabaté release her 1st album
€380
of €10,000 goal
Raised by
7
people in 3 months
Sabaly - Hadja Fanta Diabaté's 1st album
Deadline: Feb 13, 2019
Audios & Vidéos:
https://www.musicinafrica.net/node/24544

Who is Hadja Fanta Diabate?
Hadja Fanta Diabaté is a young African artist of Malian origin, Guinean by adoption, and Ivorian by birth. She has quickly established herself in Mali, Burkina, Guinea and abroad (Haiti, France) as one of the most promising singer-songwriters of her generation. Dubbed by the Malian press as "the Queen of Mandingo Rock", Hadja Fanta unique style sends a committed message of hope to the future arising from the roots of the Mandingo ancestral musical tradition.
A self-taught guitarist, Hadja Fanta is also gifted with an uncommon tone of voice making her a singular performer who composes in Bambara, Malinké, Peuhl, Sosso, French and English. Her strong stage presence brought her early attention, notably as Salif Keïta's opening guest.
From the French Institute of Bamako to Conakry, through the Afrobeat Festival of Ouagadougou and Africajarc in the south of France, she met the Malian community and the African diaspora of the Caribbean in a promotional tour in Haiti as well. Those two years were full for Hadja Fanta in the wealth of exchanges and creations, culminating in a radiant debut album filled with infectious energy and titled
"Sabaly".
This promising first albumSabaly
displays Hadja Fanta Diabaté's unique musical color and, as the title indicates in the Bamanan language, her music resonates like a piece of advice that inspires contemplation and leads wisdom.
Infused with a respect for human values, this album is a wakeup call to citizenship by the people vis-a-vis the realities of Mali.
The pieces convey a strong message focused on current issues of development and social inclusion such as environment and sanitation in "Siguida Lakana"; citizen awareness to avoid fatal traffic accidents in "Danger à Bamako"; women's emancipation and the prevention of domestic violence in "Toubani"; as well as the important role of artists in the oral tradition of Malian and African culture with "Aw Ni Tché".
A committed artist to support
In 2018, after several festivals and concerts, Hadja Fanta highlighted the plurality of the African woman's talents by launching a collective project of Malian and Guinean women (musicians, dancers, and singers) entitled
"The Mandé Woman Warriors".
In this unprecedented performance, in addition of her role as singer-songwriter, she was the artistic director as well.
By supporting the release of
SABALY
, Hadja Fanta Diabaté's first album,
you are not only supporting a woman who is a talented rising artist who engenders the best of Malian creativity,
 you are also supporting the conscious and committed Malian youth,
the ones that will bring forth changes in areas of development, environment, gender equality, justice for peoples, and develop sincere friendships among citizens, without which there can be no genuine and lasting peace. 

This beautiful first album encompasses all these values, and

your contribution, be it modest or substantial, before deadline
Feb 13, 2019
will serve in bringing these noble ideals and endeavors to a larger audience and realization. 
Thank You very much in advance. Aw ni che!
Bouclage enregistrement ..........................1  000 €  
Mastering .................................................         1  000 € 
Pressage 2000 CDs .................................      2 500 €  
Conception graphique ................................     500 €  
Clip vidéo .................................................          2 350 €  
Relations presse ......................................        1 600 € 
Réalisation EPK .........................................          800 € 
Commission GoFundMe................                    282.75€   
TOTAL  ..................................................             10 032.75 euros
Et si on dépasse notre objectif ? Les fonds serviront pour un second clip et pour préparer, à l'occasion de la fête de la musique, le 21 Juin 2019, un événement grand public à Bamako, de partage et d'échanges culturels, où tous les talents et tous les publics auront leur place.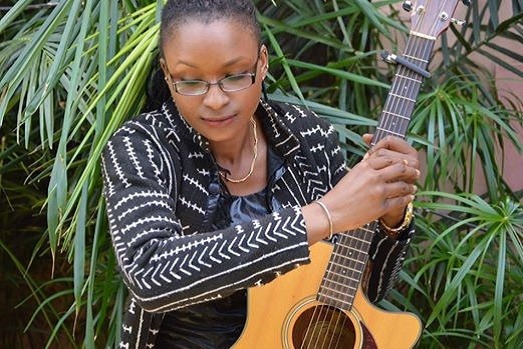 Qui est Hadja Fanta Diabaté ?
Audios & Vidéos: https://www.musicinafrica.net/node/24544
Malienne d'origine, guinéenne d'adoption et ivoirienne de naissance, Hadja Fanta Diabaté est une jeune artiste africaine qui a su très vite s'imposer au Mali, dans la sous-région (Burkina, Guinée) et à l'extérieur (Haïti, France) comme l'une des plus prometteuses auteures-compositrices de sa génération. Qualifiée par la presse malienne de « Reine du Rock Mandingue », Hadja Fanta a su imposer son style unique et faire passer un message engagé d'espoir pour le futur en puisant dans les racines de la tradition musicale ancestrale Mandingue.
Guitariste autodidacte, Hadja Fanta est dotée d'un timbre de voix peu ordinaire qui fait d'elle une interprète singulière. Elle compose ses morceaux en Bambara, Malinké, Peuhl, Sosso, Français et Anglais et s'est très vite fait remarquer grâce à une présence scénique forte notamment lors des premières parties de Salif Keïta.
De l'Institut Français de Bamako à celui de Conakry, en passant par l'Afrobeat Festival de Ouagadougou et celui d'Africajarc dans le sud de la France, une tournée promotionnelle en Haïti, où elle rencontre la communauté malienne et la diaspora africaine des Caraïbes, ce sont deux années bien remplies pour Hadja Fanta, riches d'échanges et de créations pour un premier album lumineux et plein d'énergie communicative intitulé « Sabaly ».
Un premier album prometteur
Sabaly signe la couleur musicale unique d'Hadja Fanta Diabaté et, comme le nom du titre phare l'indique, en langue Bamanan, il sonne comme un conseil en appelant à la réflexion et à la sagesse.En traitant du respect des valeurs, cet album appelle à un sursaut de citoyenneté des populations face aux réalités du Mali.
Les morceaux véhiculent un message fort axé sur les problématiques actuelles de développement et d'inclusion sociale telles que : l'environnement et l'assainissement dans « Siguida Lakana », la conscience citoyenne pour éviter les accidents mortels de la circulation dans « Danger à Bamako », l'émancipation de la femme et la prévention des violences domestiques dans « Toubani » ainsi que le rôle important des artistes dans la tradition orale de la culture malienne et africaine avec « Aw Ni Tché ».
Une artiste engagée à soutenir
En 2018, après plusieurs festivals et concerts, Hadja Fanta met en avant la pluralité des talents de la femme africaine en lançant un projet collectif de femmes maliennes et guinéennes (musiciennes, danseuses, chanteuses) intitulé
« Les Guerrières du Mandé »
. Dans ce spectacle vivant inédit, elle assure, en plus de son rôle d'auteure-compositrice, la direction artistique.    
Soutenir la sortie de
SABALY
, premier album d' Hadja Fanta Diabaté, ce n'est pas seulement s
outenir une femme, artiste de talent en devenir comme seul le Mali a le secret d'enfanter
, c'est aussi et surtout soutenir la jeunesse malienne consciente et engagée, porteuse de
changements citoyens sur des problématiques telles que le développement, l'environnement, l'égalité femme-homme, la justice pour les peuples et l'amitié sincère entre eux sans lesquelles il ne peut y avoir de paix véritable et durable.
C'est sous tous ces signes que ce magnifique premier album est placé et
c'est à ces nobles œuvres que votre contribution, modeste ou conséquente, avant le 13 Février 2019, servira
. D' avance, je vous remercie. Aw ni tché !
Audios & Vidéos:
https://www.musicinafrica.net/node/24544
+ Read More