Feed the stray cats, help keep my house
$200
of $5,000 goal
Raised by
4
people in 43 months
These are the daily visitors. There are a couple more that show up now and then.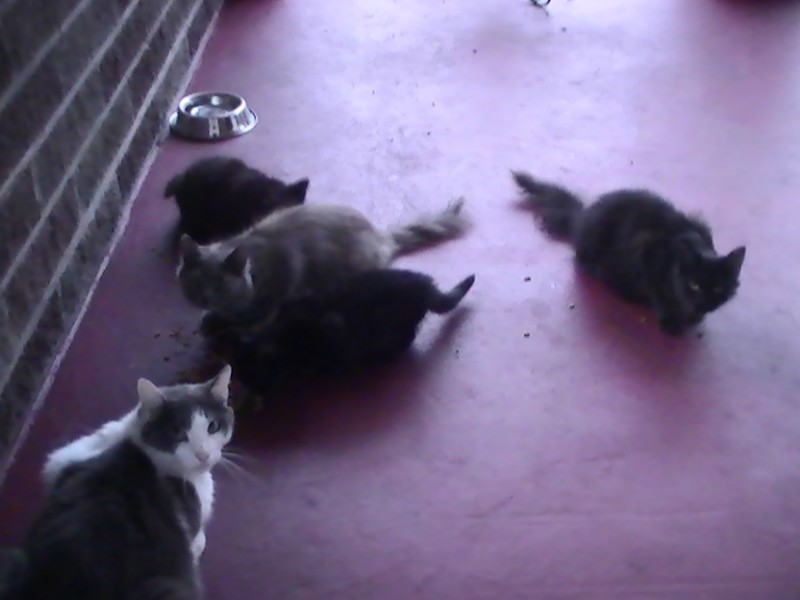 These are the stray cats my cousin started to feed when we moved here to PA 2.5 years ago. I told him he shouldn't feed them because they will just keep coming back. The cat with the grey and white face is mine. His name is Jake. The grey cat in the middle Dave named pop-tart. The 3 black cats are her babies, Ho Ho, Twinkie and cup cake. Dave named them all. Pop tart had 3 more babies about 3 months ago. They were all white with blue eyes. I was able to find them all home through craigslist. I tried to get the humane society to take the other cats but they said since we fed them they now can't take them.
These cats come by every morning and every night.
Dave was my cousin. On July 27th, 2013 just 2 weeks after his 45th birthday I found him dead on our dining room floor. At first I didn't know what to think when I saw him there. I tried to wake him but he wouldn't get up. I called 911 right away. By the time they got there he was already passed on. Dave drank a lot of beer for over 20 years. we lived together as room mates for about 20 years. He was just not my cousin but my best friend. I miss him so much. His cat Casey and my cat Jake miss him too. Dave is the one in the pictures.
I have some of his ashes in a small urn on my mantle along with a bunch of candles which I light every night.
In Loving Memory of Dave Wanamaker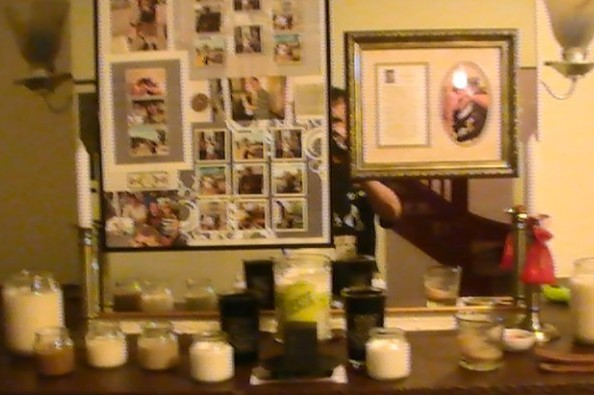 Dave's urn is in the front / center of the picture above. I kiss it every morning and every night before I go to bed. I talked to him often. If it wasn't for our cats and my mom I think I would just do something stupid. My dad took his own life 2.5 years ago. My mom is still having a tuff time with that.
I am here asking for your help. I have had 3 back surgeries in the past few years. I am now applying for SSI disability income but from what the lawyer says this could take a year or more after the first denial. Dave would want me to keep feeding the stray cats which I do. They go through a 16 pound bag every 3 weeks. Plus I have my cat and Dave's to care for.
I have no income except for $200.00 worth of food stamps. I am past due on all of my bills and my property taxes are coming due in 3 months. I can't work because of the chronic back pain. Not to mention my lawyer says I cant work because I am applying for disability. I know there are people out there in worse shape then me but I have no where else to turn.
i'm hoping that there are animal lovers out there that might want to help. I also feed the birds and my neighbors dog cause he doesn't feed him like he should. I miss my cousin / buddy Dave so much. It's only been 2 months but it seems like just yesterday I found him lying there. I cant get that image out of my head. I think I need to see a shrink because I can't eat or sleep.
Please if it's only a dollar or two please help. I am mainly concerned about the cats. Winter is coming and they are going to need a little more food to help keep them warm at night. in the winter months past I build them a small box with towels and keep it on my back porch for them to sleep in which they do.
Anyway, thanks for any help you can offer. If you can't help maybe you can send a prayer my way. those of you who have lost loved ones know what I'm going through. Living with someone for 20 years and then not having them around is very difficult. God bless you all.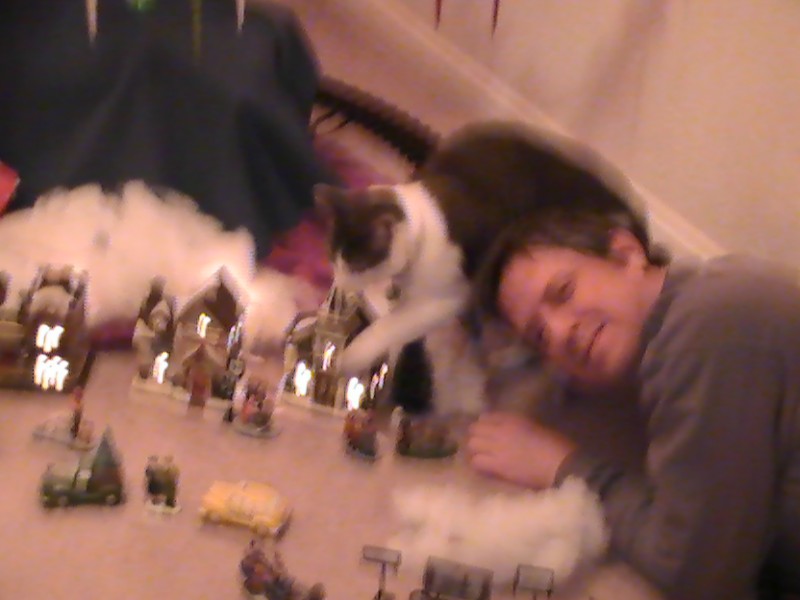 I did just start a facebook account.
https://www.facebook.com/ron.pallone.3
If you have no credit card to donate online my address is located on my facebook page in the about tab. Or see it below.
Ron Pallone
120 Catherine St
Johnstown, PA. 15901
So maybe if you wanted to you could put this on your face book page. Maybe more people would see it??? I really do need some help. I have $23.00 to my name. I drive a 2000 model car which was my dads which is in need of tires and repair.
If any animal lovers, or people who lost loved ones , or had a family member who commited suicide or just get a sense of pride in helping someone please help me. I have never begged for anything. in fact as broke as I am I still will give to the homeless, the salvation army kettle and feed these cats that are not even mine. They are
just so cute I cant turn them away. My family has no money and never did. Thanks for taking the time for at least reading this. Please pass this on. And PLEASE,, don't send me any hate mail. I'm in enough pain as it is.. For those of you who may think this is a scam....
http://www.decortfh.com/webcast/14867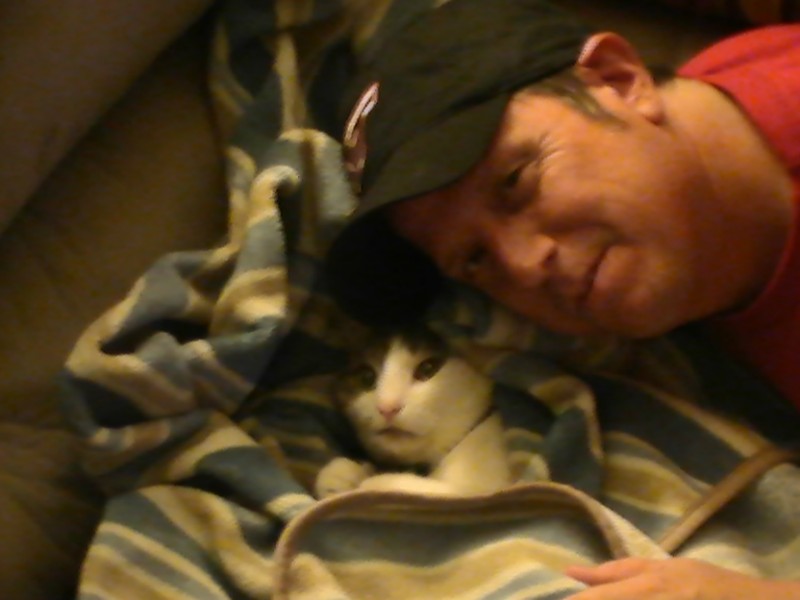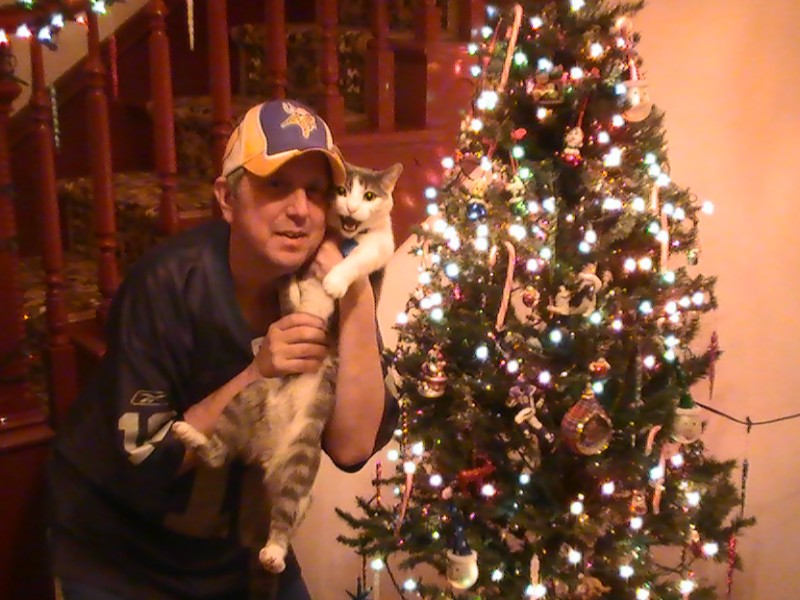 + Read More
woops one of my own that her mom is a stray and running loose here a street below me in Moxham around Highland Upper street. The baby we are keeping..again in my life.....is probably 8 weeks now but was so little from starving and fleas and I am not sure yet what else...I don't think I can donate but thought I could offer u information for any help questions u may need. Johnstown's shelter is not a collector of strays. It is hard to around here but there are a few caring groups that will help fix the colony accumulated for u. I may have to try harder too cause this stray mother is having sick babies and somebody who is strong and healthier than me now has to have a heart. I have been saving animals since I have been able to walk and that was early....lol....
+ Read More
Hi. as a pet owner myself i am willing to help you anyway i possibly can, i will as share this on my Facebook please don't give up hope!
+ Read More