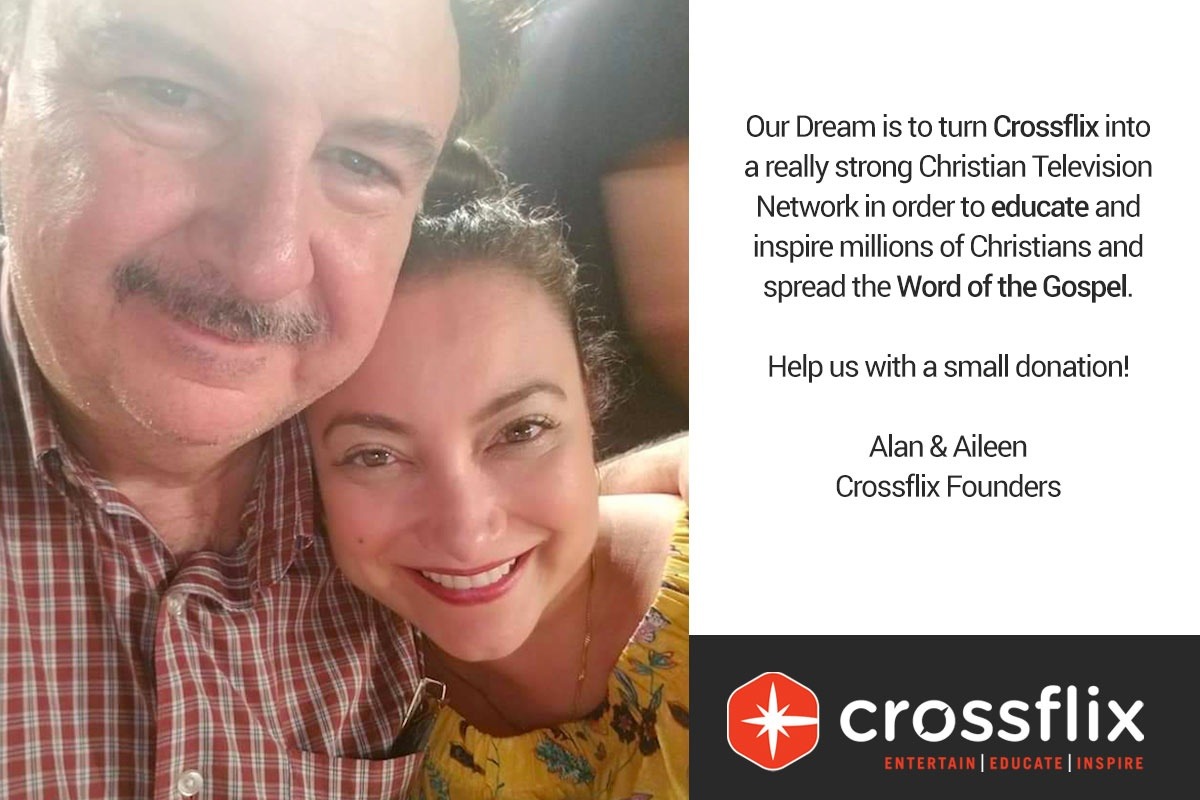 20
4
Help Promote Christian Television
$913
of $15,000 goal
Raised by
19
people in 3 months
• • Donate to Christian Streaming Television & Receive a Free Subscription • •
Mathew 6:22 "
The eye is the lamp of the body. So, if your eye is healthy, your whole body will be full of light
"
Let me ask you: How can we walk in the light of
Christ
when we as Christians easily watch Secular Channels and shows that have a lot of content with negative values and depict Christians as being delusional?
Unfortunately, currently there are only a handful of
Christian Streaming Channels
, and all together our subscriber base makes up less than a fraction of 1% of the Subscribers that Netflix has?
Have you noticed that most of the Hollywood movies and Television shows are exposing your family to non-Christian values as being "Cool" or "Acceptable" for Gratuitous sex and violence content just seems to pop up anywhere and everywhere these days!
Do you miss being able to turn on your television and watch  programming with a strong moral base and respect for human decency? Well, it was this that inspired Our Family to create
Crossflix
, a Christian alternative to Netflix!
Crossflix  (Crossflix.com) needs your help because we can't do it on our strength alone!
All donors will receive a coupon to get a FREE SUBSCRIPTION to Crossflix. 
I'm
Alan Mehrez
, a Movie Producer and Director that grew up in a faith driven household in Los Angeles. I was influenced by my Godfather, Charles Lederer, who wrote great screenplays including the original "Oceans 11" with Frank Sinatra, "Mutiny on the Bounty" with Marlin Brando and "Gentleman Prefer Blonds" with Marilyn Monroe.
As a kid I loved the
movie industry
and acted in movies with Doris Day, Nancy Sinatra and other stars. I grew up to become a Movie Producer and Director. I Produced many films including the Popular "Bloodsport" Franchise (the first of which launched the career of actor Jean-Claude Van Damme) I also Produced and Directed "Bloodsport2" & "Bloodsport 3". During my career in films spanning over 40 years, I have had the privilege to work with many famous actors but noticed that Hollywood was changing a lot too, for example, something that is rated "R" today would have been "X" rated back then!
Plus, now Mainstream Television has gone as far as Joy Bahar the host of "The View" morning TV show, on ABC channel, a Subsidiary of Disney, going so far as to
call Christianity a Mental illness
!
Eventually l got fed up with mainstream television and its values, so I left Hollywood and the Entertainment Industry and relocated to Sunny South Florida. Two years ago, my wife
Aileen
and I, who also is an avid movie-goer, were growing weary of the movie  choices coming out of the secular Hollywood Film industry, because they were all just becoming too artificial, lacked depth, or were just out right bad and had disturbing influences on our already emotionally vulnerable teens and young adults.
So, we realized "
Hey we know the film business we can really do something about this?
"
We knew it and felt that it was time to do something about this since we all know that NOBODY has better TRUE STORIES that have depth, character and amazing plots than CHRISTIANS, as we say:
"His strength is made perfect in my weakness!"
2 Corinthians 12:7-10
In light of our fierce desire to witness better Films and Television Shows, we reached out to our inner circle of friends and family, who also shared the same vision of
spiritually nourishing programming
on television and got 13 Faithful Backers to help us launch
Crossflix
. We all share the same dream to create one of the
World's Best Christian Streaming Movie Channels
!
Since we launched Crossflix a year ago it has been a success, as evidenced by thousands of
Loyal Subscribers
.
Unfortunately, licensing content fees and operating expenses costs us tens of thousands of dollars every month, therefore, for us to continue to provide this quality spiritually based programming
we need your help
!

OUR STORY
Crossflix
 is a company that in these modern times wants to
inspire
and
educate
the future generations of CHRISTIANS by using cutting edge Digital technology along with modern theme movies and shows dealing with contemporary issues, music, entertainment ALL CREATED BY FELLOW CHRISTIANS!
All Crossflix's Productions are specifically tailored to
Honor Our Savior and Lord Jesus Christ
! Our passion and love for Christ is reflected in the selection of each and every movie at
www.Crossflix.com
!
The glue of our company is Our
Faith
and with our combined experience and talents, in both business and the Hollywood Film industry, this makes us the ideal founders for making this dream into a Global Reality…but
we can't do it without you
!
Therefore, we ask for your help and
donation
towards our cause
and mission.
Thank you and May God Bless YOU!
Alan & Aileen
-------------------------------------------------------------------------------
DONATIONS AMOUNT & SUBSCRIPTIONS
• Donate
ANY AMOUNT
and receive a
3 MONTHS
subscription
• 
Donate
$40
and receive a
6 MONTHS
subscription
• Donate
$75
and receive an
ANNUAL
subscription
All donors will receive an email from Crossflix with a coupon code and instructions on how to get your free subscription
Thank you all for your help!
+ Read More
Update 2
Posted by Alan Mehrez
3 months ago
Share
Donations Amounts & Subscriptions
+ Read More
Update 1
Posted by Alan Mehrez
3 months ago
Share
Our Dream is to turn Crossflix into a really strong Christian Television Network in order to educate and inspire millions of Christians and spread the Word of the Gospel.

Help us with a small donation!

Alan & Aileen
Crossflix Founders
+ Read More
Read a Previous Update