HELP Support A School For Refugees
$11,230
of $10,000 goal
Raised by
44
people in 25 months
The Health, Education and Learning Program (HELP) for refugees in Jakarta, is a community based initiative, run by the community, for the community. It is a collective of passionate refugees and supporters, working together to better the lives of refugees and asylum seekers living in limbo in Indonesia.
This program will help empower individuals by providing much needed education to children, providing English language classes and teaching computer literacy courses to young adults. In conjunction with a range of information and technology classes, health workshops and extracurricular classes will be offered. As part of the extracurricular component, there will be a heavy emphasis on skills based programs, advocating income-generating activities.
Assisting refugees and asylum seekers with a space to use their time productively and to engage in learning, is vitally important for the health and well being of those currently in transit. With no prospect of settling legally in Indonesia, there is little to do but wait. Refugees and Asylum seekers cannot work in Indonesia, they have no access to social support services, have extremely limited financial resources, and in almost all cases, cannot attend local schools.
HELP is a space that refugees and asylum seekers can call their own! A safe place where they can engage in learning and create a sense of community and belonging while they develop the confidence within themselves to move forward toward uncertain futures.

Objectives

1. Provide classes for children to ensure they engage in learning and reading.
2. Provide adults with English classes to encourage preparedness for resettlement, and encourage inter-generational learning of English.
3. Provide opportunities for learning new practical skills, and or an environment where old skills can be utilized, with a strong emphasis on income generating activities. Women being a particular area of focus. 
4. Conducting health workshops addressing common concerns among refugee communities, including family planning. 
5. Teaching computer literacy as a way to get individuals involved with career development activities. 
6. Program Evaluation: Assessments will be conducted every three months to determine the progress of children's learning. Interviews, questionnaires, case studies and focus group discussions will be used to evaluate the learning outcomes. 

How The Funds Will Be Used
All those involved with HELP do so on a voluntary basis, however funds must be generated to cover the cost of the rent, utilities and learning resources. 
The estimated funds required to run the school for up to one year are approximately AUD $10,000.
Who Is Behind The HELP For Refugees?
Mohammad Baqir Bayani and Kalsoom Jaffari are Co-founders of HELP, both refugees who have been living in Indonesia for the last few years and have dedicated their time to supporting asylum seekers and refugees.  Baqir is co-founder of The Refugee Reflect Circle (RRC), a group of photographers who use their experience and skills of visual storytelling to tell the stories of asylum seekers and refugees, he is a creative writer, and the co-founder and co-director of
Refugees Of Indonesia
project.
Kalsoom Jaffari works tirelessly to ensure that refugees and asylum seekers in Cisarua have access to education, essential health information and translation services. Her previous work experience includes working on health programs with UNHCR in Pakistan and as a Community Health Educator (CHE) with Mercy Corps Pakistan's Integrated Health Program. Kalsoom conducts monthly health workshops ensuring women have knowledge on topics such as Gender Based Violence and family planning. To date, approximately 400 women have attended the workshops and all participants receive health kits.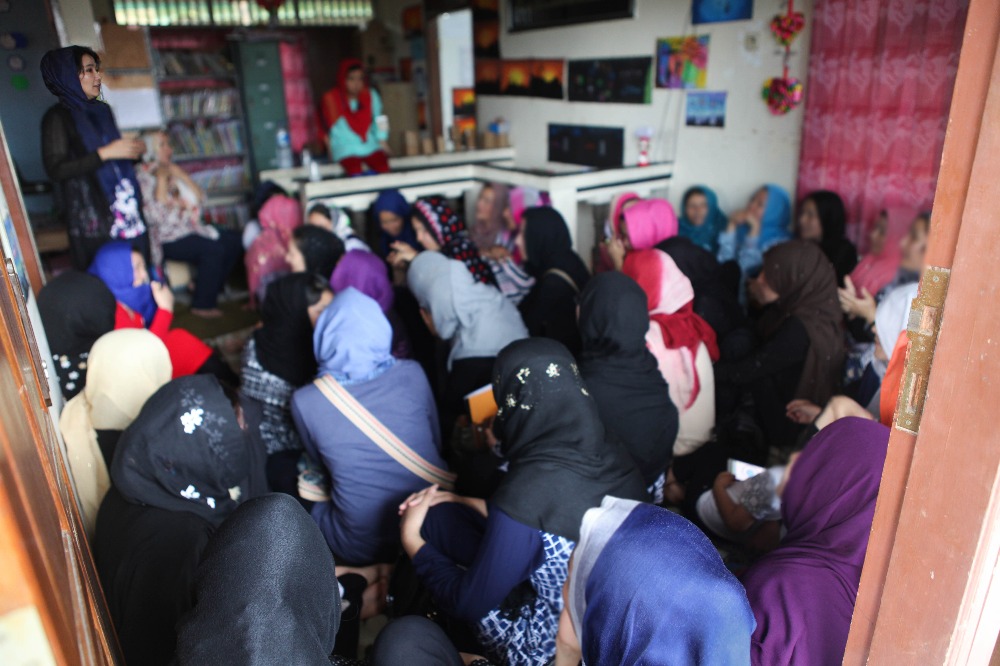 Kalsoom is also the founder of the Refugee Women's Support Group. This initiative gives women access to sewing and handicraft classes that support income-generating activities, supported by
Beyond the Fabric
. She is also the founder of the Cipayung Education Centre, a small school providing education to refugee children in Bogor.
The board of directors is made up of Individuals from Australia, Germany and Indonesia. 
Please Join Us!
+ Read More
Be the first to leave a comment on this campaign.