18
4
Heart surgery for Berkeley, our 9 week old pup
$1,615
of $5,000 goal
Raised by
15
people in 5 months
Funds for Berkeley's PRAA Surgery
Our names are Hannah (me) and Jake, and we recently welcomed Berkeley as the newest member of our family. Berkeley is a sweet 9 week old German Shepherd who was only 7 pounds when we brought him home. Berkeley was one in a litter of 9 puppies, and looked to be the runt. When we thought we were going to pick out a puppy on a sunny Sunday afternoon, little did we know that a puppy would pick us to be his family. He sealed the deal with a kiss on the nose, and we knew he would be coming home with us.
Berkeley's Story
On the first night Berkeley came to his forever home, he was settling in wonderfully to indoor life. He loved his fluffy blankets and playing with his favorite new squeaky toy. As Berkeley was settling in, we fed him his first meal. As the evening went on, it quickly became apparent that something wasn't right with our sweet little puppy. Berkeley began regurgitating any food that he ate, and couldn't seem to keep anything down. We took his temperature and it was normal, and proceeded to try to make him comfortable and feed him a bland diet of plain chicken. Throughout the night though, it was clear that he needed to get to the vet right away in the morning.
11/19
We took Berkeley to the vet to have him examined and try to determine why he was sick. He was tested for Parvo and Giardia, but thankfully both tests came back negative. As we discussed the situation with the vet, there were multiple possibilities of what could be wrong. With all of the changes associated with coming to a new home, the cause could be stress or starting a new diet. Another possibility was that Berkeley was simply eating too fast. Being the runt of the large litter of puppies, we believe he had to eat quickly in order to get the food before the other puppies ate it all. And there was also the possibility that it could be something else. The vet prescribed us special Gastrointestinal dog food to try to settle his stomach. We were hopeful that the change in diet would take care of the problem. Unfortunately, that was not the case.
11/21
It was my birthday, and so we spent the morning relaxing at my sister's house. But as the morning progressed, Berkeley seemed unable to keep any food down. We were trying to feed him by the spoon, and even fed him out of a baby spoon in order to help him eat slower. But that didn't seem to help either. We immediately called the vet and scheduled an appointment that day. We went to the vet worried that our already very skinny puppy not being able to keep food down. Our vet was absolutely wonderful, and gave us tips and advice on how to keep food down, and the potential next steps if we couldn't get the regurgitation under control. We felt a sense of relief as we left the vet with a plan.
11/22-11/26
We tried everything we possibly could to help Berkeley from getting sick. We blended wet food and dry food with water to make a smoothie to feed him, which he couldn't seem to keep down well. We blended his prescription wet food with water and fed him 5-8 small meals through a  syringe daily. We had a few good days where we only got sick 2-4 times. We bought a special dog food bowl that is supposed to help slow dogs eating, and tried feeding him with his head elevated. No matter what we tried, he couldn't keep all of his food down. After he had a really bad day and got very sick in his crate, we booked a vet appointment for the next day.
11/27
Over the short period of time we had owned Berkeley, we had done hours upon hours of research on what could be causing our puppy to be so sick. With the knowledge we had gained, we went into the vet with a plan, and the grim possibility that Berkeley could have an incurable condition called Megaesophagus. During our appointment, the vet had a strong feeling that our puppy could have a condition called Persistent Right Aortic Arch (PRAA), which would require an operation on his heart to fix. We made a plan the next day to complete a Barium study to get to the bottom of what was really wrong.
11/28 - Latest Update
We went into our vet at 8am, Wednesday morning. I dropped off our puppy for his study, hopeful to get the answers to the cause of Berkeley's illness. We waited anxiously throughout the day for an update. I received a call at 11am from the vet. The suspicions had been confirmed, and Berkeley was diagnosed with PRAA.
According to information  found on VetStreet, "Persistent right aortic arch is a congenital abnormality of the blood vessels of the heart that can affect esophageal function in some dogs and less commonly, in cats. Basically, an embryonic branch of the aorta fails to regress and is wrapped around the esophagus when a puppy or kitten is born. This puts pressure on the tube, preventing the passage of food in the esophagus when the pet eats, causing regurgitation. Surgery can correct the problem, and follow-up care can usually reverse the esophageal effects, especially if done early in a pet's life."
Although we were ecstatic that we could fix Berkeley's illness through surgery and allow him to live a full and happy life, we knew there was a big road ahead of us with an intense surgery to fix the problem.
We were referred to a local surgeon, as a specialist would be required to be able to complete such a complicated surgery. We scheduled our consultation on 11/30 at noon, and from there will schedule the surgery.
On top of the almost $750 in vet bills that have accumulated in the last 2 weeks and almost $90 in dog food, we received the estimate that it would cost $3,500-$4,500 to complete the surgery. It wasn't a question in our head that we would have the surgery for Berkeley, this would be the only way he could live to be a happy and healthy dog. The question was how we were going to go about paying for the medical expenses.
We are incredibly grateful to anyone who is able to donate to help us out with Berkeley's medical expenses. Any donations given will go to vet bills, surgical expense, post operative care, and the specialized diet he is required to be on until he is better.  He is a puppy so full of life with the most charming and a silly little personality who wants to play like a normal sassy little puppy, but is unable to live normally in his condition. We want to give Berkeley everything he needs to live the happiest life possible, and will do everything in our power to make that possible.  
To help us get the word out, we would greatly appreciate if you could share our link on any of your social media platforms. We appreciate the support, and look forward to sharing updates on our journey to getting a healthy puppy.
+ Read More
Update 2
5 months ago
Share
Hello all,
Firstly let me say that we are extremely thankful for all of your support, we couldn't have done this without every last one of you. Unfortunately, this will be the last update on Berkeley. On December 4th, Berkeley was taken to the surgeon in the morning to have his PRAA operation done. We received a phone call from the surgeon as his surgery was supposed to be wrapping up, the news wasn't what we expected. After all the vet visits and x-rays confirming the PRAA condition, we had been told Berkeley, in fact, did not have PRAA. Our boy was diagnosed with severe primary megaesophagus . We were told that the only way to keep him alive for much longer was to surgically insert a feeding tube, but that this would only give a temporary fix and that his quality of life would suffer severely. He would also be at a very high risk for aspiration pneumonia, which is very dangerous.

We had to make the decision to put our boy down so that he wouldn't suffer. It was easily one of the hardest things we have ever had to do, and we would have done anything if there was even the possibility that he could have lived a healthy life. Berkeley passed away peacefully with is momma and daddy at right at his side.

We are incredibly heartbroken, and miss him every minute of every day. Despite being so sick, he was the happiest, silliest, most loving puppy, who brought nothing but smiles and laughter to everyone he met. He gave us so much love, and we cherish and grasp onto every memory he has left in our hearts. We miss his sassy little yawns, rolling around playing in the living room, being the best work buddy his momma could ask for, his sweet snuggles, his accidental high-fives, and really everything about him. His tiny paws have left big prints on our hearts.

Again, we thank all of you for your support and love, and we thank our vet and surgical team for trying their hardest to save our boy. Rest in peace to our sweet baby Berkeley. We will love you forever and always.

"If love could have saved you, you would have lived forever." - David Ellsworth
+ Read More
Update 1
5 months ago
Share
Update 12/1/18

Berkeley had his consultation with the surgeon on Friday, November 30th. As a result of the appointment, Berkeley's surgery to fix his PRAA is scheduled for Tuesday, December 4th. Due to Berkeley's small size and low weight from the birth defect, the surgeon has recommended that he has an anesthesiologist present during his operation. Since the consultation, we've learned that the surgeon requires the operation cost to be paid in full when we pick him up. If all goes as plans and he only has to stay overnight for one day, the estimated cost of the surgery will be between $4,000-$4,200. If he has to stay overnight for two nights, the surgery will cost closer to $5,000.

We have also learned all about "Bailey chairs" and are now required to feed Berkeley in one for the next month. We've included a photo of his makeshift chair where he is fed and must stay upright for 20-30 minutes after feeding. This allows gravity to pull the liquid/food mixture down through the constricted part of his esophagus and into his belly. For the time being, we are back to syringe feeding Berkeley a new high calorie prescription dog food in order to try to get his weight up as much as possible before surgery.

We really appreciate all the help and support everyone has given us, and are at a loss for words with gratitude. Whether it be a dollar or a share, we are very grateful for everyone that has been rooting for our little guy.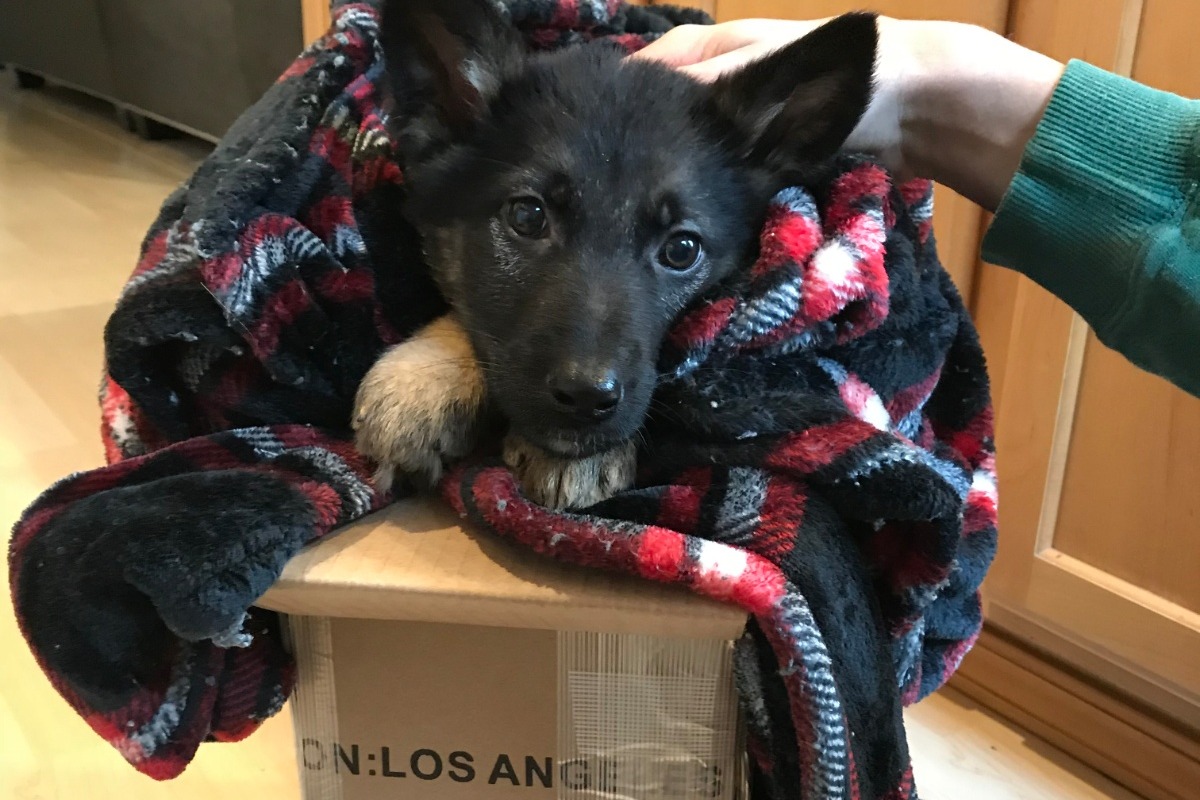 + Read More
Read a Previous Update