Harry Nilsson Hall of Fame Campaign
$4,298
of $7,000 goal
Raised by
66
people in 41 months
Harry Nilsson
's music continues to captivate, long after his passing.  His influence on our culture is incalculable – yet for many years he was almost entirely forgotten by all but other musicians and a small core of dedicated fans.
Thankfully this has begun to change.  A recent documentary, a biography of his life, and a 17-disc box-set of his work have all combined to tell the world what some of us have known all along: Harry Nilsson was a true American treasure.
This brings us to our project: our goal is to make sure that Harry Nilsson is never forgotten again. To that end, we are mounting this campaign to see him inducted into the Rock and Roll Hall of Fame.  It is an honor he has richly earned, and one that would provide a measure of well-deserved validity for his family and those that love him. Here is what we plan to do:
Help us Fund a Very Unique Recording Project
On August 10, 2015, more than 30 professional musicians, actors, artists, friends, fans, and family of Harry Nilsson will gather in a Los Angeles recording studio. Together, they will form a once-in-a lifetime chorus and raise their voices to sing a song entitled, "Let's Put Harry in the Hall"  - all while cameras are rolling in order to make sure that the Hall of Fame's nominating committee hears them loud and clear.
The session will be produced by Grammy-nominated musician-producer Willie Aron, who has played with artists such as; Rickie Lee Jones, The Bangles' Susanna Hoffs, Michael Penn, and scores of others. Mr. Aron is also fresh off of an appearance in the major motion picture Love & Mercy, in which he plays a member of the legendary Wrecking Crew.  
Because the recording will be in Los Angeles, we expect there to be some familiar names and faces in the mix (a few are already tentatively set to attend – announcements soon to come!).   But the most important thing will be the knowledge that you support our efforts to put Harry in the Hall!    
What We Are Asking For
We are seeking a total of $7,000 to cover the project recording and filming budget, post-production, travel expenses, website hosting and the cost of creating and shipping our "thank you" premiums (see below).
Any money left over once expenses have been paid will be donated to the
Wild Honey Foundation
, a 501(c)(3) non-profit organization that support various charitable causes through cultural events of all types.
Our Way of Saying Thank You
We've arranged to be able to offer you the following packages as our way of showing our appreciation for your support.  Each of these items is a limited-edition creation, and will only ever be available as a part of this campaign.  
Choose from the following (all premium packages include shipping costs):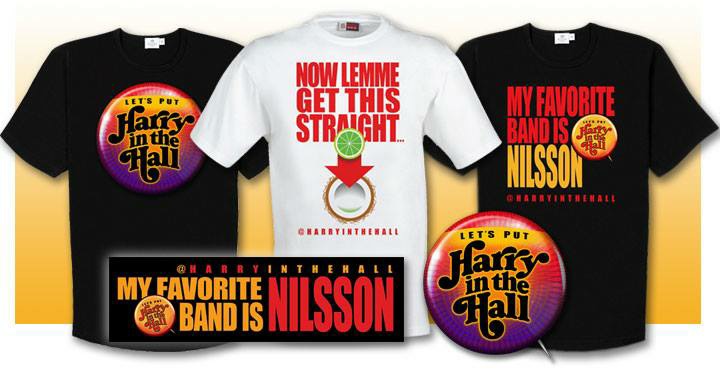 Pak A:  "You're Breakin' My Heart"$20   ($25 outside the U.S.)  
1 Bumper Sticker
1 Button
Thank You listing on the official video  
Pak B: "Me And My Arrow"$40   ($47 outside the U.S.) 
1 T-Shirt (design of your choice)
1 Bumper Sticker
1 Button
Thank You listing on the official video  
Pak C: "Daybreak"$60   ($70 outside the U.S.)
2 T-Shirts (designs of your choice)
1 Bumper Sticker
1 Button
Thank You listing on the official video  
Pak D: "Jump Into the Fire"$80  ($95 outside the U.S.) 
3 T-Shirts (designs of your choice)
1 Bumper Sticker
1 Button
Producer listing on the official video  
Must include email in packages including T-Shirts.  We will contact you for your choice of design/size.

Shirt design #1
  "My Favorite Band Is Nilsson"
(comes in black)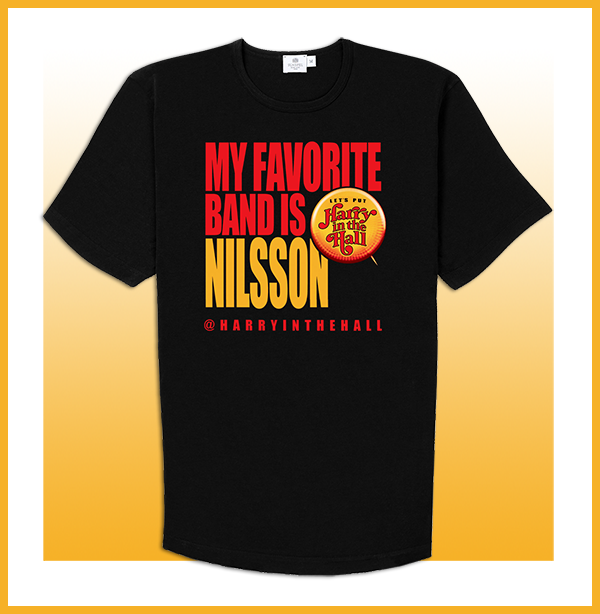 Shirt design #2 
"Now Lemme Get This Straight"
(comes in white)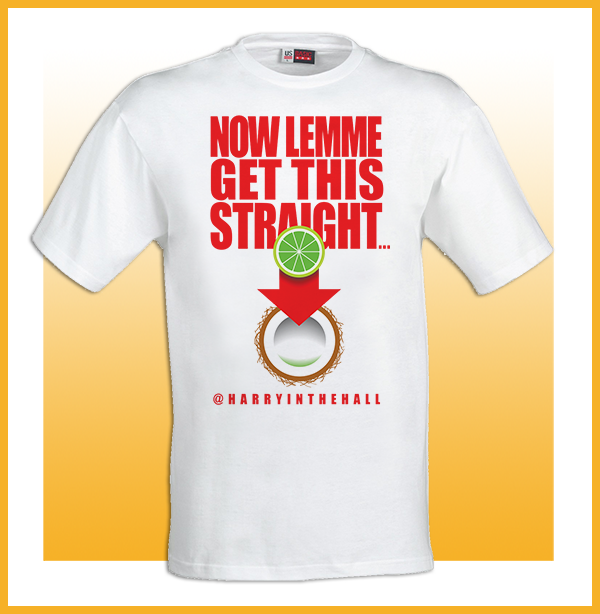 Shirt design #3 
"Harry In the Hall"
(comes in black)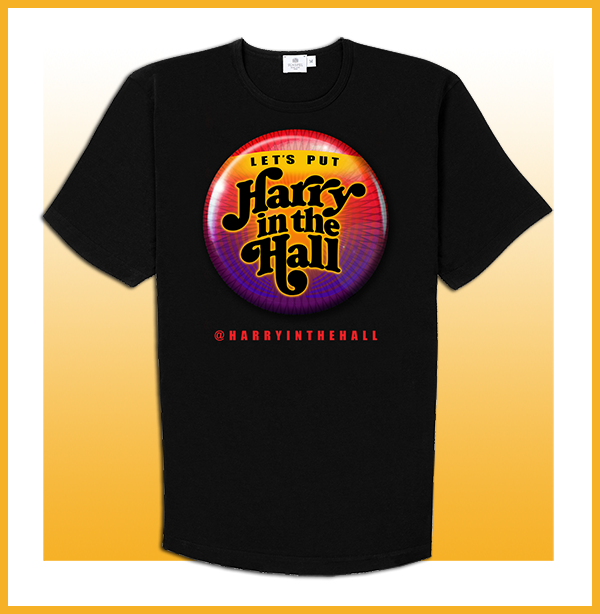 Bumper Sticker

Button
(Actual size: 3" diameter)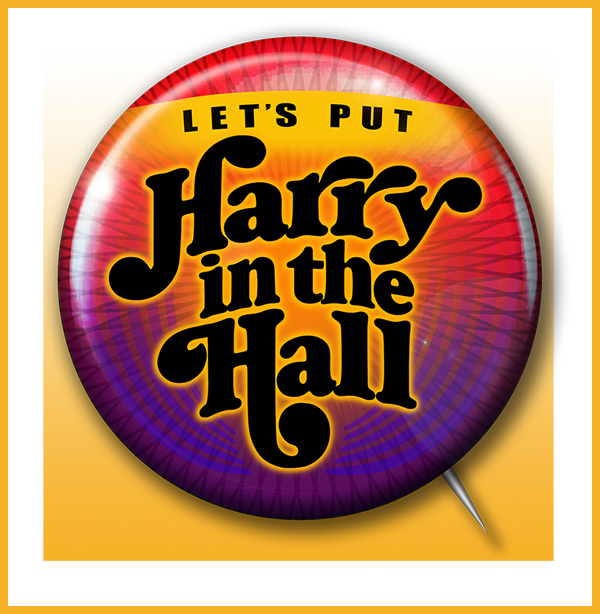 Thank you for your consideration. Please visit us for campain updates at 
www.harryinthehall.com
Follow us on Twitter at
@HarryintheHall
Find us on Facebook at  
www.facebook.com/harryinthehall
+ Read More