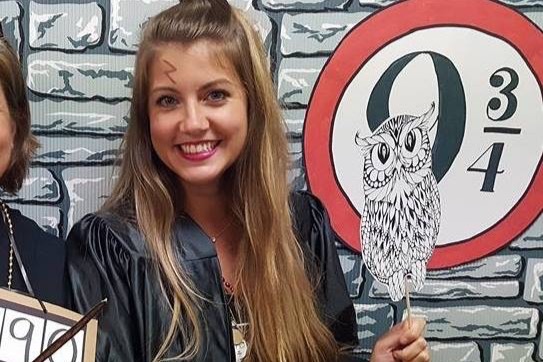 318
18
Haley's Hope Fund
$25,515
of $30,000 goal
Raised by
317
people in 1 month
On Tuesday morning (5/21/19), Haley collapsed at school with loss of vision in her left eye and slurred speech.

She was taken to the ER in Austin and received an immediate CT scan. The CT scan showed that suffered  from a hemorrhagic stroke with bleeding in her brain.

Haley was then transferred to Dell Seton Medical Center in Austin, where she received a craniotomy and removal of a portion of her skull to allow space for her brain to swell. The neurosurgeons removed the clot which was considered a large bleed.  80% of the clot was removed, and after a 6 hour life-saving surgery she is currently in the ICU.

As of (5/22/19), the neurosurgeons said that "her life is no longer in jeopardy. She is right where we want her to be" and we are now in recovery.

Haley's recent CT Scans show her brain has readjusted back to normal alignment after being pushed from the clot.

Haley's most recent MRI was done (5/22/19) and at around 11:30 p.m. we were told that the MRI was negative and showed no masses or abnormalities. She has been eased off her ventilator and is breathing on her own and is responding to small commands.

The physical therapy team has started moving her and had her sitting up in bed and holding her weight up by herself.  

We thank you for your continued thoughts and prayers. Words cannot explain how many amazing friends, family, coworkers and peers Haley has in her life. All of your communications to her are being passed on and we will update this page as we receive more information and start the rehabilitation process.

Although she has made great strides over the last 36 hours post-op she has a long road to recovery ahead of her.

As of now, we are requesting no visitors to allow Haley time to heal and recover. We will let everyone know when she can receive visitors.

THANK YOU, THANK YOU!

HALEY IS OUR HERO.
+ Read More
Update 2
16 days ago
Share
So, Day 18. We are now in rehab working toward getting Haley's speech and use of her right side leg and arm. She is making great, amazing and remarkable progress. All the doctors who thought we were going to lose this precious life 18 days ago are speechless themselves about where she is today. Now the hard work of getting the neurons to fire again is on. So #StongAsHal, we have a long way to go but have come a long way so far. Thinking ahead 18 more days and hopefully we can ditch the wheelchair! Keep the thoughts and prayers coming, everyone is working at getting her toward recovery. Can't ever give enough thanks to all of you who have donated and helped her get this far. It's truly a miracle. xoxo
+ Read More
Update 1
1 month ago
Share
This campaign is truly amazing! Haley is so blessed to have so so so many people who love and support her. I always knew that her reach touched many people over the years both as a teacher and a friend, but didn't realize how vast that reach was. I am so proud if her, it breaks my heart. Thank you!
She has come so far in the last 5 days, and knowing she will not be swallowd in debt because of each and every one of your generous contributions is a huge weight off of our shoulders. We will have a long road ahead and I want to say to each and every one of you, I will always be indebted to you for the kindness you have shown Haley during this difficult time. You all are Rockstars and I love you!!!
+ Read More
Read a Previous Update