15
40
Help keep my family in our home
$1,435
of $5,000 goal
Raised by
17
people in 8 months
The photo above is of my daughter Bella .. she had 14 vertebra fused in her spine in June, she is still healing and truly needs our home to continue that process.
above taken following the surgery
a compairison from before surgery and after
above is Bella last week
My husband Rusty has had a lot of medical complications this year as well, and his work that we rely on has been affected by that reality. He was in and out of the hospital a lot, limiting his ability to work at times when work was available.

He is a camera op, and staging tech, work has been fleeting, as Las Vegas is changing from having a lot of live production shows, to having more clubs (who don't need crew), and residencies which bring their own crew when they come to town. If you dont live here, you probably don't know that the Las Vegas Showgirl is a thing of the past.. There are no more showgirl shows anywhere in Vegas. The industry is changing, and what is left is not supporting the people who are here.
We have had previous fundraisers this year and that is why we are still in this home. We are working to find alternative work, and facing age discrimination in the process of that. Anyone who knows of potential jobs for either of us, please send them our way..
Here is a screen shot from the email my landlord sent with his ultimatum last week:

On Oct 6th we adjusted that total to $3200 since we've paid $1500 toward what we owe since we  started this fundraiser. 
I've downsized us several times over the last few years, and because of having been doxed (identity stolen) , it is very hard for us to move anywhere, based on credit issues we have left from the manipulation of our credit history. I believe that is also limiting my ability to gain access to work. We don't have the funding to move to another state. The move to Vegas from Atlanta cost us nearly $20K .. That is not an option.
It's actually harder to rent an apartment in Vegas than it is to rent a home. I've tried to downsize in that direction too.. I have set this up for $5000 .. the rent is priority and anything over $3730 our landlord needs will go toward paying utilities.
I have done everything I can to gain access to viable employment for myself. Since no one wants to hire me, I continue to create art and show it as often as possible. As well as help with social media support for the arts district, and causes I stand behind. None of which, I get paid for. I have worked very hard to figure that one out, If you know anyone who is hiring, my numbers put me high on the chart for making a real impact. Because I would prefer being able to pay my bills from a paycheck, than having to ask for help.
I have a lot of art for sale, and if you want to help us by supporting my work please see the following options below.
If you are interested in helping by buying art, donate the amount I am asking for as listed on the piece you want below, then message me your mailing address and title listed on the piece you want, and I will ship out once the payment comes through the system. Or you can contact me directly and we can transfer funds through my paypal email at penndragonstudio @ aol.com
It is first come, first serve regarding any of the art.
I have set up reward levels for the artwork... if you are interested in any of the illustrations, please tell me which pieces you are interested in, as GoFundMe only allows one listing per amount. I can't list them as seperate buttons.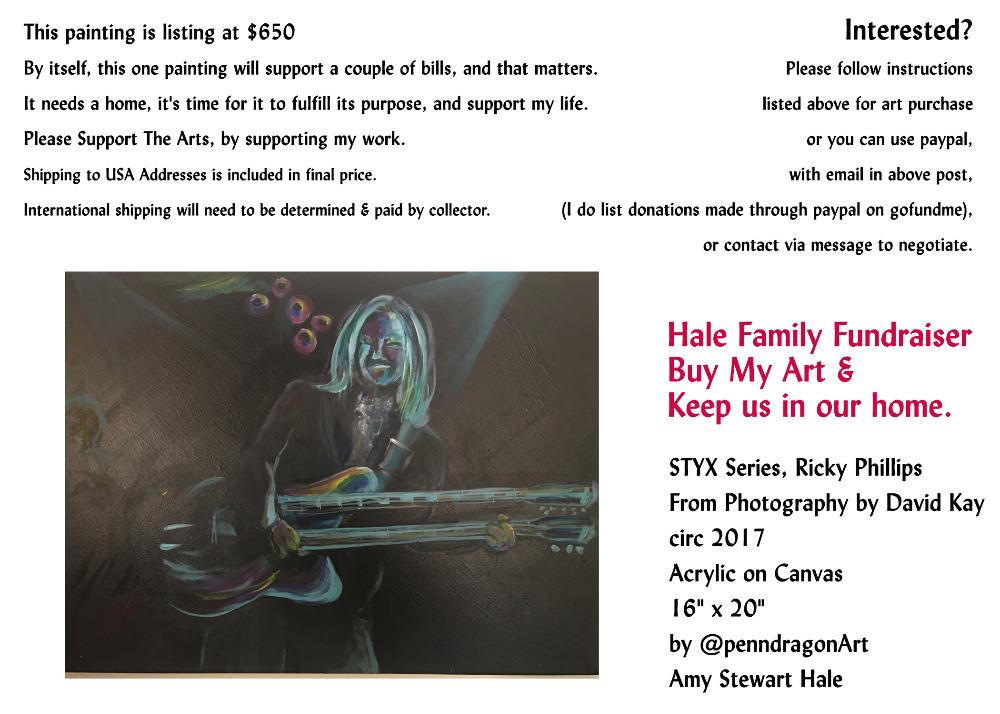 Buying art is one way you can help  us, and I get it if you don't to buy anything but still want to help.. we are grateful for anything anyone can do. This is also a regular gofundme page that accepts small donations too.. I thank you for your support. Much love.
+ Read More