151
6
Wyatt Monacelli dino strong
$12,377
of $15,000 goal
Raised by
153
people in 13 months
On June 7th Julianna and Dominic received the shocking news that their 3 ½ year-old son Wyatt, was diagnosed with acute lymphoblastic leukemia.
The diagnosis was a complete shock to the family as Wyatt had only a low grade fever and up until this point was a fun loving, dinosaur boom-bashing healthy boy. The night of his diagnosis Dominic and Julianna were routing on  Harper's soccer team while Greta and Wyatt  ran around chasing each other on the sidelines. Earlier that morning Wyatt had been taken to the doctor because Julianna felt that something just seemed "off".  Later that evening, Julianna received a phone call from their doctor telling her that Wyatt was severely anemic and had to be rushed to the hospital immediately to undergo further testing. After 20 + attempts at drawing blood, the doctors confirmed the family's worst fear,  their son had cancer. Wyatt has been in the hospital since that night undergoing a rigorous treatment of chemotherapy and blood and platelet transfusions. The good news,  is that "ALL" is the most common form of childhood leukemia and also the most curable.   Wyatt's  outlook look is extremely positive however, Wyatt and his family will be facing a long three year road of chemotherapy, steroids and frequent hospital stays which will eventually lead to his to recovery.  During these years Wyatt's immune system remains fragile as he must  to be shielded from everyday germs. His energy will vary and the steroids and chemotherapy will cause him to look very different. The doctors remain positive that Wyatt will live a long and healthy life once he gets over this life-changing hurdle but its going to be a long road. 
We are fortunate to have so many people that love and care about this amazing family. So many of you  are sending prayers, light and positive energy which we undoubtedly know will help them stay strong. So many of you have reached out asking how you can further help Wyatt and his family.  
YOU 
are the reason why we have set up this page of support.
Thank you. The Monacelli's can not even begin to express the gratitude and love they feel
for those who have sent notes, prayers, sent meals, and gifts for Wyatt. 
Please feel free to use this page to donate any amount of support which will help the family pay for Wyatt's medical bills and treatments while Jules takes a leave of absence from work to care for Wyatt along with Dominic. Please know that no amount is too small. They will donate a portion back to the childhood cancer organizations that have already stepped in to help them navigate their new normal.
Please continue to send the Monacelli's positive energy as "Dino Strong" Wyatt continues to fight the predators head on, ensuring he boom-bashes them one by one. Cancer picked the wrong child and family to mess with.
Thank you so very much for all of your concerns, support and love as it truly means so much. 
XOX




+ Read More
Update 2
13 months ago
Share
Thank you again for all of the well wishes and support. We are able to stay strong with our hearts filled with love, courage and strength because of friends and family like you.
Dominic created a Caring Bridge website where he journals and writes updates on Wyatt's cancer journey. Please feel free to read along to stay updated.
https://www.caringbridge.org/public/wyattroccomonacelli
Site Name: wyattroccomonacelli
Much love,
Dominic, Julianna, Wyatt, Greta and Harper
xox
+ Read More
Update 1
13 months ago
Share
The words "Thank you" can not express how deeply Jules and Dominic feel the love and support from all of you. Wyatt is hanging in there and trying to be dino strong. He has gained a steroid belly and is losing hair but is getting stronger on the inside and is just as feisty and adorably funny but with frequent naps. He takes his daily medicines like a champ with Harper and Greta by his side. Julianna and Dominic are the true heroes. Weekly chemo for now as we boom bash the predators. Peace Love Gratitude. Thank you for your prayers.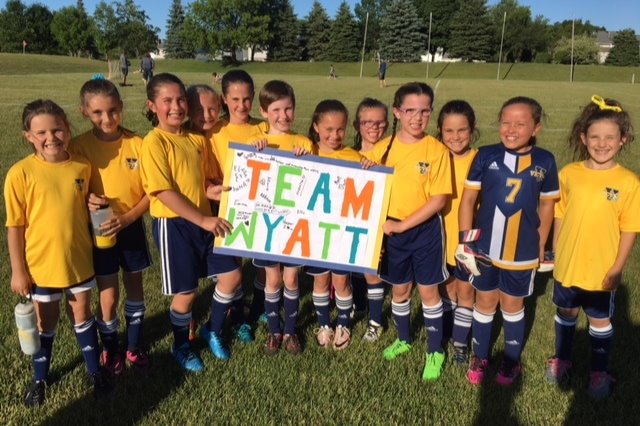 + Read More
Read a Previous Update