40
9
Get a filmmaker to CANNES!
$2,620
of $2,500 goal
Raised by
38
people in 14 months
Hi. I'm Mark Roy, a photographer and filmmaker based in Darwin. Last year I began creating short movies on Super-8 film. Yes, film.

My first Super-8 collaboration, the troppo-noir thriller 'Sumatra', screened at the Darwin International Film Festival  in September 2017.

My second Super-8 collaboration, Flicker & Fade, has just been selected as a Straight 8 competition winner to screen at this year's Cannes Film Festival.

Great news – but now I need the money to get there!

And due to the nature of the competition, I haven't even seen the damn film yet! Learn more about this pickle by listening to my interview with ABC Radio Darwin's Liz Trevaskis.
The first time I get to see it will be alongside other audience members – including the film's writer and co-director – Julien Poulson, at the Straight 8 premiere in Cannes. 
Flicker & Fade is one of nearly 150 Straight 8 competition entries from around the world. Only 8 of these films were chosen for the Cannes premiere.
One way or another, I have to get there. Your support is make-or-break!


STRAIGHT 8: THE COMPETITION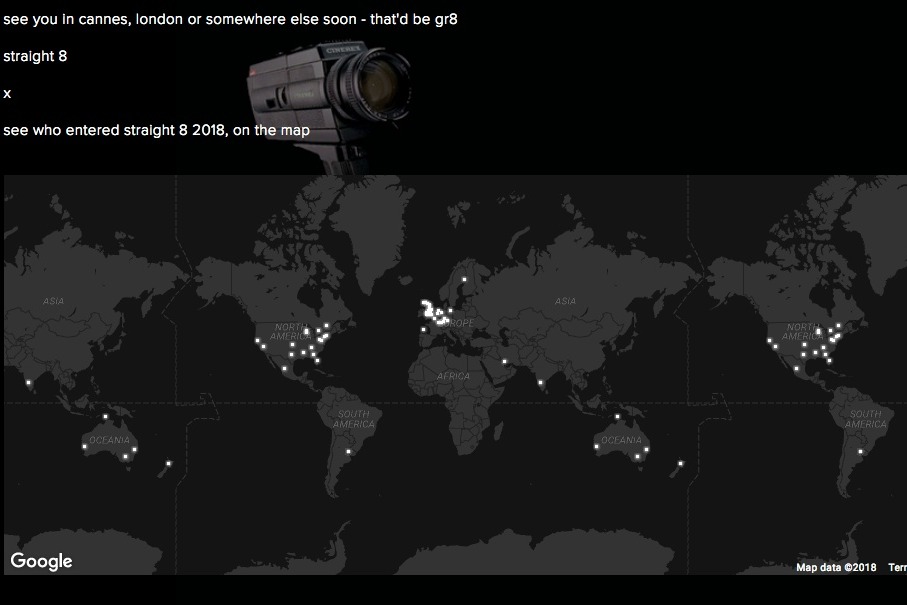 Founded in London in 1999, Straight 8 is a global filmmaking challenge where filmmakers make a short film on one cartridge of Super-8.

No re-takes, no grade, no post-production, and no editing – the only editing comes with each pull and release of the camera's trigger. 
Straight 8 2018 winners are listed here along with a one-minute teaser trailer of competition entries.

Straight 8 2018 premieres 8.30pm 14 May 2018 at the Olympia Theatre, in the rock'n'roll quarter of Cannes. If you're in that neck of the woods, come along!


FLICKER & FADE: THE FILM
"Memories exist as images, recordings, stories, melodies … they disappear only to reappear as recurring loops in time and space."

Flicker & Fade is a short film based on a screenplay by the film's co-producer and director, Julien Poulson, one half of production team The Kommandants.
The film was shot on location in and around Phnom Penh and the former commandant's villa in Kampot, Cambodia, over one week in late February and early March, 2018.



The actors in Flicker & Fade tell the story of three characters:
• Paodavy Da – the Singer
• Wesley Taller – the Foreigner
• Bong Sak – the Driver

Luke Hunt  is the film's narrator. Playing the role of communications officer at the Embassy, he reflects on the fate of the the trio.

The story is based on the real-life disappearance of Cambodian singer Poev Vannary, assumed murdered by the Khmer Rouge. 



FUTURE PROJECTS

As a short film, Flicker & Fade is a successful proof-of-concept for a larger 'vintage multimedia' live theatre performance.
My goal in Cannes is to network, market and develop support and inspiration for this Australian-Cambodian arts project.

Produced as a collaboration between Darwin and Cambodian actors and artists, performing alongside members of the Cambodian Space Project, this  major body of art will bring together writing, music, photography, film and archival footage in an audiovisual / archival mise-en-scene backdrop to a 'memory play' as musical theatre. 


WHAT WILL THE FUNDS BE USED FOR?
All GoFundMe funds raised in this campaign will go to flights, per diem and accommodation expenses while attending events in and around the Cannes Film Festival. 
With your help I can join Julien Poulson at the Flicker & Fade premiere in Cannes.



The Kommandants: Julien Poulson & Mark Roy
Our thanks to accommodation sponsor Villa Grange Cambodia for their help in making this short film.

Visit our Flicker & Fade Facebook page  for updates.

THANK YOU!

~ Mark Roy









+ Read More