Love for Geoff and Family
$61,925
of $100,000 goal
Raised by
505
people in 20 months
Fundraising Efforts for Geoff Guerrero and his family to help in his recovery.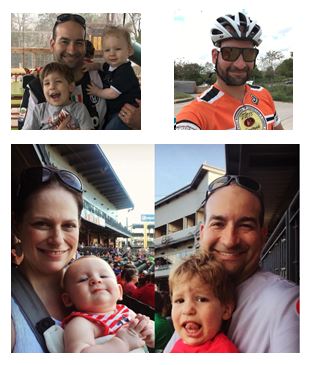 There are certain people in your life who seem invincible. For so many friends and family, Geoff Guerrero has always been one of them. He is a quick-to-laugh, fun-loving father of two toddler boys who loves his wife madly. He rarely needs help—he can handle anything. In fact, he usually has a baby strapped to his chest while he's grilling you a steak and opening you a cold beer. He never sweats the small stuff, and puts everyone around him in a better mood—even when the Dallas Cowboys are making it very difficult. Well now he needs our help. On February 16, 2017, Geoff was seriously injured in a cycling accident in Austin. We are so grateful that he is alive to watch his sons grow up; it is an incredible blessing. However, the damage to his spinal cord and vertebrae will likely change his life, and his family's life, forever. So many people have reached out to ask how they can help. This will be a long road ahead, with major expenses no one could have seen coming: making their home accessible, months of rehab, a specialized vehicle, and childcare are a few needs in the short term. Please share and donate if you are able. Thank you so much for your support. Geoff and Angela, along with their boys, will never forget your kindness.
+ Read More
Update 1
19 months ago
Share
To all of you who have so generously donated through this page, THANK YOU! Words cannot express how loved and supported this page has made Geoff and Angela feel. Watching the names and well wishes appear on this site has been a constant reminder that they are not alone.

On behalf of their families, we wanted to give you an update on Geoff's recovery. He is receiving in-patient treatment at Central Texas Rehabilitation Hospital and spending the majority of his days in physical therapy, learning how to function in this new normal. At this point he is still paralyzed below his ribcage. The doctors don't know for certain if he will walk again—but they also don't know for certain that he won't. Geoff has good days and bad, but for the most part, his positive attitude is serving him well. He has always been a glass-half-full guy, as most of you know. He is pouring himself into his rehabilitation and making us all incredibly proud.

As the days go by and the medical bills come in, it has become clear that every dime of the money raised here will be needed. The boys are now in full-time care and Angela is taking unpaid leave from work to manage Geoff's care, which is a full-time job in and of itself. They may also need to move to a more central home that is ADA compliant. So, from the bottom of our hearts, thank you again. You all have made the difference for this family.
+ Read More