8
18
Help 1000 Poor Students Get Skills
€610
of €23,000 goal
Raised by
11
people in 22 months
WHY DO WE WANT TO REACH OUT AND TRAIN YOUNG PEOPLE? 
Limited entrepreneurial skills development among school going children and youth, as well as those outside, has been responsible for a number of social, political and economic upheavals in our communities. These upheavals among others include; high crime rate, high rate of unemployment, limited government revenue, drug abuse and adolescent pregnancy that claims 25% of the Ugandan girls becoming pregnant before the age of 19 years. This is entirely because most of the young people and the youth in Uganda and Africa at large acquire basic knowledge theoretically from schools given the nature of our schools' curriculum.
Considering such appealing findings, Gain Confidence Africa has undertaken the mandate to encourage and promote simple, sustainable, affordable and environmentally friendly Entrepreneurial skills development as a measure to reduce the upheavals as well as helping the victims see a ray of hope. These skills among others include; carrying out innovations in the different sectors of our economy mainly; innovations in agriculture and value addition in agricultural products/manufacturing, art and crafts, welding and carpentry, cookery and bakery, snacks production, writing and talent development among others.
Gain Confidence Africa has the conviction to believe, that these skills shall help the youth to create their own employment where they will realise an income thereby by being able to identify the locally available opportunities such as planning, resource mobilisation (including saving) and enterprise management and monitoring.
For instance, our research proves only 6% of the school going pupils and student save and know about savings and saving accounts in the banking sector, this is very deadly for a country like Uganda because it poses more threats of future unemployment due to lack of capital and lack of skills for job creation thereby maintaining job seekers other than job creators due to lack of Entrepreneurial skills.
Our project targets to directly impacting one thousand (1000) beneficiaries per year who shall include those inside and outside school. This implies that in the entire implementation period of three years, the number of impacted beneficiaries shall be three thousand (3000) owing to our abilities and mechanisms.
WHAT EXACTLY DO WE DO, AND HOW DO WE DO IT?
Through communities and schools, we mobilize to inspire and train the youth in various simple, sustainable entrepreneurial skills development in agriculture and value addition on agriculture produces, talent development like drama, poem writing and reading, art and craft making, public speaking, leadership training, savings and reading culture development, snacks production, preservation and packaging as training on marketing skills among others.
We consider the fact that Uganda is a 3rd world developing country found in Africa and as a result according to the undisputed research that Gain Confidence has carried out in different Universities and vocational education centres, we have no doubt that the country and the entire continent of Africa needs more vocational skills than theory if the youth are to become job creators than job seekers.
Schools, communities and the youth-based groups at large, have shown a positive response in our activities a development which propels us to carry on the work. As we talk our programs have been accepted in over forty schools and over thirty-five (35) communities countrywide. We look forward to impacting more youth hence the need for help to facilitate our work.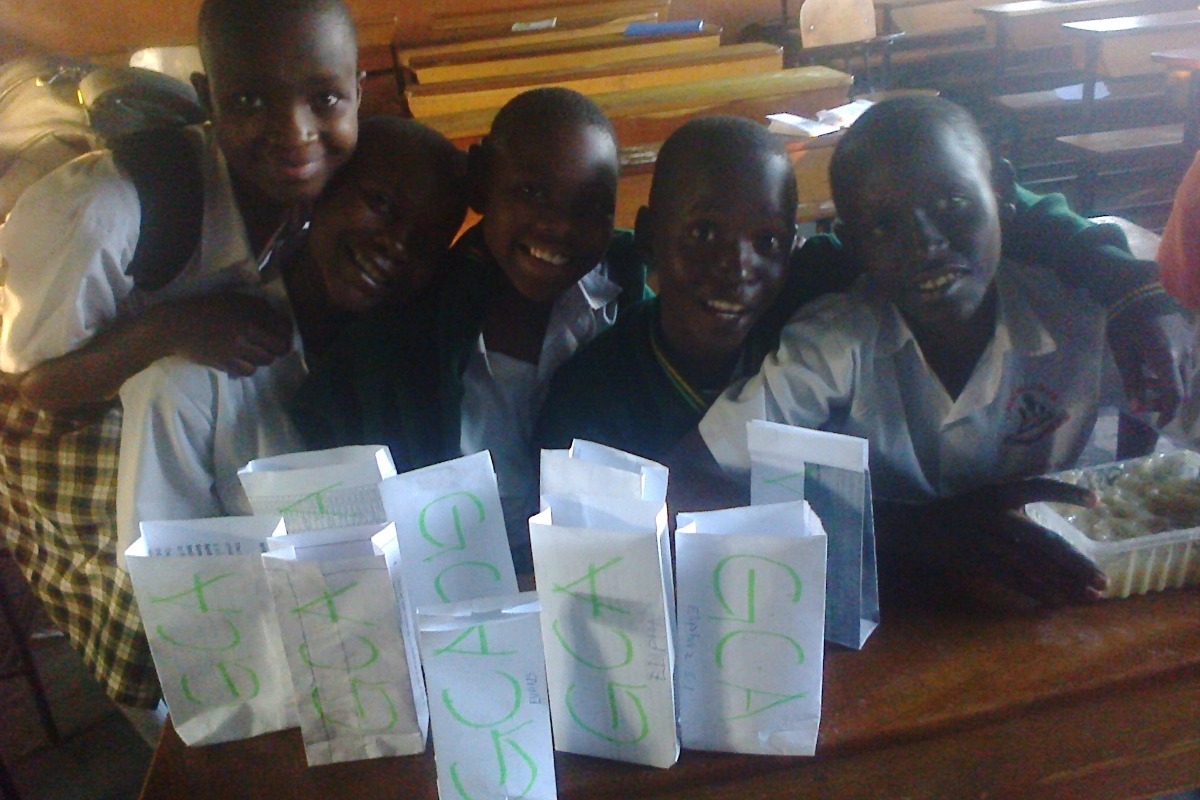 From above, some of the students 'exhibition of hands-on during a crown event on practical entrepreneurship while below are part of the pupils and teachers of Seeta Parents day and boarding Primary school during a Gain Confidence Africa training on how to make crisps
Leadership Training
Uganda is one of the developing African countries whose leadership is struggling in a political, economic and social ways. Leadership in Africa is presumed to be attained and maintained through the use of guns. Gain Confidence Africa looks forward to bringing up responsible citizens where leaders shall be realised to serve their communities as the most good.
Gain Confidence Africa believes that leadership is learnt and influenced through good example in the society. We are prepared and mandated to interest young people into leadership. We are looking forward to molding tomorrow's leaders which will not only better community but also guarantee the future, with accountable leaders. We have encouraged many young people to take up leadership positions from both their schools and communities.
SO WHY DO WE NEED YOUR HELP?
Currently, the increasing demand of what we do from both schools and communities has turned out that we are financially constrained thereby making it hard for us to deliver the necessary and required services yet the demand is inevitable. The Organization previously relied on membership subscription as well as internal income generating projects like selling of branded T-shirts, pens to well-wishers as well as fundraising drives. However, these sources of income have become inadequate according to our current annual budget that is estimated at $30,000. We are likely to withdraw from the community due to financial inadequacies. This shall leave the formally filled gap unfilled, both in schools and communities which shall take back the society to the evils that come with limited entrepreneurial skills development and this is to our detriment. We have taken possible steps like this to solicit financial resources and support to enable us continue operating so as to impact youth who will impact others tomorrow for this being our desired target and goal.
Why Gain Confidence Africa seeks to continue training young people and youth personal simple sustainable skills?
Continuity shall maintain and cause a lot of exciting opportunities not only to the societies we serve but also to us for having archived our mission. In the long run, the vulnerable youth shall create their employment which shall promote resource utilisation thereby transforming the societies. Our work has provided us with an amazing network of peers, self-motivation, new skills of production as well as helping us to focus and develop our research interests and writing skills that have helped us to act as advocates for what society desires thereby calling on government and other stakeholders to act.
This, in the long run, has provided us with facilities and feedback a reason that makes us develop confidence and in the long to continue providing services to the society, without which withdraw would be irresistible. Continuity shall allow us more access to grants in future, where we shall be able to influence other individuals and organisations to support us in reference to our previous works.
We know and recognise the fact that, there are perhaps many more worthy causes to support which may not be similar to this directly. This is not simply making a donation to us as Gain Confidence Africa, but a commitment to being part of the people that have taken the step to cause the change they want to see in society. It is undisputed that the community we live in demands what we are trying to promote amidst challenges. Our charitable works are really turning out to increasingly becoming more and more desirable.
HOW GAIN CONFIDENCE AFRICA STARTED
The organisation's background is derived from the inspirational and motivational life the founder lived as a student from a poor family. After his breakthrough, he decided to inspire young people in and outside schools to identify opportunities. He thus founded Gain Confidence Africa. This foundation is an umbrella through which together with others work towards reaching out to vulnerable young people, a state the founder was in years back. Even when he was demoted from primary five to primary two as a way of enabling him to secure sponsorship for his education, he did not decline from taking up the chance by well-wishers. He endured chants from pupils who lined at the school fence every evening chanting.
But he was never deterred, he remained positive and going. He worked on site as a porter in every holiday of school so as to find a penny to sustain himself in and outside school. While at school, he sold peanut butter every day throughout secondary life. By luck, through his sponsorship, he joined University to pursue a degree in law and he is yet to complete. His target is to impact vulnerable youth in the country just like he was impacted upon by others who paid his school fees throughout his education career path. He intends to do this through a registered Non-Government Organisation, Gain Confidence Africa, where he and others want to train the youth in entrepreneurial skills development, a fact that the society needs practical than theory.
LOCATION OF GAIN CONFIDENCE AFRICA
Gain confidence Africa is a fully registered, local, Non-governmental Organisation, registered by the Uganda Government as required under its laws. Uganda is one of the countries in the Sub-Saharan regions of Africa. It is found in the Eastern region of the African Continent. The organisation was registered and permitted by the Ugandan Government to carry out activities in the fields of; promoting and developing skills among young people and the youth, networking, talent development, patriotism, saving and investment skill training, promotion of a reading culture and addressing drug abuse among others with her office located in Seeta Mukono.
Disclaimer:
I am just a fundraiser for this cause and in no way am I working with them directly though I have witnessed their work in the community and in many schools in Uganda. Your support to them will be highly appreciated even when its 1 Euro or through material support like used chairs, computers, office stationery, school books, projectors among others.
You may also contact them through their official Facebook page:
Gain Confidence Africa
or
Website
Thank you.
+ Read More
Update 2
5 months ago
Share
Dr. Veronika, an Austrian whose love for the African child has grown over the years in the previous decades finally made it to Uganda again and during her visit, she took a field tour to some of the beneficiary schools where Gain Confidence Africa extends services.
In her mission tour to the schools and the visited communities, she was able to establish the impact the organization has had to the school going children and the communities in the area, not limited skills development but also in other areas of personal development.
Dr Veronika Praxmarer Africa School Tour
The Austrian medical doctor with a Professional Masters in Medical Ethics learned about the program about three years ago and since then, she has dedicated herself to be part of the organization's vision stronghold alongside other friends in Austria,
"I find passion in assisting the African child to realize his/her full potential and that ever since I learned about Gain Confidence Africa, I found a partner." She noted while speaking to students of Hillside college Mukono. '
You can all transform Uganda, Africa and the world to become a welcoming place for everyone and Gain Confidence Africa is here to help you realize that, you are all capable of being great and indeed you can.
She further noted in her subsequent address to both the primary and secondary schools.
While she listened from the pupils and students who shared their experience under the program, she established that 600 school going children had been empowered with income-generating skills and other personal development skills like, saving culture development, addressing problems of girl-boy relationship among the young students, where students expressed their experience before joining the program and how the program has helped them to address the challenges.
GCA Student Feedback
Other students told her that by the help of the skills learned under Gain Confidence Africa, they are now able to make clean money during holidays some of which saved for the future and the other is used as pocket money.
While at school, she thus argued the students to take projects that the program is offering seriously so that when they grow or when they get holidays, they can practice fully what they learned for reliance and sustainability.
What the 4 visited schools had to say
The different school head teachers and program coordinators that she spoke to thanked her and the organization team for the support that they have given to their children especially in the area of skills development stating that skills development is supposed to be a part of a child development so that when they grow they do not find it had and embarrassing to take up vocational and technical skills.
Gain Confidence Africa at Forest Hill College
''We thought that the project would waste the students time and would least engage them for productive work until I was told by the director of the school that there is need to interest every student in the activities of Gain Confidence Africa having found the enrolled students fully engaged in hands-on lesion, we are also planning to review the impact the program had had on the trained students to recommend that the entire school can be part of the project'', noted madam Were headmistress, Forest Hill College.
She (madam Were) also emphasized that there is great need for children to learn skills, stating that unlike during their time, where a student would complete his/her study and just sit to wait to be called for job posting to any place where employment was found.
It is not the case today, their many graduates leaving institutions of learning but again without the required skills to enable them create their employment which increases the unemployment rate in this country, today we are teaching job seekers and not job creators, which gain confidence Africa is here to do, I am certain and convinced that even if the skills are not put into use today, with the scarce employment our country is facing, these children will one day implement what they have learned under Gain confidence Africa, she further stressed.
Being a new school in the area, our pupils lacked self-esteem, even the leaders would find it a challenge to address their fellows, however, when Gain confidence Africa introduced its program to our pupils, the organization has trained our children communication skills which have boosted their confidence thereby helping them to fully express themselves in public and report those uncomforting situations in their lives unlike before.
Gain Confidence Africa at Seeta Junior School
There has also been improved academic performance in class, as a result, increased participation of learners as a result of self-esteem among the pupils and all this is attributed to Gain Confidence Africa,'' stated, Ms. Achilo Agness, Headmistress, Seeta Junior Primary School said.
Gain Confidence Africa is a whole pack that the African child needs to fully exploit their innate abilities in the area of income generation skills and another personal development program like confidence building, positive thinking understanding the danger of poorly managed girl-boy relationships among the school going boys and girls.
Gain Confidence Africa at Mpoma Royal College
As this is the trigger of the uncontrolled vice of early pregnancy to increased number of school drops and other hard to control consequences like fistula and STD spread among young people, we thank Gain Confidence Africa for the self-awareness among the teenagers it has been able to cause, Madam Marge, Gain Confidence Africa, program co-ordinate, Mpoma Royal College.
Dr Veronika's Message to Student
Dr. Veronika further expressed the need to have young people made aware of who they are at an early age stating that this would stimulate their desire to being great in the future adding that this comes with gaining confidence.
She also told her story about how she used to perceive the Africans stating that her perception has over the years changed with her increased interaction, working and leaving among the many different African countries such as Zimbabwe and Tanzania where she earlier worked as a medical officer before coming to Uganda.
She asked the young people to accept who they are as African children stating that the Uganda, Africa and the world is waiting for them and that in order for them to be great they must start feeling it now and working towards achieving it, know who you are to ignite passion in you, she stated.
GCA's Work In the 4 Schools
On her tour to both the primary and secondary schools that are under the program, she was able to establish that a number of beneficiaries across the schools have been able to learn and that some students have already put into action the acquired skills like income generating skills where she able learn that some students have been able to start home based income generating businesses that have enabled them to get money that can be used to buy scholastic materials.
We are confident being and we are ready to face the world to proclaim our share, students informed her noting that some who were never leaders before, they now long to become leaders as a result of being trained by Gain Confidence Africa.
PS: This update was also published on Gain Confidence Africa website. You may find it here
https://www.gainconfidenceafrica.org/dr-veronika-praxmarer-commends-gain-confidence-africa/
+ Read More
Update 1
18 months ago
Share
Hello friends of Gain Confidence Africa,
On behalf of the organisation and on my own behalf, I write this update to extend our utmost felt gratitude towards you for the donations and all other forms of support that you have extended to Gain Confidence Africa fund raising Campaign. As a fundraiser and the team at GCA, we are more than ready and prepared to ensure that your utmost support shall be put into use to serve the Mission and the Vision of the organisation.
I once again urge you to share the campaign link with other friends in your circles to enable us reach a big number of people that may share the same link when they feel the same way you felt when you read our campaign.

For any forms of material support like books, computers, bakery equipment are highly welcome.

For further inquiries about the organisation's work, please feel free to write them an email at: gainconfidenceafrica@gmail.com
Once again thank you for supporting with Gain Confidence Africa.
+ Read More
Read a Previous Update