An Art Show About Depression
$1,378
of $1,500 goal
Raised by
20
people in 28 months
Shane is taking a month away from trying to earn a living as an artist to express himself as an artist by orchestrating an art installation at a small local gallery.
Neither Shane nor the gallery have the money to afford to pay for this, but he is compelled to share this very personal exhibit.
The exhibit,
'From The Recliner: Between my feet and my heart. Portraits of people taken by a sad person with his furry best friend on his mind',
is a multimedia presentation including photos, video, audio, a sofa, a recliner, and a zine. It deals with depression, mental health, and the process of mourning. 
This is no easy task, photo printing, framing,
moving furniture, and printing a zine for the show, all costs money - hard cold cash! That does not include the cost of editing audio and video, preparing everything, and the gallery/skate park's expenses of fliers, refreshments and staffing. Those costs exist too! And, the show is in just a few weeks - August 13th! We need your help to make this happen the way it needs to.
If we can raise money beyond what is needed for the exhibit costs, the overage will go to the Armory Gallery to help them grow and remain in existence. They are offering the best art in Astoria, the work in their exhibits is top-notch, real art, there's not a crab or a bird in sight. It's vital to our entire community that they stay around!
Thank you so much for supporting the arts!
-------
About the artist:
Shane Bugbee has been an underground icon for more than 30 years. In addition to his own art, writing and communications, he has risked life and limb to support fellow creatives - artists, writers, performers, in expressing themselves. Shane has published books and comics, organized festivals and events, and was a pioneer in podcasting, vlogging, and citizen journalism.
----------
About the exhibit:
Art Installation at Armory Gallery Explores Depression, Despair, and Mental Health Repair
The installation, called 'From The Recliner: Between my feet and my heart, portraits of people taken by a sad person with his furry best friend on his mind' is a multimedia exhibit by Shane Bugbee including photos, a sofa, a recliner, audio, and video.
It deals with a two year period of depression and mourning suffered following the death of the artist's dog Cheyenne. Shortly after her passing, the artist moved his living room around, unconsciously blocking the corner where his furry friend once lay upon her cushion. 
Then, just about eight weeks later, his wife was offered a full-time job. This left the artist completely and utterly alone. After more than 18 years of working side by side 24/7, she too was gone. Shane sunk deeper and deeper into depression. 
Without realizing it Shane began to photograph visitors from his recliner, pointing his camera in the exact location where his beloved Cheyenne once lay. The photos represent a stream of humanity, all seated on an old blue and green sofa in the artist's living room. Visitors from as far as Texas, Los Angeles, and Pittsburgh, as well as a number of local residents and Astorians, are photographed with and without their knowledge, framed between the feet of the artist who sits with his feet up in a recliner.
The sofa, the recliner, and Cheyenne's cushion are part of the exhibit, in addition to select photographs, audio, video and other digital elements. The images and the story of the installation will be available in a Zine/Show Catalog that will be for sale during the opening. 
Who: Conceptual Artist Shane BugbeeWhere: Armory Skatepark Gallery, Astoria OregonWhen: August 13th, 5-8pm

MORE SHOW INFO HERE:
https://www.facebook.com/events/1119911344748925/



art saves lives patch and pin set...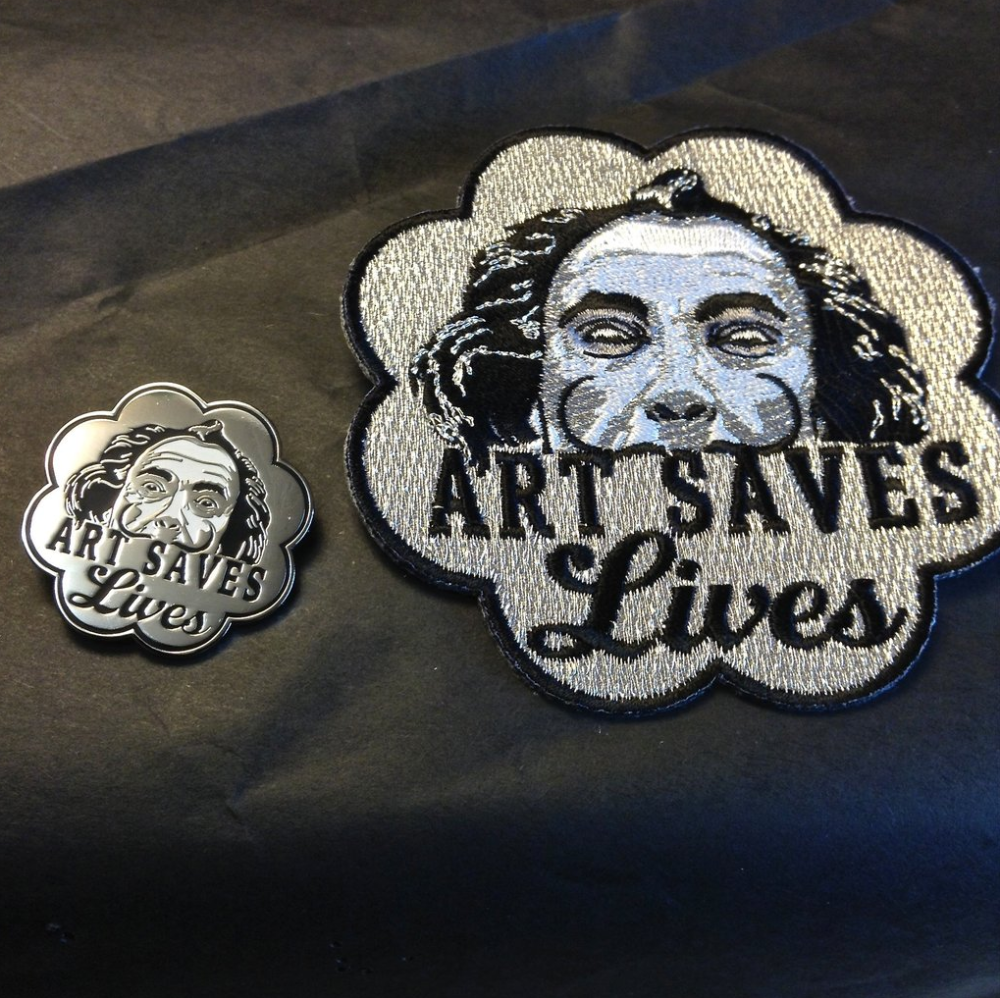 cover of the zine...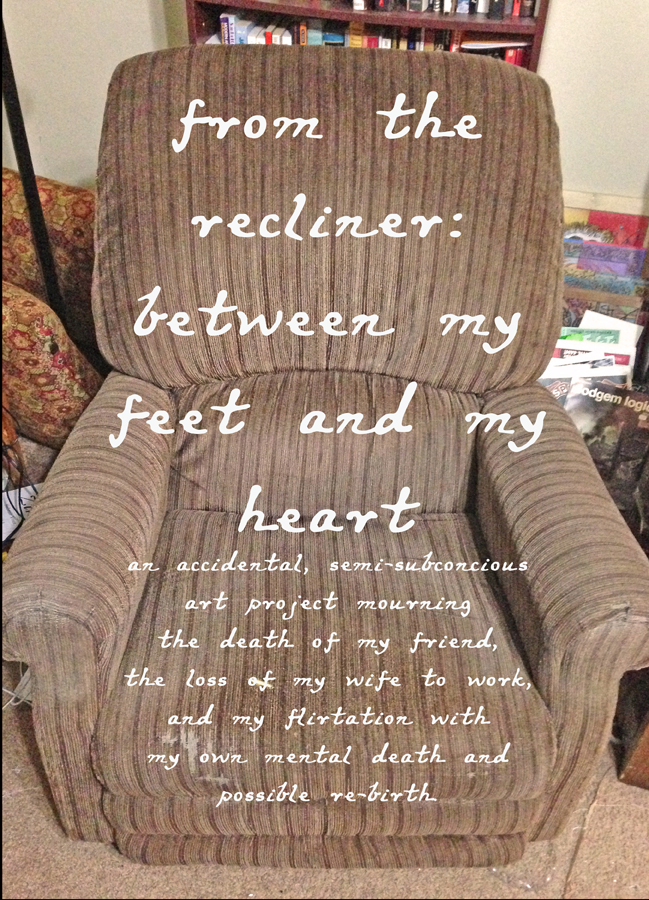 cover of the hardcover book, full color photos thruout...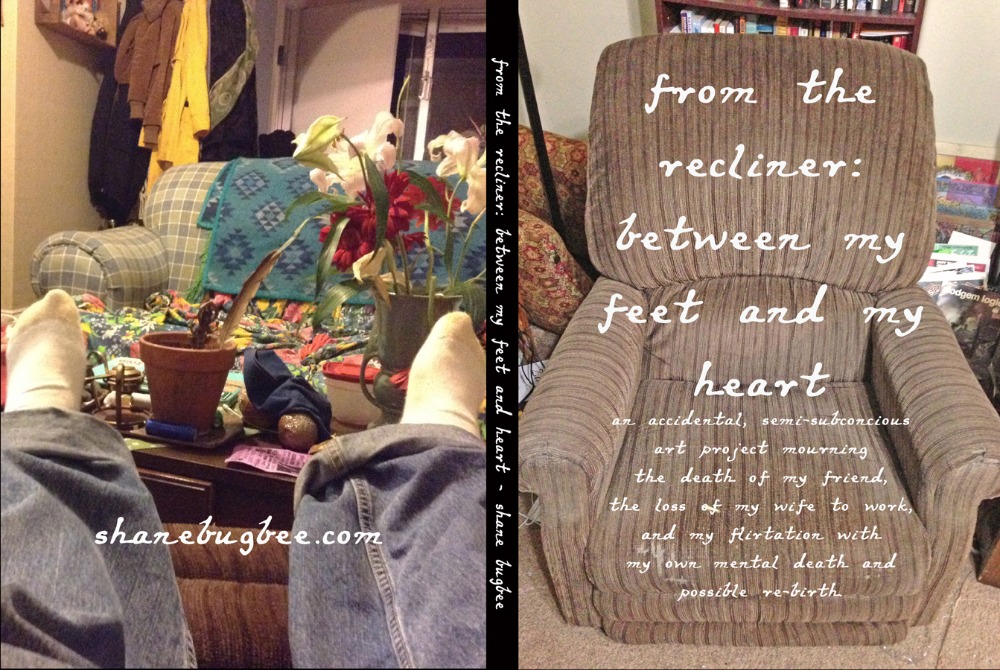 sculpture...
+ Read More
Be the first to leave a comment on this campaign.