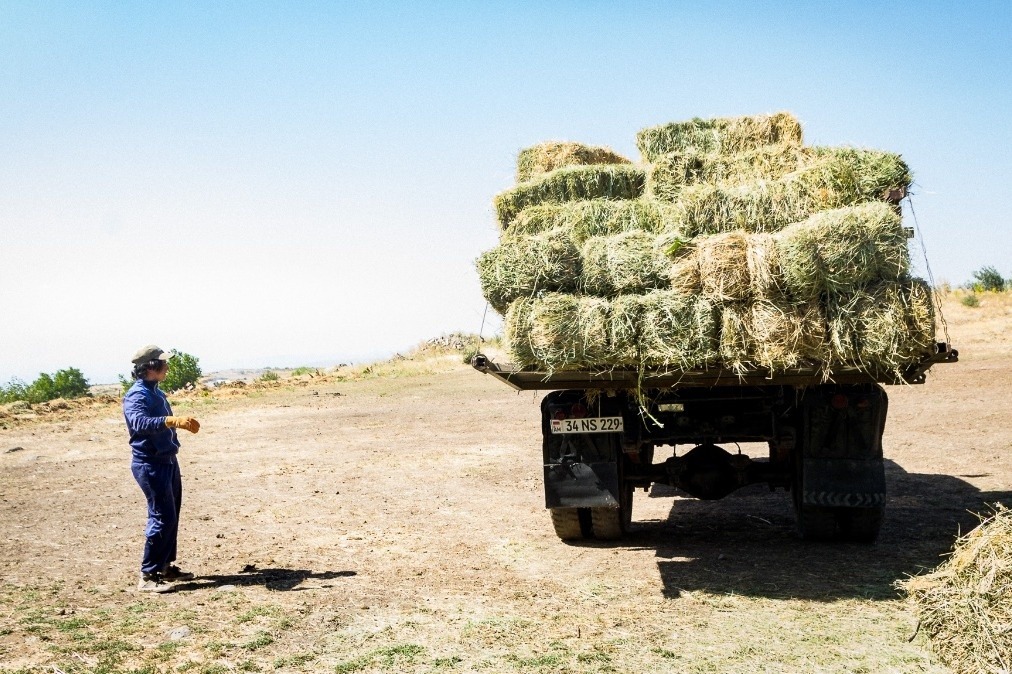 41
8
Food for Therapy Animals! Winter 2019
€2,148
of €2,630 goal
Raised by
38
people in 11 months
HELP US RAISE FUNDS FOR 1 YEAR OF FOOD FOR THERAPY DOGS AND HORSES
Who we are
Hello, friends! We are Centaur — first and only animal-assisted therapy center in Armenia. Our mission is to
rescue, treat & train to treat
: we help stray or unfairly treated animals recover from health issues and abuse, and they in turn help people overcome their physical and emotional issues.
We do Hippotherapy, Canine & Feline therapy. Centaur is home for 6 horses, 32 dogs, 4 cats and a turtle. Some of them are trained and participate in therapy with children, some undergo training, and others are looking for new owners or just live a normal  life in our non-kill shelter and animal sanctuary.
The reason to Crowdfund
We dream to make animal-assisted therapy more accessible in our country. That means we need to: train more animals; reach to remote villages; organise seminars — to change the attitude towards disabled children and animals in Armenia (still quite conservative). While at it, our furry therapists
need to eat hay and dry food
— let's help them with that!
Currently, 17 out of 32 dogs and 2 of our 6 horses have sponsors who participate in our Proud-Parent project, where anyone can choose an animal and sponsor their food expenses for a year. Thus, we need to provide food only for the rest of the animal-folk.
What You Can Do
DONATE any amount you can spare to invest in live of therapy animals.
SPREAD THE WORD among your friends, colleagues, family and anyone else!
FUNDRAISE in your local community. What if people you live, work or throwing a party with would would love
to be a part of the cause?How We Will Spend the Money
Hay — Delicious green and yellow bales for horses
Dry food — dogs nutrition recommended by our vet expert
Hoof trimming (every 2 months)
Anti-worm and anti-tick
medication
GoFundMe Transaction Fees (2.9% + 0.30 per transaction)
With your support 
we'll be able to run rehabilitation programs with more animals, go to more places and treat more people. Follow us on social media to stay in touch!
We have to buy hay during
this and next weeks
, because it is now that villagers cut the grass and prices haven't started to rise yet.
Every donation counts!
Animals you sponsor will get:
* 5 EUR provides 3 horses or 8 dogs with food for 1 day;
* 10 EUR is enough for 6 horses or 16 dogs for 1 day;
* 20 EUR is enough to feed all our 6 horses for 2 days or fill bellies of 30 rescue-therapy dogs for 1 day. Yes, thirty! :)
* 90 EUR is the price we pay for anti-worm and anti-tick medicine for all dogs and horses — once in 3 months!
* 120 EUR means all our dogs are secured and well for the whole week. Miracle!
* 140 EUR — all horses secured for 1 week.

If We Exceed Our Goal
* If we raise 200 EUR more, our dogs will explode with excitement, because will give them a royal dinner ceremony with tastiest food and treats they could never imagine;
* Raising extra 400 EUR — way to spoil our horses completely. We'll treat them with apples, carrots and raisin. Which is dangerous: who knows, maybe they'll force us to make another fundraiser just for that!
* Additionally, extra money raised during campaign will go to the
Emergency Veterinary Fund
, which is important for paying the
veterinary bills
for our dogs and new rescues on time.
Your support facilitates life of animals and human volunteers at Centaur: we'll be able to allocate more time for training, buy small things like collars and leashes, nail-cutters, brushes, etc. Even
the smallest donation matters
!
Don't forget that even if you don't support us financially, you always can
share this page
and spread the word. We are very, very thankful to each and every one of you, friends :)
More About US
Centaur seeks to cherish and strengthen the
animal-human bond
in Armenia.  Since 2008 we've treated thousands of children and adults with cerebral palsy, nerve system disorder, autism, different syndromes, spinal issues etc.
* rehome strays'
* provide pet-sitting services for dogs, cats and horses'
* make seminars on animal-treatment and pet-therapy'
* teach volunteers to work in sphere of animal welfare and assisted therapy'
* treat animals with disorders — particularly dogs with behavioural issues'
* train horses for therapy and therapeutic riding
* AND train specialists in animal-assisted therapy so that they can contribute to making a change in therapeutic activities in Armenia or countries they belong to.
Why it is important
Unlike Western countries, Armenia hasn't seen much of public attention towards the problems of human-animal interaction. The atmosphere of mistreating and abusing domesticated animals has long prevailed in Armenian towns and villages where people keep animals to serve a certain purpose, and eventually get rid of them, sometimes in harsh and violent ways.
For 10 years Centaur has been fighting these relics of conservative parts of our society to create, nourish and harness the bond between people and animals, all for a purpose to grant a healthier and happier life for both.
We're Centaur.
Are you, too? :)
Join us
Centaur Centre is a well-established Non-profit organization known for its careful and caring approach towards people and animals alike. If you share same views as Centaur, join and support us on the way to the better future for all people.
Stay tuned! 
Please follow us for regular updates right here on our GoFundMe page or on our Facebook pages :)
Main: 
I Am Centaur
Dog shelter: 
CentaurDogShelter
Our website: 
Centaur.Im
Much love,
Your Centaur Team
+ Read More