'Discover, Organize, & Collaborate'
$3,525
of $37,000 goal
Raised by
5
people in 49 months
"Individually, we are one drop. Together, we are an ocean."
                  —Ryunosuke Satoro
DISCOVER, ORGANIZE & COLLABORATE ON FOCAL SHIFT
This project is only for those who give a damn. For the bold. For the project teams working around the clock on technology and innovation to better our planet. For truth-based freelance journalists with no outlet for their voice. For those with eyes open....and for those who are curious to know what all the buzz is about.
We are Focal Shift! A small, yet growing team taking action to improve the way creatives, makers and community builders approach collaboration, product development and storytelling.
HAVE YOU EVER NOTICED
that ideas or completely new concepts occur in the minds of many around the world almost simultaneously?
The scientific hypothesis known as "multiple discovery" says that innovators from different parts of the world more often than not make the same inventions and discoveries independent of one another, yet simultaneously. Thus if history shows world-changing ideas and concepts are conceived in the minds of many regardless of proximity, would it not make sense for us to stop innovating in a vacuum?
Imagine bringing these innovative breakthroughs, the inventors, and a global support structure together. Imagine the digital infrastructure where individuals and project teams are equipped with the tools they need. Where they are inspired by the community and supported beyond the crowd. Imagine being limitless.
INTRODUCING FOCAL SHIFT
WHERE PEOPLE AND PROJECTS COME TOGETHER FOR POSITIVE SOCIAL IMPACT.
...Where you can
DISCOVER
people, projects, and stories making a big difference.
…Where you can
ORGANIZE
ideas, talent and the resources needed to create stronger, more vibrant and engaged social groups and communities.
...Where you can
COLLABORATE
on technologies and the solutions needed to make our world a better place.
Never before have so many people from such diverse backgrounds been committed to overcoming the imbalances we face this century. Not because of failing financial markets or divisive geopolitical interests, but because humanity is recognizing that together, WE hold the creative power...and as a species need to course correct.
Focal Shift is one vector to guide that correction. More than a website, it is a dynamic ecosystem of communities creating the world in which we want to live.
So what really inspired us to build this framework?
We've spent years working with project teams, humanitarians, as well as local community governments, recognizing their digital infrastructure needs are the same across all demographics and industry sectors. In 2013, after many weeks of inspired conversation, we set out to develop a S.A.A.S. (software as a service) where inspired stakeholders - creatives, makers and community builders - can access, attract and deploy resources when and where they need them, both privately or publicly.
We built Focal Shift for project teams and entrepreneurs like KYLE.
MEET KYLE…one of many inventors and project developers around the world with the same unfortunate story.
KYLE is an engineer and inventor with a pretty cool project: A unique and patented approach to how we harness and distribute wind energy. Kyle's technology application is sustainable, revolutionary, and life saving. Here's the catch... Kyle has had a working model of this technology for ten years!!! Why hasn't this product made it's debut into the marketplace?
Well, one could argue there are many reasons inventions never fully come to life but for the sake of Kyle's story, let's look closer because the reasons are quite ubiquitous…
1. He's been working alone with little funds and has exhausted his current resources.
2. He has little to no web presence and says he doesn't have the time to learn the skills it takes to promote his technology and find the right people to help him get his invention off the ground.
3. This sense of frustration and halted progress is negatively affecting Kyle in multiple areas of his life.
...WITH  A LITTLE COLLABORATION, KYLE'S STORY, AND THAT OF MANY INVENTIVE HUMANITARIANS  AROUND THE WORLD, MIGHT HAVE MADE HISTORY.
Using Focal Shift is simple yet very powerful. In less than an hour, had Kyle known about Focal Shift, his technology could have been in front of hundreds of people coalescing around social impact and ways to improve life on this planet.
FOCAL SHIFT is ROBUST…
Here are some of the features you'll find within Focal Shift TODAY...
•Set up a personalized profile.
•Read or write Social Impact Stories
•Join a project team working toward solving some of our greatest struggles.
•Find other members based on their primary area of impact interest.
•Engage in multiple projects. (Compartmentalized project communities)
•Contribute to unfolding discussions about what's working and what's not.
•Follow, friend, and privately message other members.
•Become known as an expert by accruing "Impact Points" on Focal Shift.
...Or start a project, mission, or movement of your own using CollabPads on Focal Shift. 
At the heart of Focal Shift is a tool suite we've developed called CollabPad,
a flexible collaboration interface built within a social engine, designed to turn great ideas into action.
CollabPads are project-specific communities of passionate, like-minded people dedicated to parallel missions or movements. Social entrepreneurs and project teams can streamline their efforts using the tool suite, all within one environment.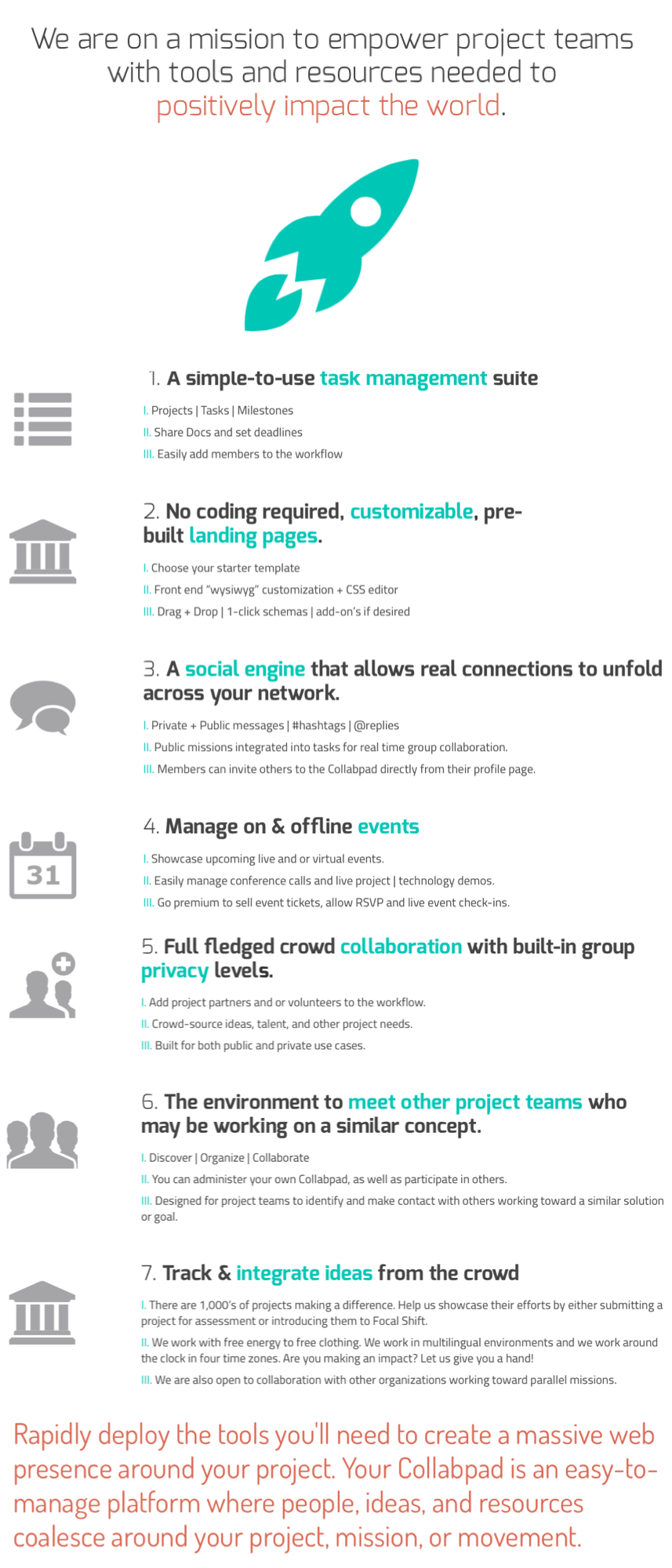 Focal Shift was built not just to offer a set of tools to help grow innovative ideas. It was created because the people behind those ideas want a meaningful and effective place to connect and build community around their shared values and interests. Thus Focal Shift is an environment where both the ideas and the passionate people behind them can grow, flourish and attract more of the same.
Focal Shift is ready to launch!
This campaign
IS NOT
about asking for your help in
developing a concept
. We've been investing our own time and dime for the last 18 months creating a feature-rich platform that is ready NOW!
Today, members of Focal Shift can toggle through stories, projects, campaigns, broadcasts, as well as participate in discussions - uniting around common goals, sharing knowledge and ideas they're passionate about.
HELP US TRANSFORM THE WAY SOCIAL IMPACT PROJECT TEAMS SYNCHRONIZE THEIR EFFORT WITH THE CROWD.How Your Support Will Be Allocated...
Although Focal Shift is launch ready, it is just the beginning. We have many more ideas to develop and integrate including interface improvements and additional functionality we want to extend to members. THIS IS WHY WE NEED YOUR SUPPORT! 
1.  $8,507 - Platform enhancements & new server setup to improve user experience. (Faster | Scalable)
2.  $1,920 - Technical Systems Administrator (very part time)
3.  $5,000 - Increased design flexibility and Linked-In profile integration in the CollabPad tool-suite. (v.1.1)
4.  $12,000 - Administrative/Small Payroll: Put the most active volunteers over the past year on a small payroll so they can continue making Focal Shift the platform we all envision.
5.  $9,800 Additional member features and community building tools (Broadcast module, DIY Market, Courses in conscious business education)
Although we have spent many months refining our software, our goal is to implement these funds and begin public beta testing no later than September 15th, 2015.
Join us in Beta and enjoy the premium CollabPad and all future developments for one year at no additional cost, to participate, make a minimum donation of $30.
•We will email those who express interest in being a beta member.
•We would like to learn more about how you intend to use your CollabPad. 
•We will be working very closely with no more than 50 Beta projects over the next 60 days. 
WE MOST CERTAINLY HAVE A LARGER VISION…
(if we raise substantial funds beyond our campaign goal, the funds will be appropriated to the following touchpoints)
1. Marketing and outreach.
2. Grow our editorial team:
3. Complete our talent exchange module.
4. Develop additional tools/modules for the CollabPad engine based on Crowd feedback throughout the beta test.
5. Help us film our first SHIFT documentary.
6. Project Discovery | R&D team
Here's how you can get involved:
•Support this Crowdfunding campaign and join us in beta for $30. 
•Share this campaign with other humanitarians you know...it seriously helps!
•Signup and have a look around at
http://focal-shift.org
•Talk to your favorite charity or project team and share how our tool-suite called "CollabPad" could streamline their community building efforts.
•Launch your own project using CollabPads on Focal Shift.
WHAT OTHERS ARE SAYING:"
The importance of competence platforms is skyrocketing. After having the opportunity to study the demo of Focal-Shift I have to admit that it is one of the most advanced competence platforms I have experienced so far. New networked business models, the emergence of truly diverse and global business ecosystems and the overall rise of a platform economy will guarantee a huge demand for professionally built competence platforms – and Focal Shift seems to fulfill the criteria.
"
- Ilkka Kakko, Author, Speaker, Serendipitor, Founder and Partner in Karostech Ltd (link to
http://karostech.fi
)
+ Read More
Be the first to leave a comment on this campaign.