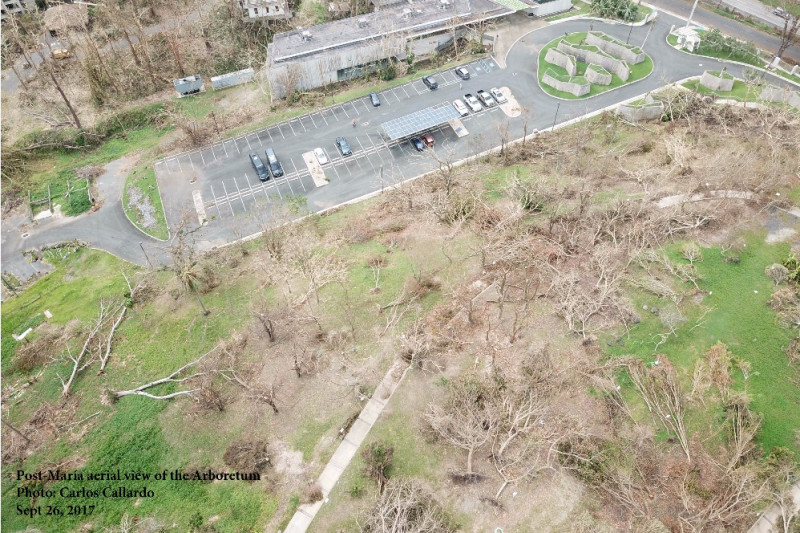 26
5
Save Puerto Rico's Native Trees
$2,214
of $500,000 goal
Raised by
26
people in 13 months
"Our forests look like a bomb went off!" In September of 2017, Puerto Rico was struck by two consecutive catastrophic Hurricanes (Irma and María) with maximum sustained winds of 155 miles per hour (249 km/hr), causing 25+ foot (7.6 m) wave surges along our coasts and torrential rainfall. The devastation ravaged both populated and forested areas of the island. It is considered one of the most catastrophic events in modern US  history. While relief efforts are ongoing, the island is largely without electrical power, potable water, transportation, and communications, and the situation is dire (as of this writing, it has been 35 days). Besides basic needs, restoring Puerto Rico's forest and returning its ecological functions are essential to the island's sustainable recovery.
The Arboretum Doña Inés Park of the Luis Muñoz Marín Foundation, a 12-acre urban forest in the heart of San Juan and the center of Puerto Rico's native plant preservation did not escaped the destruction.  The Arboretum houses the world's largest collection of Puerto Rican plants including 60% of Puerto Rico's common tree species and 41% of the threatened and endangered species on the island.
As we write this, hundreds of downed trees at the Arboretum, which represents over 50% of the plants in the Arboretum, are dying!
The urgency is real. With vast areas of Puerto Rican forests severely damaged due to the hurricanes, a massive reforestation campaign is needed. We are in a position to aid in their recovery now.
The lack of electricity and fuel to operate the earth-moving equipment and the Arboretum's exhausted resources are not enough to save the plants and contribute to the recovery of our forests.  So, we are asking for your help. 
Your donation (tax deductible) of any amount will help to:
1) hire professional arborists to salvage and replant fallen trees and properly prune, fertilize and manage remaining ones.2) rent and/or purchase heavy equipment for the immediate clean up.3) construct a new greenhouse to grow native, rare and endangered plants for outplanting to restore the Arboretum's collection and Puerto Rico's native forests.3) purchase chain saws, a new generator, personal protective equipment, and nursery and planting supplies.4) contract gardeners to help re-establish the Arboretum's collection.

5) construct and install bee hotels and establish pollinator-friendly gardens6) conduct field collections of propagules across the island to bring new plant material into cultivation.
"We've never seen this magnitude of devastation before. The impacts of hurricanes Irma and María will be felt for years."~ Director, Christian Torres-Santana (Arboretum Doña Inés Park)
Please help us save Puerto Rico's unique floral legacy. Thank you very much!
For more information, please visit our website (
www.flmm.org
). We are also on Facebook as Fundación Luis Muñoz Marín.
BEFORE:
AFTER:

SPANISH VERSION:

"¡Nuestro bosque parece como que una bomba lo explotó!" En septiembre de 2017, Puerto Rico fue severamente azotado consecutivamente por dos huracanes catastróficos, Irma y María con vientos máximos sostenidos de 155 millas por hora (249 km/hr), causando marejadas de más de 25 pies (7.6m) en nuestras costas y lluvias torrenciales en toda la isla. La devastación arrasó las áreas pobladas y boscosas de la isla. María sido considerada uno de los eventos más catastrófico en la historia moderna de los Estados Unidos de América. Los esfuerzos de socorro están en curso, pero la isla en gran medida carece de energía eléctrica, agua potable, transporte y comunicaciones, y la situación es grave aún 35 días después. Además de las necesidades básicas, la restauración de los bosques y la recuperación rápida de sus servicios ecológicas son esenciales para la recuperación sostenible de la isla.
El Arboreto Parque Doña Inés de la Fundación Luis Muñoz Marín, un bosque urbano de 12 acres en el corazón de San Juan y el centro de la preservación de plantas nativas de Puerto Rico no escapó a la destrucción. El Arboreto alberga la colección más grande de plantas puertorriqueñas incluyendo el 60% de las especies arbóreas comunes y el 41% de las especies amenazadas y en peligro de extinción.
Mientras escribimos esto, ¡mueren cientos de árboles caídos en el Arboretum, que representan el 50% de las plantas en nuestras colecciones!
La urgencia es real. Con gran parte de los bosques de PR severamente impactados por los huracanes, se necesita una campaña de reforestación masiva. Estamos en una posición de ayudar con la recuperación de los bosques.
La falta de electricidad y combustible para operar el equipo de movimiento de tierra y los agotados recursos del Arboreto no son suficientes para salvar las plantas. Entonces, estamos solicitando su ayuda.
Su donación (deducible de impuestos) de cualquier cantidad nos ayudará a:
1) contratar arbolistas profesionales para rescatar y replantar árboles caídos y podar, fertilizar y manejar los que quedaron vivos y fueron impactados.2) alquilar y/o comprar equipo pesado para las limpiezas inmediatas.3) construir un nuevo invernadero para cultivar plantas nativas, raras y en peligro de extinción para restaurar la colección del Arboreto y en los bosques nativos de Puerto Rico.4) comprar motosierras, cadenas, un nuevo generador, equipo de protección personal, materiales para el invernadero y siembras.5) contratar jardineros para ayudar a restablecer la colección del Arboreto.6) construir e instalar hoteles para abejas y establecer jardines especializados para polinizadores.7) realizar colecciones de campo por toda la isla para traer nuevo material vegetativo a cultivo.
"Nunca antes habíamos visto esta magnitud de devastación. Los impactos de los huracanes Irma y María se sentirán durante años". ~ Director, Christian Torres-Santana (Arboreto Parque Doña Inés)
Por favor ayúdenos a salvar este único legado floral de Puerto Rico. ¡Muchas gracias!
Para más información, por favor visite nuestra página web (
www.flmm.org
). También estamos en Facebook como Fundación Luis Muñoz Marín.
(This campaign was created in collaboration with and for Christian Torres-Santana, the Director of the Arboretum Doña Inés Park. All donations will go directly to the Arboretum for the recovery efforts described ---
Joan Yoshioka, Statewide Manager of Hawaii's Plant Extinction Prevention Program
)
+ Read More
Update 2
11 months ago
Share
Update 1
12 months ago
Share
Thank you all for your support thus far. I've been in irregular phone and email contact with Christian Torres Santana, the Director of the Arboreto Parque Doña Inés, but communication continues to be very difficult. Arboretum staff are still in the midst of cleanup, trying to save whatever trees they can. At the time of his last email, Puerto Rico has been without consistent electricity for 50 days, the longest power outage in US history!
Please check out WAPA TV's interview with Christian on 11/8/17:
https://www.wapa.tv/noticias/locales/informe-especial--un-bosque-renace_20131122417270.html.
You can help our effort by forwarding the link to this campaign to anyone that can help.
On behalf of Christian, the Arboretum Doña Inés Park, and Fundación Luis Muñoz Marín, thank you for your continued support.
- Joan Yoshioka, Manager, Hawaii Plant Extinction Prevention Program
+ Read More
Read a Previous Update