https://www.youtube.com/watch?v=Vc5-UppU8e0
Why Heather is so sick

I was infected with Lyme Disease when I was a child.  Tick borne disease was not on the medical map yet so this infection went undiagnosed for decades. I limped through life with a myriad of symptoms and long periods of debilitation then received a diagnosis at age 34.  At this point I was terribly debilitated from renovating an old house and  exposing myself to dangerous neurotoxins including lead, asbestos and mold.  I was also re-bitten and infected with babesia, a protozoan infection. My immune system crashed hard as I lay buried under a crippling heap of toxins, infections and endocrine disruption.  A perfect storm of complex disease engulfed me.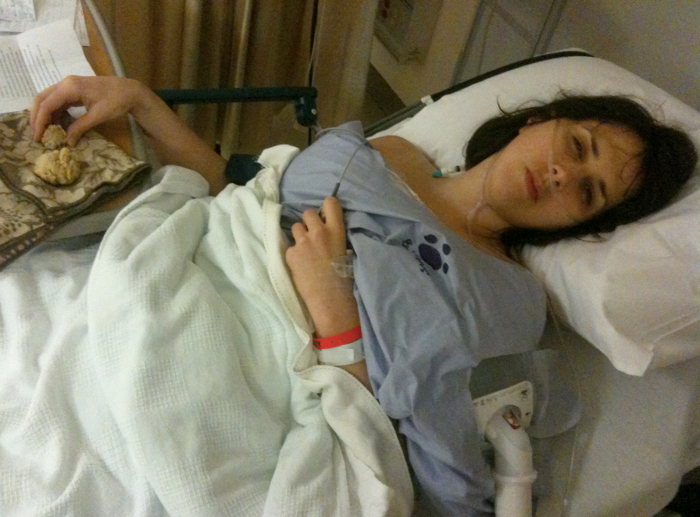 Severe insomnia was one of the worst symptoms so Klonopin, a popular benzodiazepine, was prescribed.  At first it provided relief but little did I know these tiny blue pills would devastate my life even further.  For years I fought hard to heal my body and made miraculous strides. It took a fortune, over 100 doctors and grueling surgeries and treatments but eventually I put Lyme and Hashimoto's Thyroiditis into remission.  I had to maintain a vigilant diet and daily health protocol but it was a small price to be living life.  I grew stronger and started to exercise, socialize and work again.  I thought the worst was over but the gates of hell hadn't even cracked opened yet.  
It turns out that benzodiazepine should only be prescribed for 2-4 weeks at a time but I was left on it for two years and never warned of the risk.  It is very dangerous to take this drug long term because it becomes enmeshed with the CNS (central nervous system) changing neurochemistry in the brain. Miserable symptoms emerge as the body develops tolerance and then there is a barbaric protracted withdrawal syndrome that lasts YEARS. Even when taken as prescribed, this drug can cause profound disease and even permanent damage. 
It took 2.5 years to taper off this medication while gently titrating down on the milligrams.  Juggling work and responsibilities while suffering awful symptoms everyday was serious business.  Friends, neighbors and co-workers had no idea what I was afflicted with and I did my best to hold it together.  In September 2014, I took my last dose and entered a nightmare like no other. I watched my sister go through opiate withdrawal and assumed it would be similar to this.  I couldn't have been more wrong.  When I discontinued the drug I was suspended in an agonizing state of total body, psyche and emotional suffering.  I rose from the ashes of Lyme Disease only to be dragged back into the pit of debilitation by benzodiazepine, an even more sinister adversary.  
Benzodiazepine discontinuation is like taking 20 hits of LSD while sick with the worst flu you could ever imagine. The average withdrawal lasts 18 excruciating months.  (Yes you read that right.  18 months in hell waiting to heal from a legal pharmaceutical. Think about that).  It is a Groundhogs Day purgatory... Insomnia, a pounding, racing heart and anxiety batter.  Profound weakness, dizziness and blurry vision, oppress. Migraines from outer space, tremors, visual and auditory hallucinations and nerve pain, torment.  A firey bladder and urethra, vomiting, constant nausea, blood sugar fluctuations, ravenous painful hunger, head to toe muscle spasms and aching bone pain, dominate. Sensitivity to sound, light, smell, food and life itself, antagonize. While terror, agoraphobia, chemical depression and off the charts anxiety, marginalize. Benzodiazepine discontinuation is traumatizing. It is an internal prison. A straight jacket made out of X-ray blanket material. It is the most vulnerable, scary place I have ever been and I have lived through A LOT. 
This was me during my taper and then in acute withdrawal from benzodiazepine in April 2015: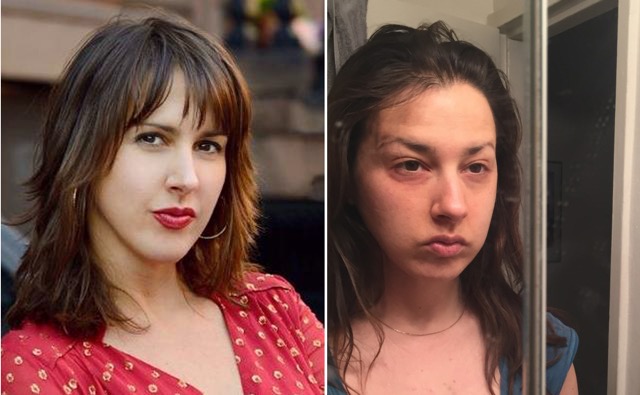 This withdrawal syndrome was so stressful on my body that it crashed my immune system and the worst thing imaginable happened... Lyme Disease came out of remission.  After all those years of fighting to beat it, now I was back in its grip and even more fragile.
Another perfect storm of disease swept me up.  
Summer 2015 I began abdominal Immunoglobulin infusions: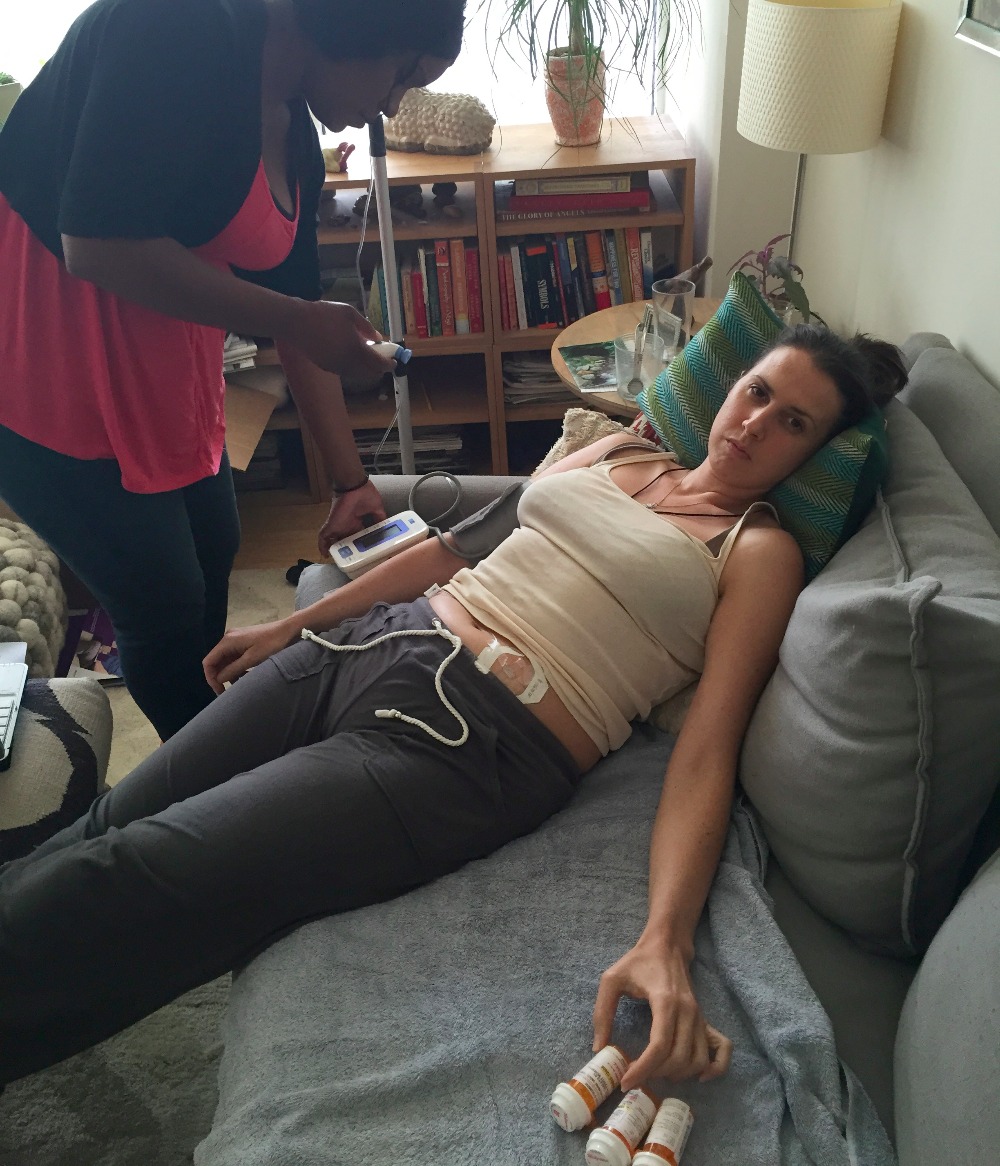 My CNS is so injured that the treatments landed me in the hospital with Intractable head pain: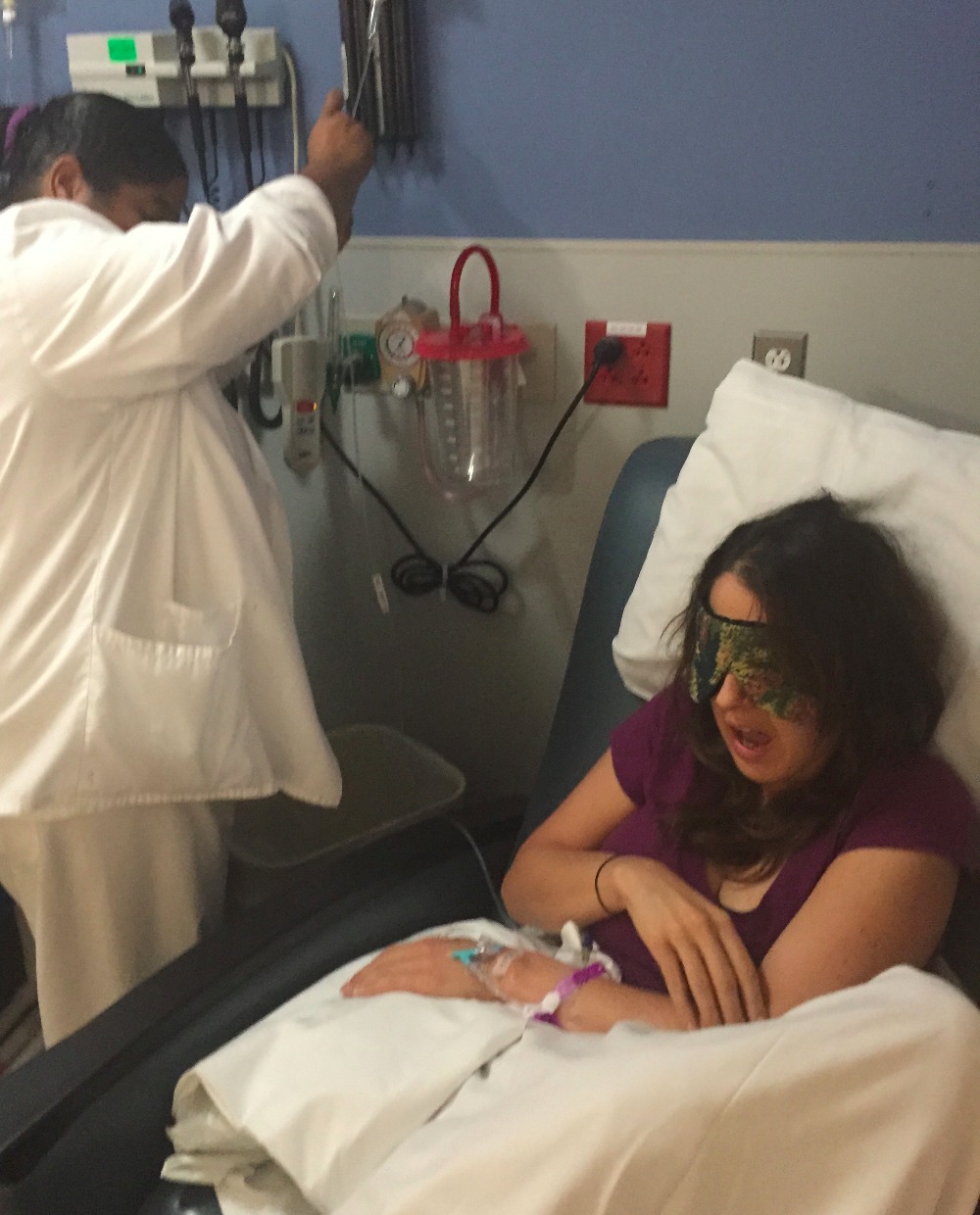 Why the need for help is so great
I am a very strong person with a high tolerance for suffering (developed from decades of chronic disease) but the combination of benzo withdrawal and Lyme Disease takes suffering to an entirely different dimension.  Its 'misery on crack' and I am ALONE.  My father left when I was young and my mother can't cope with this situation. My extended family is badly broken and these diseases destroyed my marriage.  My younger siblings are just trying to survive themselves.  Its terrifying to be battling this level of disease with zero family support but its my reality, the ultimate catch 22... You need help to survive and heal yet you are your only resource. You are weak and disabled yet you are the only person you can rely on.  Its the sick leading the sick and this is not a recipe for success.  Not to mention how heartbreaking and scary it is.
The sad truth is that I spend nearly everyday alone in my apartment without care or anyone checking on me. Without reassuring hugs or someone to make meals when I am too dizzy to stand in my kitchen.
Without help researching doctors or treatments.  Most days I am bedridden or pinned to the couch, so I have fallen behind on everything from accounting and medical claims to cleaning and friendships.  Its hard to live like this month after month.  Some days I am strong enough to go for a walk or grocery shopping.  We call these "windows" in the benzo community.  When my neighbors see me during a window I frequently hear that I "look good" or to "keep fighting."  They can't see what's happening on the inside of my body or how I look on bad days which makes these diseases invisible and misunderstood. Lyme and Benzodiazepine are not diseases you survive on your own.  Help is critical.
Some Hope


As depressing as this situation is I do my best to focus on what's positive and possible.  I look at what I DO have...
I am still here.  My heart is still beating.  By the grace of GOD I am still in my healthy mold free apartment (although I risk eviction if I don't get help).  I have beautiful friends who haven't given up on me and a protocol to heal my body.  Thankfully, I am an active member in multiple social media support groups filled with understanding, kind people who are suffering in the same way.  Even when debiliated, I help people who are in crisis from Lyme and/or Benzodiazepine Disease.  On a weary, symptomatic day when I can barely function, helping someone hang on when they are ready to give up brings purpose to my aching life. 
If there is one thing I have learned in the past six years since I became debilitated with Lyme Disease it is that the body has an incredible design and potential to be in equilibrium, to be whole and WELL.  This is what I preach and believe.  This is the talk I walk.  By helping me get better, you will help other people exponentially because I will have more energy and faculties to share an there are SO many people suffering in the same way as me.  I believe helping others heal is my purpose and why GOD has allowed so much suffering in my life.  He knows I am strong enough to be a VOICE and bravely shed light on these epidemics that are crippling people and destroying lives.  He knows that I have the empathy to hold space for those in bewildering pain.  He knows I am a Healer but first I must be healed.  Below are testimonials from people I am currently helping. 
Many days in the past 14 months I wanted to give up because I could not take the excruciating symptoms anymore.  The suffering is just as relentless as my strength and often its too much without a partner or family to lean on.  Yet my faith is strong and I keep pushing through.  I refuse to accept that my body is permanently damaged.  I have healed Lyme Disease and Hashimoto's before so I can do it again. Benzodiazepine Disease is a new one for me but I am smart and resilient so I believe I can heal this CNS injury too.  I just need help and I need it soon. Would you kindly please help me?  It would mean EVERYTHING to me to recieve your donation for this medical crisis. I thank you in advance from the bottom of my heart and if I can help you please contact me.  Following are resources that will help me HEAL.
What your donations will provide
Out of network specialists, treatment and testing
Amino acid IVs
Compounded medications insurance doesn't cover
Prescriptions in general
Wholesome organic diet
Herbs and Supplements
Caretaker to help with meals, medical claims and cleaning
Lipid Therapy for Immunosuppression
Acupuncture
Physical therapy for muscle atrophy, injuries and Interstitial Cystitis
Outstanding medical bills which are in the thousands
Biomat for insomnia and adrenal disease
Colonics
Psychotherapy
Cranialsacral therapy
General Medical Supplies
**
GoFundMe takes a large percentage of each donation so making a direct donation through the mail or PayPal is another option:
PayPal:  
[email redacted]

Testimonials about how Heather helps others
Kristina

https://www.youtube.com/watch?v=X7dc38T3jDk&feature=youtu.be
Barbara

https://www.youtube.com/watch?v=cFcc9qhsBpQ&feature=youtu.be

Winter

https://www.youtube.com/upload

If you want to learn more


More of my Story 
https://www.youtube.com/watch?v=H1YzZ0uLZnk
https://www.youtube.com/watch?v=RbUokFhGEYc
Lyme Disease
https://www.lymenation.org/
Benzodiazepine Disease  
http://www.benzo.org.uk/manual/
http://www.huffingtonpost.com/van-winkles/is-it-bedtime-for-benzos_b_7663456.html
http://benzowithdrawalhelp.com/2012/08/05/how-to-support-a-loved-with-benzo-withdrawal-syndrome/
Interstitial Cystitis
http://www.ichelp.org/
Sick Building Syndrome
http://www.ncbi.nlm.nih.gov/pmc/articles/PMC2796751/
My blog (Its outdated because I have been so sick)
http://steelsongbird.net/testimonials/


<meta name="google-site-verification" content="-Rs20umF7O20QJSZ340ur2Denn2zqIW1Ey-V8DPyX9k" />


Organizer
Heather Solimine 
Organizer
North Bergen, NJ