Support our Latinx "Young Dario" Animated Series
Meet our Narrator of "Young Dario" - Julio Macias, star of Netflix's "On My Block"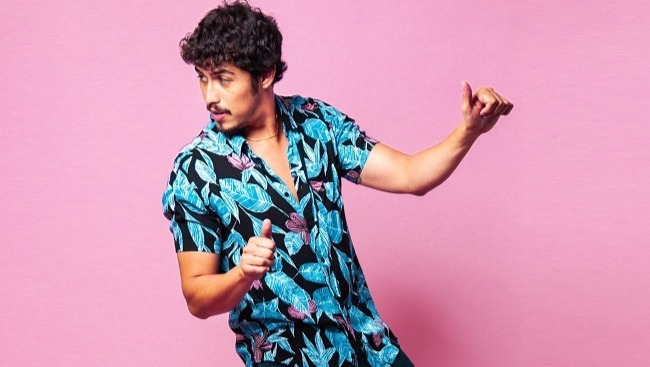 (Photo Courtesy: Bio Gossipy)
Julio Macias is a Mexican–American actor. Following a series of cameo appearances, Macias had his breakthrough playing Oscar Diaz on the comedy-drama series On My Block (2018–present), for which he received two Imagen Award nominations. He has also portrayed singer-songwriter Pete Astudillo in the biographical drama Selena: The Series (2020–2021) - (Deadline)
Who did you connect with the most growing up? We all have unique stories to tell. So does 13-year-old Dario, a Latino boy with big dreams and his loving Abuela!
ABOUT US
Extraordinary Pictures is producing this animated production which tells unique diverse stories. Our goal with the "Young Dario" web series is to reach at-risk youth, with the message that they are not alone. As independent production companies, the individuals in our company got hit hard by the Covid-19 pandemic as many lost their jobs in the industry. In an effort to get things moving again, we put together "Young Dario".

WHO IS YOUNG DARIO?
"Young Dario", directed and executive-produced by Natalie Rodriguez, is a story about a young Latino boy named Dario, and the hardships he encounters in his life. The good thing is he has his Grandmother in his life to turn to! Dario takes multiple life lessons from her and applies them to his life for hilarious, sometimes embarrassing but always heartwarming situations. Knowledge is power!

(YOUNG DARIO - PROPERTY OF EXTRAORDINARY PICTURES.)
WHAT WE NEED AND WHY WE NEED IT:
It takes a village to complete a community-based project. And YOU are part of this community. Funding will not only help pay some of our crew but will also contribute to showcasing the finished project to the public awareness and education.
We would like to tell this story of "coming-of-age" together. We want to hear your thoughts. We would like to hear your memories of childhood and adolescence.
We are looking for funding for production on our series. We think our series would help at-risk youth and letting them know that they are not, nor ever, alone.
Our ultimate goal after production is outreach - to submit some of the episodes of "Young Dario'' to various film festivals, and post online on global streaming platforms.
Donations of any size are welcomed big or small and are extremely appreciated! During these troubling times, you can even donate up to $1 USD and share this campaign page with your loved ones. With YOUR help, you can get the opportunity to showcase the story of "Young Dario" to life!


WHERE DOES THE MONEY GO?




50% will go to post-production which includes animation, editing, and sound mixing

30% will go to film festivals which includes submission fee, purchasing tickets and placing ads in newsletters and magazines of the fests

10% will go to merch, including T-shirts, sweaters, and more!

10% will go to exporting our project into a DCP file which is required in order to screen at film festivals, theaters, and venues.
WHO'S ON OUR PRODUCTION TEAM?
Natalie Rodriguez - Director/Co-Creator & Producer on Young Dario
Natalie Rodriguez is an award-winning, Los Angeles-based writer and director as well as a mental health and anti-violence/trauma advocate. Both of her books and films have been featured on various websites and film festivals, including Hollyshorts, NALIP: Latino Lens, and more. Natalie has been a panelist at events hosted by organizations such as Google, Hispanicize, and YouTube, where she has shared her story as a female writer and filmmaker working in the entertainment industry. In 2017, she founded Extraordinary Pictures, a production company focusing on films, television, digital series, and social issue projects. Natalie's first two feature films that she directed, "The Extraordinary Ordinary" and "Howard Original" are now streaming on multiple streaming services, including Amazon Prime, Tubi, Google Play, and more. "Young Dario" is Natalie's second animation project.

Joana Gomez - Producer 

Joana Gomez is a filmmaker from Colorado where she has produced various shorts and web series. She recently directed a short documentary about the reintroduction of Mexican Grey Wolves and a short about domestic violence. Gomez's focus is to produce and work on meaningful projects that create a positive impact. 


EMESGE - Producer

A high school teacher turned artist, DAVE?'s career started out in late 2005, where he lent his vocal talents for corporate events and weddings. He then started a band and played around local pubs and venues around Melbourne, Australia. In 2012, DAVE? decided to take the comedy route, and started a soft toy boy band called "Dave and the Plushies". During the 5 years that they were together, they released an album and performed at comedy clubs while raising money to help World Vision's work in Vietnam. In 2018, DAVE? announced his departure from the soft toys to pursue a solo career under the name "DAVE?", and continues to write and release music that is light-hearted in nature. In 2019, DAVE? released his first mixtape in New York, and is currently under the management of Lion Hearts Publicity and Management.

Born and raised in Melbourne, Victoria, to Vietnamese parents, DAVE? had an increasing passion for the arts. During his teenage years, he started writing parodies to Michael Jackson songs, and performed in a lot of theatres, getting lead roles in A Chorus Line, A Man For All Seasons, Godspell, and Sweet Charity. Following his high school years, he participated in a traveling theatre company called ACT THREE, where he performed to local communities in Mexico, Jamaica, Russia, Finland, Vietnam, Cambodia, Soloman Islands, United States, Singapore, India, and Australia.


Larry Minion - Producer

Larry Minion began his entertainment career at the age of eight, writing plays for assemblies at an experimental elementary school he was attending. He continued to write through his teens, having his plays presented in several New York City theatres.

Larry soon took an interest in working with organizations that were refurbishing the New York theatres such as the 42nd St. Redevelopment Project, and later the restructuring of underused spaces on E. 4th Street, including the New York Theatre Workshop (where the musical "Rent" was developed) and the Kraine Theatre. Larry has worked with the Roundabout and Second Stage Theatre Companies on Broadway and Off-Broadway Productions and was one of the producers of the television show "Psi-ops (Area 23)" now a very popular video game.

Larry has been instrumental in the founding of Resolutions Theatre Company and the Hypothetical Theatre Company in New York but is probably best known for helping to create and produce theatrefofo, a trendsetting theatre company. In addition, he has produced many acclaimed and award-winning shows from the techno-opera "Bluegirl" to countless touring solo shows. 

Currently, Larry is focusing on his film work; creating international cooperative projects in Southeast Asia, Romania, and Greece. He most recently was a producer on the film "Kaufmania" and on Natalie Rodriguez's "The Extraordinary Ordinary." Currently in addition to "Young Dario," Larry is developing a TV series based on the development of a Star Trek-like series in the 1960s called "Space Mission Six," and working on new projects with Ms. Rodriguez.
 

Jaleel Sampay - Associate Producer 
Jaleel Sampay is a director and cinematographer who enjoys creating projects with his friends, family, and the world. His life's purpose is to inspire through my lens. Currently, his latest short film, "Rumrunners," is playing in the film festival circuit.
Jasmyn Jolly - Associate Producer 
Jasmyn Jolly is a filmmaker who is currently in school to obtain a degree in the entertainment industry. She has always had a fascination with film and everything that it takes to get a script to screen. Her roles have consisted of being a first assistant director, camera assistant, a behind-the-scenes photographer, and more. She was also a producer on projects such as the feature film, "Howard Original," and short film, "Rumrunners". "Howard Original" is currently streaming on multiple streaming platforms. "Rumrunners" is currently playing at film festivals.



WHY DO WE CONNECT WITH YOUNG DARIO?
NATALIE (Director / Co-Creator / Producer): "Growing up, I always looked forward to spending the summer days with my Grandma Connie. She was truly one of the most influential people in my life. Like the lead character from YOUNG DARIO, I always wanted to know more about my Grandma Connie's upbringing and overall background. Let alone, whenever my 'Abuela (Grandma Connie) had something to say, I took it to heart. As a girl, I played twenty questions and repeatedly asked my grandmother multiple questions such as what her first doll was and how she and my dear Grandpa Lou met. He was her first and only love and wed in their late teens/early twenties. I was always a curious child and wanted to know everything about a person, especially someone who I loved very much. When my Grandma Connie fell ill in 2006, it was a shock and, ultimately, heartbreaking when she suddenly passed a few months later in 2007. I truly lost one of my best friends and her passing had a huge effect on myself and others who knew her. At the time, I was also working/editing on an earlier writing project, something I aimed to finish and for my Grandma Connie to read. My grandmother was an avid reader and movie watcher which struck my interest even more to pursue the arts and entertainment industry. If it were not for our various movie viewings or seeing my grandma with a book in her hand, while I watched television nearby, I would not be where I am today. What I hope our web series, YOUNG DARIO, can bring to an audience is to remind them of those cherished moments with their loved ones. Whether it is their grandparent, parent, or friend, YOUNG DARIO is truly celebrating the close relationships that a child has with someone they admire and love dearly."
JALEEL (Associate Producer): "I was interested in the project because of the animated aspect of it. Also, I enjoy the connection with Dario and his grandmother. I have a very strong connection with my grandmother as a child and now as an adult. I think it would be a great way to see this character as myself in an animated form. My grandmother holds a special place in my heart."
JASMYN (Associate Producer): "I was initially drawn to the story of Young Dario and his grandma. I have a nice relationship with my grandma so I immediately immersed myself into the character of Young Dario. I think this project has the potential to have anybody young or adult connect. It's a nice story and as an adult, it brings me back to my childhood."
To follow our journey, including some behind-the-scenes of the making of "Young Dario," be sure to follow @extraordpictures via Instagram.
Much Love and Thank you for the support of Young Dario!
All the best,
Extraordinary Productions
Extraordinary Pictures Instagram- @extraordpictures
Organizer