Become part of Zyren's Concert Harp
Become part of Zyren's Concert Harp
Hello, my name is Zyren and I just won the second prize in the AMEB /CAMAC Australian National Harp competition.
I am very grateful as this has given me hope for a future as a harpist. Unfortunately only the winner could bring home the desired harp.
I am saving up by busking, but at this rate I will be middle-aged before I succeed :)
Quite a few of my parents' friends would like to help and have suggested to start a GO FUND ME. 
To be able to step up to my next musical level I would need a concert harp. I am also growing taller now and advanced harp repertoire is only playable on a pedal harp.
Pedals are needed to change keys, like changing gears in a car.
The cost of a concert harp ranges up to $80,000 . And then there is of course the Rolls Royce of harps: "The Louis XV" which goes for $250,000.
But seriously, I would be super happy with a good second hand pedal harp. If you know of one please let me know.
This is a Concert harp, and the names of the parts of a harp.
My inspiration is the world famous harpist Xavier De Maistre - he makes it look so easy. I have been to 2 of his amazing concerts.
He was very kind to meet me during his break. I was 12 then.
 So here is my fun idea:
I invite you all to become an everlasting part of my future harp by purchasing a tiny part of it. Harps are so expensive because they are all handmade and have more then 1600 moving parts. You can help me by "purchasing" one of those parts for me and get me moving!
I heard that collectively bought harps sound better because they carry a soul of kindness :)
$50 - - - Tuning Pin Donor - - - 47 needed
$100 - - String Donor - - - - - - -94 needed ( incl spare set -yes strings break)
$500 - - Pedal Donor - - - - - - - -7 needed
$1000 - Harp Frame Donor - -10 needed
$5000 - Crown Donor - - - - - - -1 needed
Member of the Sound Board - No donation is too small. You will be part of the most important part of the harp : The sound board. You will resonate forever in the universe.
One of my Dad's friends noted that I was an up and coming Harpo Marx - because I am the son of an Opera Singer and a Clown Doctor, not fair on Harpo really. Harpo is such a master of the harp, and funny with it, so special.
I hope you consider my fundraising effort a worthy cause and would like to be part of my musical journey.
By investing in my harp you will certainly become one of my angels. You will be part of bringing more heavenly music into this world :)
My goal is to perform with my future harp a big THANK YOU concert in the Opera House . It will be a fundraiser for saving our koalas. The number of koalas is rapidly declining and they really need our help to survive.
You can also help me by sharing this Go Fund Me page link to your facebook page, so more people will hear about it. I will be posting my progress and updates here regularly.
Thank you for your interest and reading this and please when you hear a concert harp think of me.
Zyren
I have been playing for several charity events, community performances and aged care concerts. Everyone enjoys my playing very much.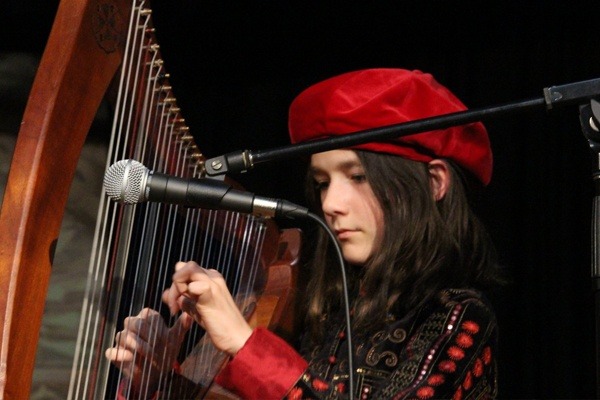 One of my first performances on stage 
Playing O Mio Babbino Caro with my school orchestra
This is me busking at our local supermarket at Christmas.
With the famous painter Bob Marchant. I was honoured to play in his gallery.
Organizer
Justin Case 
Organizer
Royal National Park NSW